Welcome to the April 2020 newsletter. We only recently entered a new decade and are now in unprecedented times with the pandemic and lots of changes resulting in particular for education at a rapid rate. In this newsletter you can find tips on using Mahara in tried-and-trusted scenarios as well as in ways that you might not have considered in the past.
If you want to share your Mahara journey, please send us an article for this newsletter. We'd love to hear how you are using Mahara.
The next newsletter will be published on 1 July 2020, and you can send articles to [email protected].
The Mahara Newsletter is published under the Creative Commons BY-SA license 3.0.
Mahara in use
Mahara to support changes in teaching and learning
Kristina Höppner (Catalyst, New Zealand)
The current COVID-19 pandemic has all of us in its grip. No doubt, many of you have seen an exponential rise in requests for online delivery and how to continue teaching when physical schools and campuses are closed for weeks and potentially months, and even after that more remote options may be the 'new normal'. Rapid changes in course and content delivery are only the tip of the iceberg though.
Because of the general fear for one's own and other people's health, uncertainty, and in many places measures put in place to limit movements outside one's immediate home, it is not only switching to fully online learning and teaching that we are encountering at an accelerated rate. We need to consider how these changed circumstances affect our learners and how we can support them to cope and adjust. We can't have interactions like we are used to for the time being. So how can we help learners and keep the human touch without resorting to 24/7 in front of a web conferencing tool?
While Mahara is used primarily as a portfolio platform, it has capabilities beyond that and can assist in a wide range of education scenarios. Now more than ever, having a platform where learners can collect their thoughts, learning experiences, reflect on them, and in particular share with others is a good way of keeping in touch and connected. Mahara's motto is: Create. Share. Engage. Let's continue doing that.
You may also wish to think about changing assessment formats and how your Mahara instance can support that switch. Lisa Donaldson from Dublin City University in Ireland reports that several faculty are thinking of using Mahara more because there students can publish case studies, reports, and create online projects in a cohesive manner. For example, instead of being able to attend a performance, Arts students review online footage and focus on different aspects of a production that they then review and critique.
I'd like to share a 15 suggestions that relate to Mahara and how it could be used to support students and teaching staff. These are ideas that Mahara community members may already ponder or have lots of experience with, and I invite you to share your own ideas.
Set up a group where students can chat asynchronously and get in touch with them. The good old 'Lounge' (in a film studies course one instructor called it the 'Reel Café') that I've seen on learning management systems in courses where students could post anything and everything not related to a particular assignment can be replicated on Mahara. We do not need to do everything synchronously.
Add a picture to your group homepage and remove blocks that you don't need.
Research and write book reports, movie reviews etc. Carmel Unified School District has some examples. Templates can be used to guide the research.
Document case studies.
Write reports.
Participate in projects and document progress as well as what has been learned in a collection structuring the project utilising pages within the collection.
Encourage students to create their reflections as audio or video and upload them to Mahara, either via their computer or mobile device.
Set up plans filled with mandatory and optional activities. From Mahara 19.10 on you can create plans in groups (or create a master plan in your personal account and then copy it into groups and adjust there) and attach individual portfolio templates to plan tasks for students to get started quickly. Your students can then decide which tasks they want to complete and only these are copied into their personal portfolio area.
Encourage your students to give each other feedback on their work. This can be done privately so only the student and feedback giver can see the comment or publicly for everyone to see who has access to the portfolio.
Attach your audio (or video) feedback to an artefact or a page.
Submit portfolios for assessment purposes either directly to a Mahara group or via your LMS.
Don't work with an LMS? No problem. Create your course resources pages in Mahara either in a group or in your personal account.
Hold support sessions online and embed a web conferencing room (or link to it) into your support page for easy access for the students to join when you are live. Dublin City University had success with its first remote support session recently. Use the functionality of the tool to share your or a student's screen to walk them through an issue they are having.
Keep your professional portfolio up to date. You are changing your teaching rapidly and probably also innovate a great deal. Capture that and reflect now or later on it.
Collect learning evidence and document learning experiences using a competency framework that you can build in SmartEvidence (a site administrator needs to upload it or use the built-in framework editor, depending on your version of Mahara) to connect learning to particular competencies.
Mahara in upcoming events
79th Mahara developer meeting online, 29 April 2020
Kristina Höppner (Catalyst, New Zealand)
Mahara developer meetings are an opportunity for those interested in contributing to Mahara through features and bug fixes to chat with other developers online. Our next Mahara developer meeting will take place on 29 April 2020 at 7:30 UTC. You are welcome to join this online session and participate. If you want to add anything to the agenda, please do so prior to the meeting.
Eportfolio Forum, Melbourne, Australia, 29-30 October 2020
Allison Miller (ePortfolios Australia)
The ePortfolios Australia Organising Committee are pleased to announce that the ninth Eportfolio Forum will be held on 29-30 October 2020 at Deakin University (Burwood campus) in Melbourne, Australia.
This year's theme is 'Digital Identity – Ethics and Experience'
The Call for Proposals is now open, and you can submit your proposals until 18 May 2020.
Proposal types include:
Short (peer-reviewed paper) presentation
20×20 presentation
Digitally interactive poster
Intensive workshop
In-depth workshop
Facilitate a professional conversation
For more information or to enquire about presenting or the Forum, please contact [email protected].
Keynote presenters will be announced shortly.
Previous Eportfolio Forum resources are available.
To stay up to date about this year's Forum, other ePortfolios Australia activities and ePortfolio news, subscribe to:
Hui20, Zurich, Switzerland, 27-28 November 2020
Dietmar Johlen (Lpaso - Institut für Lernkultur, Germany)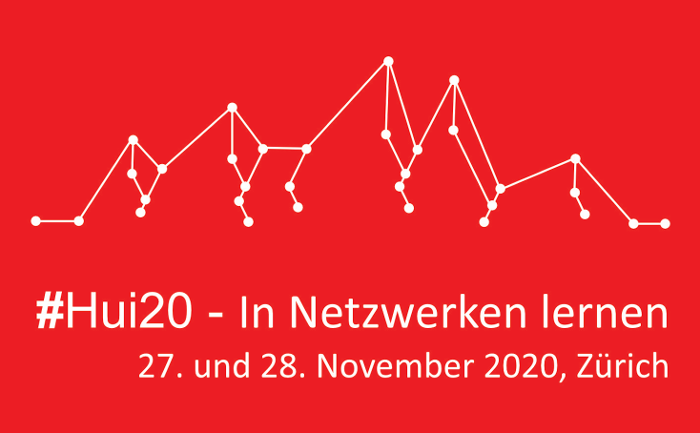 Die Hui steht in diesem Jahr unter dem Motto "In Netzwerken lernen" und soll am 27. und 28. November 2020 in Zusammenarbeit mit tbfpartner, Zürich, stattfinden. In diesen besonderen Tagen können wir nur sagen, dass wir an dem Termin festhalten wollen, und wenn ein Zusammenkommen in Zürich nicht möglich ist, machen wir ein digitales Angebot. Wer tbfpartner kennenlernen möchte, kann sich z.B. ihre Keynote auf der letzten Hui über die Lpaso-Webseite ansehen.
Schaut das Video von Hui19 an, um einen Einblick in das Barcamp vom letzten Jahr in Kassel zu bekommen.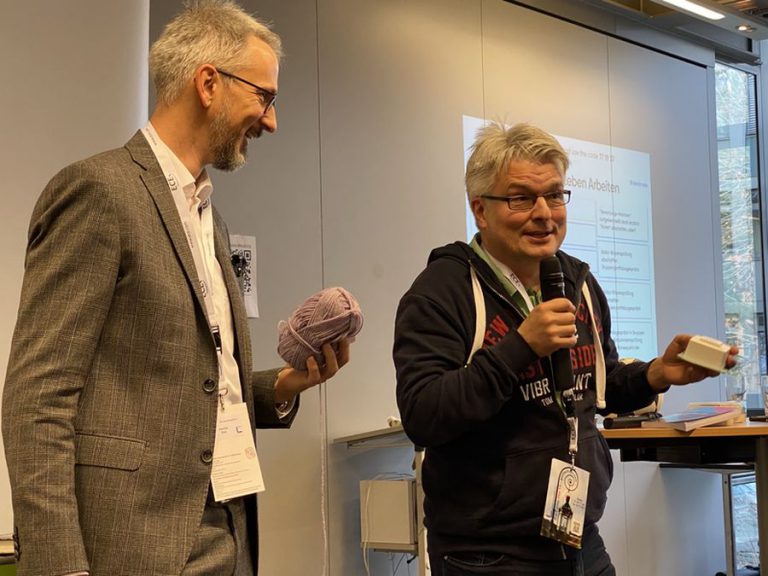 ---
The topic for Hui20 is "Learning in networks" and will take place in cooperation with tbfpartner in Zurich (Switzerland) on 27 and 28 November 2020. We are still planning to host the event, but if it were not possible to convene in Zurich, we will be offering an online version. If you'd like to get to know what tbfpartner do in the area of innovative learning, watch their keynote from Hui19 (in German) via the Lpaso web site.
Watch the Hui19 video for a recap of last year's event in Kassel, Germany.
Mahara in past events
Eportfolio Ireland National Forum Seminar Series event, 20 February 2020
Kristina Höppner (Catalyst, New Zealand)
Eportfolio Ireland, with support from the National Forum for the Enhancement of Teaching & Learning, held a seminar at Dublin City University on 20 February 2020 to introduce the findings from the national ePortfolio survey that was open to Irish institutions since November 2019. Mahara plays a large role at Irish institutions and has a solid following there, being the most used ePortfolio platform. More detailed results from the survey will be available later this year. Right now, take a look at the infographic for a high level overview.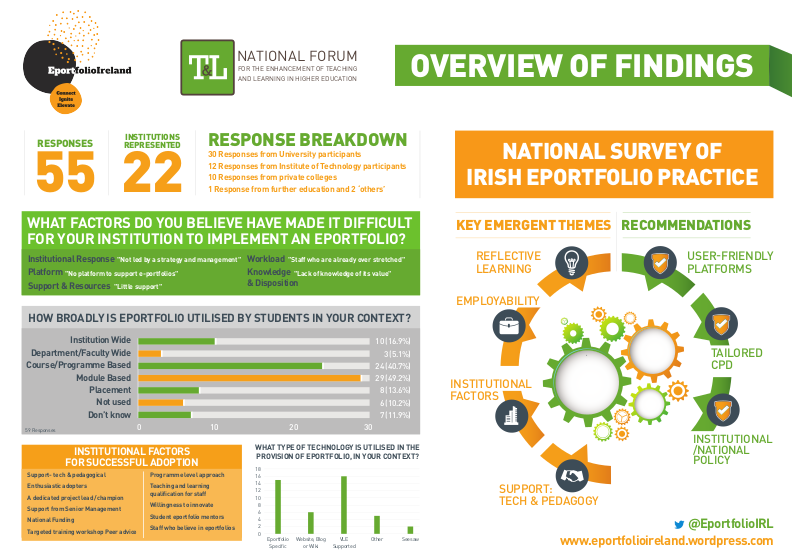 Mahara in development
Mahara 20.04
Kristina Höppner (Catalyst, New Zealand)
The Catalyst team in Wellington is working hard to deliver Mahara 20.04 by the end of April. We all relocated to our homes and have been working entirely remotely since 23/24 March 2020 and expect to continue to work from home for the majority of April if not longer due to the lockdown in Aotearoa New Zealand.
We are adjusting to working this way looking into how we can move normal office interactions into the online space, and also dealing with the restrictions that would typically not be part of a 'working from home' day or time period. We continue to work and are available to the Mahara community and our clients. Please bear with us when asking for free support in the community forums as we may not be able to reply as quickly as you are used to due to the current circumstances and also being in release preparation time.
Mahara 20.04 comes with a series of new features, in particular for organisations wanting to take more advantage of single sign-on and automating role assignment and some other administrative tasks. Watch out for the announcement of the preview version of Mahara 20.04 that will be released in the first week of April. We invite you to test it out in a test site on your own infrastructure to test all features, or on one of our test sites with access to a subset of features, i.e. all features but those restricted to site administrators. We look forward to your feedback to help us make some last minute adjustments for the initial official release of Mahara 20.04 by the end of April 2020.
We are thinking about organising a few online sessions to introduce the new features and be available for Q&A. Please watch out for the announcements in the 'News' forum, on Twitter, and other social media mid-April.
Mahara Mobile
Kristina Höppner (Catalyst, New Zealand)
There is more cooking in Wellington in the Catalyst Mahara team. We are working on a new version of Mahara Mobile, built using React Native. We are in the final stages of the development for the Android app and expect to make a preview version available to the community by the end of April. A version for iOS may still take a bit because of the disruptions caused by COVID-19.
Mahara new service: Extended security support
Kristina Höppner (Catalyst, New Zealand)
Sometimes it can be difficult for organisations to stay in step with our development cycle and upgrade to a new version of Mahara every six months or even just once a year. We support each version of Mahara for 18 months with security updates and high importance bug fixes as they are made known to us and prioritised by our team. Once a Mahara version becomes unsupported, security updates are not provided for it though they may still apply.
We went over to the six-monthly timed release cycle several years to make new features available fairly rapidly yet still allow the organisations that work with Mahara stable releases for a good period of time. The majority of organisations using Mahara is in the education sector and thus operates on an annual cycle. Our releases fall into that nicely by offering one release for the Northern hemisphere before the summer holidays, the April version, and one for the Southern hemisphere, the October version. Of course, no matter where you are in the world, you can install any release.
Recognising that not every organisation may be able to upgrade once a year at minimum, we are now offering a premium service that extends the security support for a version of Mahara by two years, coming to a total of 3.5 years instead of the community-provided one of 1.5 years. If you are interested to learn more about it, check out the extended security support web page.