Welcome to the January 2020 newsletter, the first in this new decade. We wish you a successful year ahead in which you can spread your wings and flex your learning muscles. We look forward to learning and innovating together with you.
If you want to share your Mahara journey, please send us an article for this newsletter. We'd love to hear how you are using Mahara.
The next newsletter will be published on 1 April 2020, and you can send articles to [email protected].
The Mahara Newsletter is published under the Creative Commons BY-SA license 3.0.
Mahara in use
Mahara for assessment
Marieke Guy and Chantal Schipper (Royal Agricultural University, UK)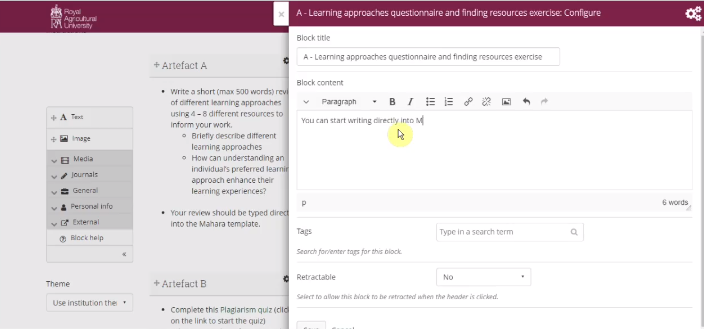 This semester has seen us use Mahara ePortfolio as the main assessment for our shared core first year module on academic skills. The module has just shy of 250 students on it, and so our approach has been to push a standard template out to all students on the module. While use of a locked-down template (all blocks are locked and students can only add in specified types of content) is not conducive to creativity, it has allowed us to introduce Mahara as a tool to both staff and students in a fairly secure and risk-free way. In a recent blog post we share the first stages in the process of integrating Mahara into the academic skills module.
Since then we have run a comprehensive training session with academic staff who will be carrying out the assessment on the module. The training supported in creating a Mahara portfolio, submitting it to our Moodle VLE (Virtual Learning Environment), and then marking each other's submissions using a clear rubric. We have also created a number of guidance materials, including videos, for students on how to edit their portfolios, and we have run several 'surgery' sessions for students to trouble shoot issues.
The main submission date for the portfolios is looming, and the next challenge will be the co-ordinated release of the grades and feedback.
A few words of appreciation
Kelli Fleming and Truc Pham (Future Generations University, U.S.A.)
The Master of Arts in Applied Community Development students at Future Generations University use Mahara to create showcase portfolios of their work through the program.
Truc Pham, a recent graduate in the Applied Community Development program, shares "A Few Words of Appreciation":
I have changed from not being a big fan of Mahara at the beginning of the course to very much appreciative of this platform.

I remember in the survey after semester 1, I wrote these lines:

Technology is not my cup of tea.
It brings me stress and anxiety.
......................................................
But maybe next Spring,
I will be saying:
" Love you too, MAHARA!"

The truth is that it was not the "next Spring" but the next Fall that I realized how Mahara has brought me the rainbow instead of just the plain black-and-white style I used to present my work.

There was so much challenge. There was so much hard work. However, it worths all these seeing that I could improve my knowledge and with this capacity, I could make my community a better place to live.

I began my community presentation of this Spotlight ePortfolio by saying to them: "I started this Master course with Hope and Dram. And, this is what I have achieved. If I could do it, then everyone could do it!"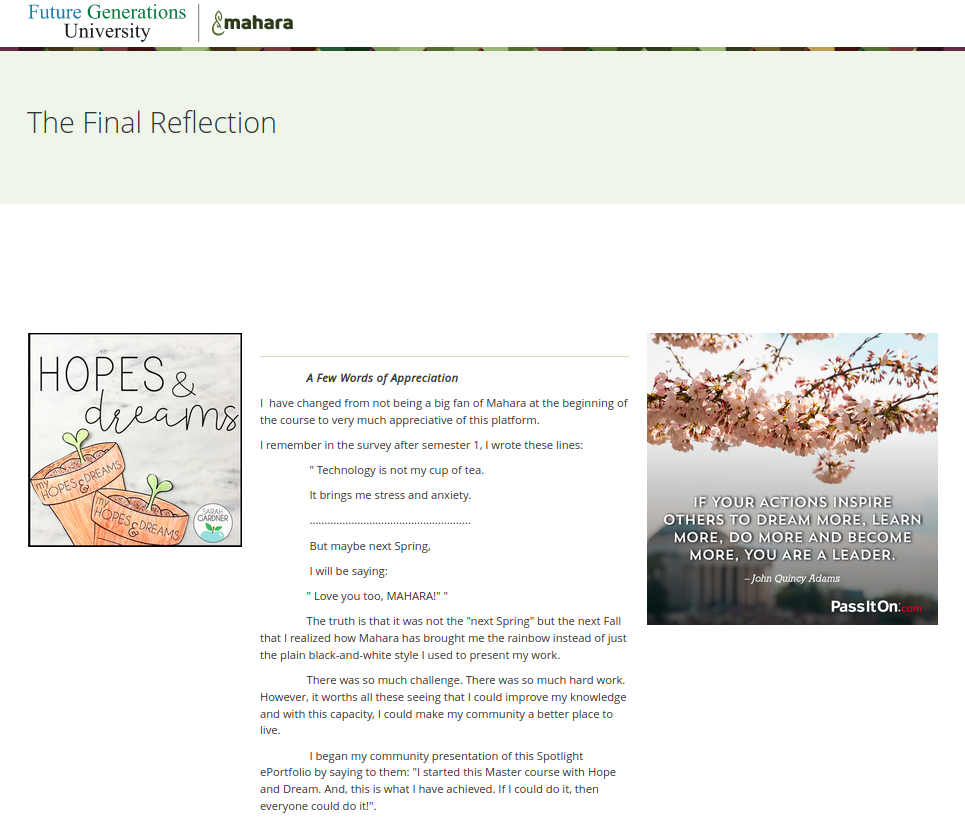 ePortfolios for educators - a workshop concept
Sam Taylor (Catalyst IT Europe, UK)
At Catalyst IT Europe I created a workshop concept for all those who want to explore the benefits of using an ePortfolio for evidencing growth: personally, professionally, or academically. It is full of activities that will help educators shape a great assignment brief and ensure all boxes are ticked with regards to planning all the way through to assessment. Although it's meant to be ePortfolio agnostic, it uses Mahara throughout.
This workshop idea is available under the Creative Commons license BY-SA 4.0.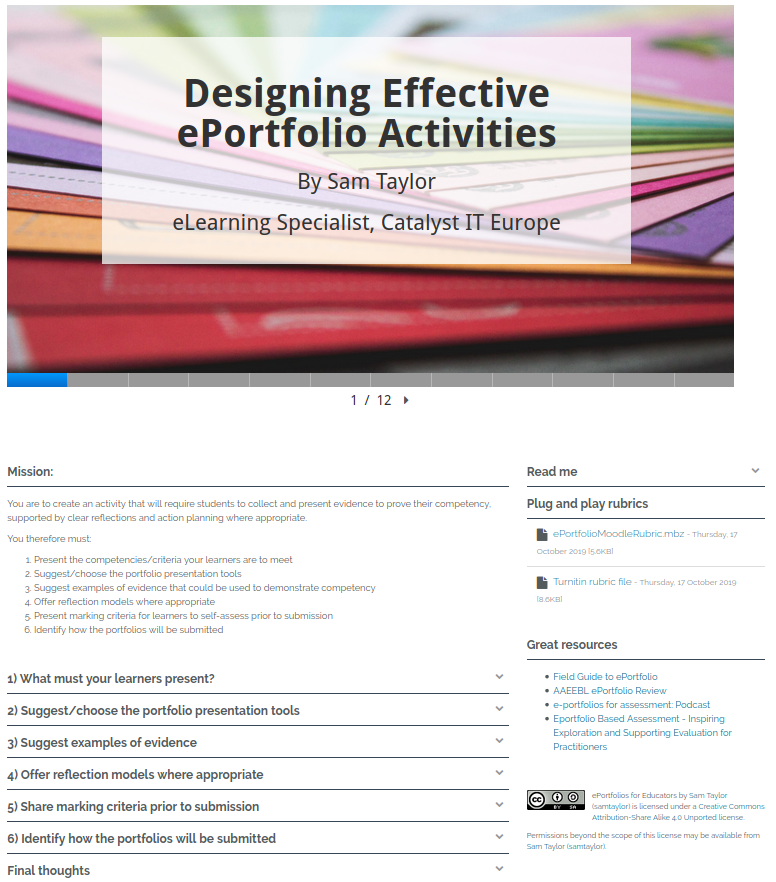 Mahara in upcoming events
77th Mahara developer meeting online, 29 January 2019
Kristina Höppner (Catalyst, New Zealand)
Mahara developer meetings are an opportunity for those interested in contributing to Mahara through features and bug fixes to chat with other developers online. Our next Mahara developer meeting will take place on 29 January 2020 at 7:30 UTC. You are welcome to join this online session and participate. If you want to add anything to the agenda, please do so prior to the meeting.
Eportfolio Ireland National Forum Seminar Series event, 20 February 2020
Lisa Donaldson (Dublin City University, Ireland)
This Eportfolio Ireland seminar and workshop event will disseminate national research on current levels of ePortfolio practice in Irish higher education. Currently, there is a dearth of literature on ePortfolio practice in Ireland This will be addressed by the recently launched research initiative conducted by Eportfolio Ireland, which will encompass all Irish Higher Education institutions.
The results of this research will provide an overview and analysis of the national ePortfolio context, document the types of ePortfolios used in Irish higher education, identify any significant issues relating to ePortfolio implementation, and offer guidance about future opportunities for ePortfolio development. The dissemination of this research will be of interest to all those considering ePortfolio use for assessment and the development of student and faculty digital literacies.
This event provides an evidence informed picture of ePortfolio practice, a focus on building digital competencies, and support for collaboration between and within institutions. Following the seminar presentation, a series of personalised workshops will be offered to support those at different stages of ePortfolio initiatives; from those in the planning stages who can avail of advice and support in the development of an ePortfolio strategy, to those approaching scale who will benefit from insights and approaches from international best practice. Participants may choose the workshop most appropriate to them.
If interested in attending this free event, supported by the National Forum for the Enhancement of Teaching & Learning, please register.
Mahara in development
Plugin: Mahara library
Guillaume Nerzic (Birkbeck University of London, UK)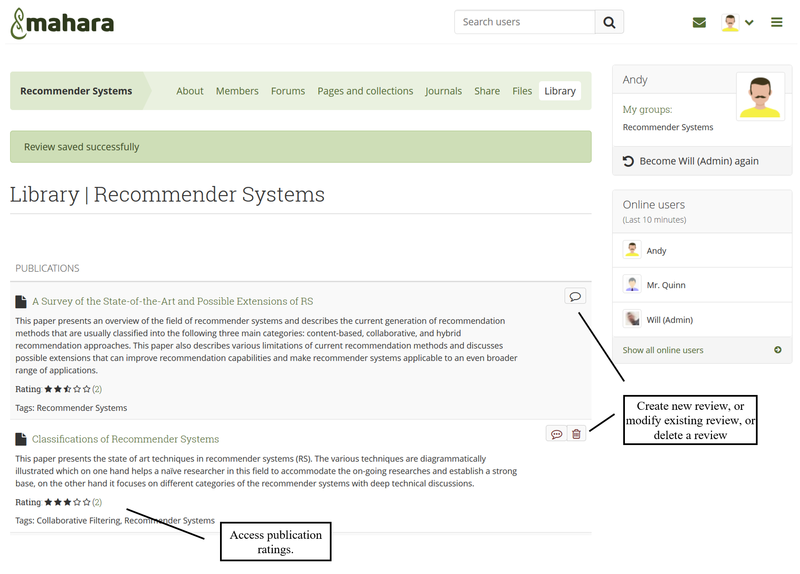 Developed as part of a Learning Technologies MSc project at Birkbeck University London, the "Mahara Library" is an artefact plugin (and associated group type) to manage a library of publications. Embedded within the library artefact is a simple and extendible recommender system that suggests publications that learners may choose to read based on a group's collective recommendations.
This plugin aims to provide a community of practice learning environment in two complimentary ways: first by allowing members of the group to learn collaboratively through the common task of managing, reviewing, and contributing to a shared library; and second through a recommender system that prompts learners to get a 360° view of the library's content and not simply focus on popular publications.
Future releases of the plugin will focus on implementing a smarter and more streamlined recommender system and a way to visualise the library's semantic structure.
Request for comments: SmartEvidence enhancements
Kristina Höppner (Catalyst, New Zealand)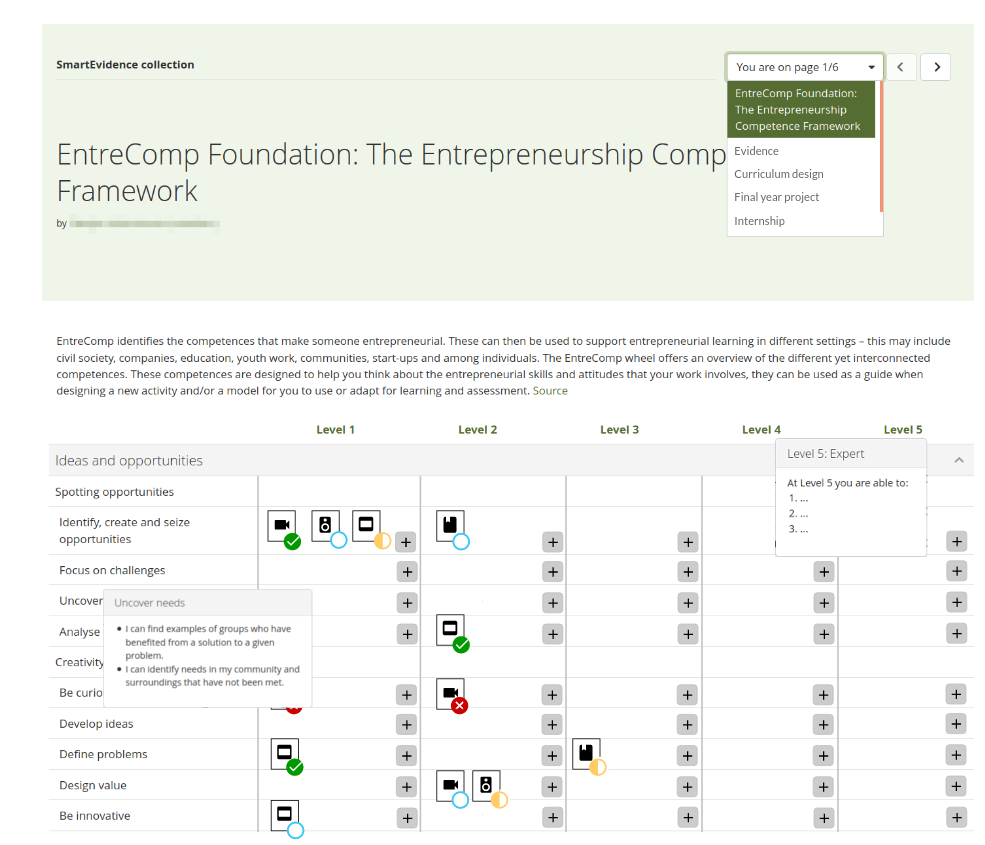 SmartEvidence was first developed in 2016 following an idea conceived by Misty Kirby and Shane Nuessler from the University of Canberra in 2014. It makes it possible for learners to track their achievements against a competency framework and visualise the progress via an evidence map. In its initial implementation, SmartEvidence works with pages so that evidence can be displayed in context as not every single piece of evidence may fulfill the requirements of a standard but contributes to it and may also need a reflection going with it.
Over the past year, the Mahara team at Catalyst has been gathering more feedback from institutions on how SmartEvidence is working for them and what would be good to change on it to make it more useful in contexts where it has not yet been used. Together with Lisa Donaldson and Mark Glynn from Dublin City University we developed an initial idea for expanding SmartEvidence to work for more complex frameworks that are structured into different levels of accomplishment, which would make it possible to map competencies over larger time frames, without needing to create separate SmartEvidence collections. With a client of ours in New Zealand, we investigated the possibility of mapping individual pieces of evidence to competencies rather than pages as that was more in line with the assessment of the work of apprentices.
At Hui 19 in Kassel (Germany) in November 2019, I had the opportunity to chat with Alex Del Ponte and Karsten Wolf from University of Bremen, who recently contributed a large enhancement to the plans in Mahara 19.10. As they are also interested in competency frameworks, we discussed how SmartEvidence could be expanded to meet needs at their university (and others) better, drawing on previous discussions and ideas.
You can see a first draft of the idea outlined on the wiki. We'd like to invite you to comment in this idea. If you are interested in funding enhancements to SmartEvidence (or any other parts of Mahara), please get in touch with me.