Welcome to the July 2019 edition of the Mahara newsletter. The Mahara community has a few busy months ahead filled with events in various countries. We hope you will be able to attend one or more of them to meet portfolio enthusiasts and be inspired by their work.
If you want to share your Mahara journey, please send us an article for this newsletter. We'd love to hear how you are using Mahara.
The next newsletter will be published on 1 October 2019, and you can send articles to [email protected].
The Mahara Newsletter is published under the Creative Commons BY-SA license 3.0.
Congratulations
Lisa Donaldson (Dublin City University, Ireland)
Launched in 2016, Reflect is Dublin City University's learning portfolio platform based on Mahara. Available to all DCU students and faculty, the portfolio makes learning visible through the creation of a personalised and reflective living showcase of academic, professional, and personal achievements.
In April students from all programmes using Reflect were invited to enter the 3rd Annual Learning Portfolio Showcase and Awards. Eportfolio showcase competitions have been used across the globe from New Zealand and Hong Kong, to the U.S. and Ireland to promote portfolio practice, recognise and reward student attainments, and celebrate the hard work that teachers and students have put into making ePortfolios a success.
A large number of student entries were received and evaluated by a panel of judges. As in previous years, the standard of entries was very high. However, twelve students presented exceptional portfolios and were shortlisted as finalists. Winners were presented with their awards by Professor Mark Brown of the National Institute for Digital Learning (NIDL).
Some of the winning and shortlisted students have given permission to share their entries to the Showcase competition that can be viewed below. Huge congratulations to all our entrants!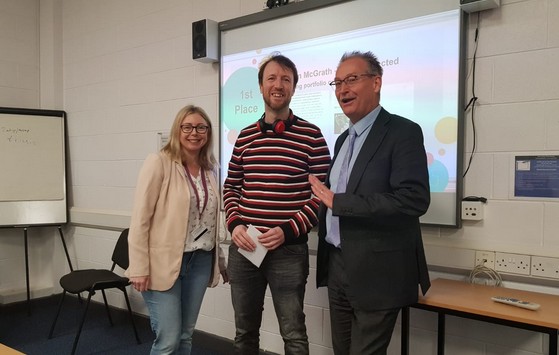 Winner Declan McGrath (centre) with Lisa Donaldson and Mark Brown
First place, Bachelor of Arts (Hons) in Humanities
Second place, Bachelor of Business Studies International
Third place, B.A. Joint Honours
Special Mention, Bachelor of Engineering
Shortlisted, M.Sc. Nursing
Shortlisted, Bachelor of Religious Education
Shortlisted, DCU Mentoring Scheme
Shortlisted, M.Sc Public Relations
Thank you
Kristina Höppner (Catalyst, New Zealand)
The award of "Tester extraordinaire" goes to Swe Lynn from The Australian National University (ANU). Lynn has been testing Mahara very closely and diligently over the last few weeks, in preparation of the annual upgrade. She discovered a few issues that were not picked up before, and ANU is having these issues fixed by Catalyst Australia, contributing the solutions back to the Mahara project.
Mahara in use
Support during an internship
Esta (Hanning) Su (Monash College, Australia)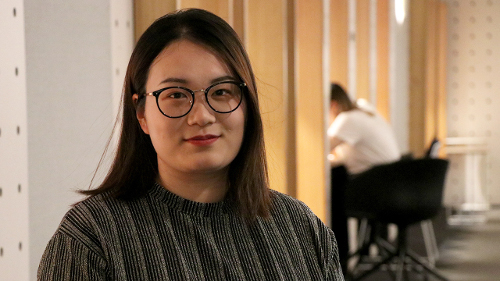 As an IT graduate, I completed my internship with the Central eLearning Team at Monash College. My main responsibility involved designing and developing student dashboards. After my internship, I was offered a wonderful opportunity to stay and work as an Assistant Learning Analytics Developer.
My experience with Mahara started during my internship. At Monash College, interns are asked to write a reflective journal using Mahara that is then shared with their supervisors and mentors for feedback. When writing the weekly journals I found it particularly useful to have a simple user interface to create ideas and write down thoughts, without being distracted by all kinds of tools. It is also handy to be able to publish pages and collections in private or public mode and grant access to a particular person or a group of people. Once I shared the weekly reflection, my supervisor was able to provide feedback through the same tool that led to having the content and feedback in one place. Also, it allowed the supervisor to understand how I was feeling about my work responsibilities and how I was managing them.
One of the most useful functions as a developer is Tags. I used it to document some of the errors I came across during projects in Mahara as pages. Adding tags to a page is like adding keywords, which gives me quick access to a certain page.
It is amazing to see how Mahara helps to simplify the feedback process and enhance connections within an organisation, and it does make a difference for developers.
Mahara can do more
David Bell (eCentre for Trinity-at-Waiake Methodist Church, New Zealand)
How does Mahara describe itself? What's it really on about? From the website - "...a simple, easy-to-use, creative platform for people to showcase their learning."
I like the sound of that, but I wonder how it stacks up when graduates leave school, when they learn beyond institutional frameworks. Will they continue to use Mahara in the cluttered social media environment? Without doing a point by point comparison, I highlight a couple of essential differences in various ePortfolios and indicate how it can do more.
We are all in it together
Louise Carr (Hadlow College, UK)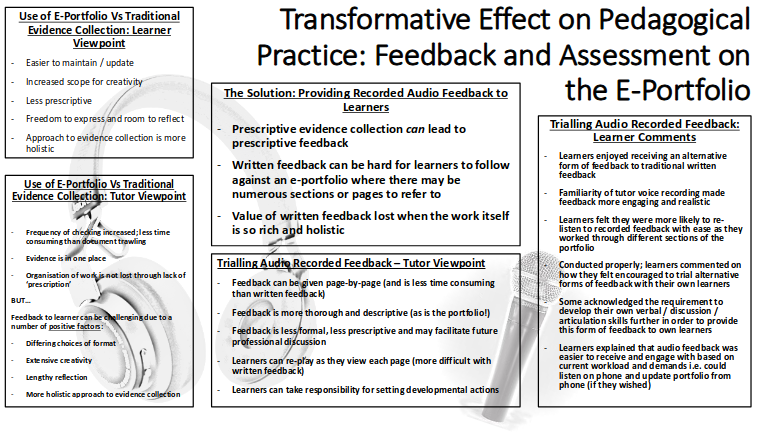 The Teacher Education team at West Kent and Hadlow Colleges deliver an in-service vocational teaching and training Higher Education diploma qualification (D.E.T.). This academic year they have led a pilot study to move a text based progress log into a Mahara ePortfolio of professional practice.
The team have found that the introduction of the ePortfolio has had a positive impact on teaching, learning, and assessment and resulted in not only changes to their pedagogical practices but also to the broader 'Landscapes of Practice' (Wenger-Trayner, 2014).
In a presentation to the Canterbury Christ Church University Learning and Teaching Conference in the UK on 19 June 2019, the team outlined their findings, including examples of how, following the introduction of journals, CPD pages and regular reflection 'on-action' (Schon, 1998) and through a variety of artefacts, trainees had identified and engaged more effectively with their dual professional identities. This had then transferred into their practice within faculties and subject specialist disciplines.
You can view the presentation resources.
SmartEvidence framework files
Kristina Höppner (Catalyst, New Zealand)
You can set up SmartEvidence frameworks in Mahara 19.04 directly via a handy editor. Nevertheless, the Mahara project provides framework files that you can import into your Mahara instance to be up and running quickly with frameworks that others have set up and shared. This allows you to upload a framework and then only make small adjustments on it via the editor instead of needing to set it up from scratch.
If you created framework files that you are happy to share with the community, please send them. We are looking to expand our collection of available frameworks in the SmartEvidence format. Recently, we added the European Entrepreneurship Competence Framework (hat tip to Mark Glynn from DCU) as well as the Tapasā and Tātaiako, two cultural competency frameworks for New Zealand teachers.
Mahara in upcoming events
MahoodleFest 2019, 1 July 2019
Kristina Höppner (Catalyst, New Zealand)
The University of Gloustershire will host this year's Mahoodle event in the UK, MahoodleFest 2019, on 1 July 2019.
The programme is filled with presentations talking about portfolios, competencies, and how to use Mahara and Moodle well in today's tertiary landscape.
For more information, please visit the MahoodleFest 2019 website. You can follow #Mahoodle19 on Twitter.
Mahara Hui Francophone, 3-5 July 2019
Kristina Höppner (Catalyst, New Zealand)
The French Mahara community is organizing Mahara Hui Francophone at the Université de Rennes 1 from 3 to 5 July 2019. It will be co-located with MoodleMoot Francophone.
10th Mahara Open Forum, 31 August - 1 September 2019
Kristina Höppner (Catalyst, New Zealand)
The next Mahara Open Forum (MOF), the Mahara Hui in Japan, is scheduled for 31 August to 1 September 2019. It will take place at Tokushima University in Tokushima. The theme of this year's Mahara Open Forum is "Eportfolio in a sustainable society". Presentation proposals are accepted until 21 June 2019.
Visit the MOF website for more information.
Regional Mahara Hui NZ at Waitematā DHB, 4 October 2019
Kristina Höppner (Catalyst, New Zealand)
The Kiwi Mahara User Group is planning a free half-day regional Mahara Hui at Waitematā District Health Board in Auckland, New Zealand, on 4 October 2019. Watch out for more information over the coming months in the News forum.
If you are planning on an extended stay in Auckland, you may wish to combine attending this hui with the New Zealand Moodle Moot and H5P mini conference, held at Unitec, from 1 to 3 October 2019. The call for proposals is open as is registration for this event.
2019 Eportfolio Forum, 20-21 November 2019
Allison Miller (ePortfolios Australia, Australia)
2019 Eportfolio Forum (Eportforum) is a two day event of presentations, workshops, facilitated conversations, and networking on 20-21 November 2019 at Australian Catholic University (ACU), Canberra Campus (Signadou). This will be the eighth Eportforum.

A variety of interactive sessions will enable new and experienced eportfolio supporters to gain some 'hands-on' experience with using ePortfolios, including hearing from our keynote presenter - Professor Tristram Hooley, University of Derby, United Kingdom.
Mahara Hui DE, 29-30 November 2019
Kristina Höppner (Catalyst, New Zealand)
Summer is in full swing in Europe. Thus, it's time to prepare for Mahara Hui DE, the gathering of people interested in ePortfolios and other modern learning and teaching methods, in Germany. This year, the event is back in Kassel, in the heart of Germany, and will be held from 28 to 30 November 2019. While the main event language is German, attendees are welcome to offer sessions in English if they prefer.
This 7th Mahara Hui DE will be held in its well-established style: The first day will be a workshop day. Then each of the two unconference days will be kicked off with a thought-provoking keynote. After that, attendees will shape the conference programme by offering sessions in which they showcase their work, discuss topics of interest, and learn from each other.
The event is supported by Lpaso Institute of Learning Culture e.V. More information will be available on the Mahara Hui DE website over the course of July and August.
Mahara in past events
Regional Mahara Hui, 7 June at University of Waikato
Stephen Bright and Clementine Annabell (University of Waikato, New Zealand)
On Friday, 7 June 2019, the University of Waikato hosted a regional Mahara Hui with participants from University of Waikato, AUT, and Waitematā and Middlemore District Health Boards. Kristina Hoeppner from Catalyst provided us with some excellent input for the morning sessions. 
Kristina presented an overview of new features in Mahara 19.04, which were well received by participants. Key changes and new features are listed in previous Mahara newsletters.
Kristina also gave a demo of the Mahara mobile app, Mahara Mobile. Kristina's phone was displayed on one of the large screens in the room via Chromecast. This enabled us to see a live demo of the app rather than screenshots.
In the afternoon mixed groups discussed a set of focus questions about the benefits, success stories, and challenges organisations face in implementing ePortfolios across their respective organisations. This gave an opportunity for people to discuss common barriers and reflect on possible solutions.
The day was very useful and affirming, and it was great to be in a gathering where ePortfolios were the sole focus. We're already looking forward to the next Mahara Regional Hui on Friday, 4 October 2019 (immediately following the New Zealand Moodle Moot 2019) as the next meeting of the community of practice.
Mahara in development
New way of selecting blocks for a page
Kristina Höppner (Catalyst, New Zealand)
Work on Mahara 19.10 is fully underway. A number of usability improvement as well as new features are being developed. One of these is the move to a placeholder block. This feature was conceptualised by Lisa Donaldson, Mark Glynn, and their team at Dublin City University.
The idea is to put a block onto the page without needing to select its type. That will greatly help template creation and not force lecturers to decide on the type of learning evidence they expect from their learners. Instead, they can leave it up to the portfolio authors to decide what sort of evidence they wish to display.
You can read about this feature and will also be able to give it a go before the release of Mahara 19.10.0 when we publish the release candidate in the second half of September 2019.
Simplify the layout selection
Kristina Höppner (Catalyst, New Zealand)
Another feature the Catalyst team in New Zealand is working on is the simplification of selecting a page layout. With Mahara 19.10, you will be able to change the layout directly on the "Edit" screen and are not restricted to built-in layout widths. This will be realised by using the Gridstack JavaScript library. Take a look at the Gridstack site to get an idea of how this is going to work. You can drag and drop blocks and then resize them to your liking. This will give you more flexibility over the placement of content on a page.
We look forward to your feedback on these and the other new and changed features for Mahara 19.10.