We wish you a happy new year and all the best for 2019. May you have a great year ahead of you. At the Mahara project, we are looking forward to an exciting year again. We have already been working on a number of new features for Mahara 19.04, and are seeking feedback for some usability improvements. More on that further down.
If you want to share how you are using Mahara, please send us your article. We'd love to hear how you are using Mahara.
The next newsletter will be published on 1 April 2019, and you can send articles to [email protected].
The Mahara Newsletter is published under the Creative Commons BY-SA license 3.0.
Congratulations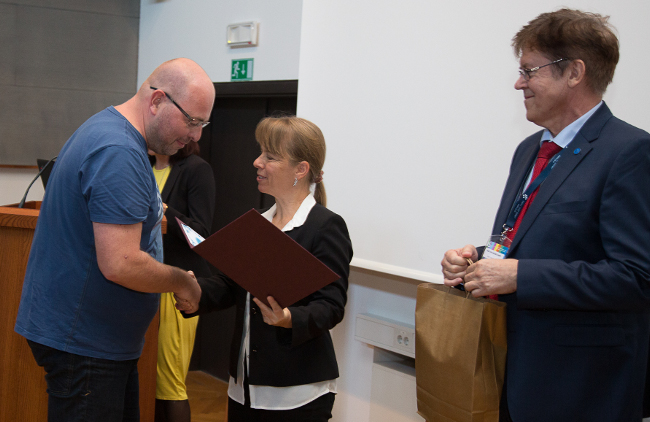 Congratulations, Gregor Anželj, for having received the "Best Computer Science Teacher in Primary or Secondary School" award in Slovenia at the 21st international multiconference Information Society (IS2018) in October 2018.
Gregor was nominated for the award based on his contributions to the computer science teacher community, development of interactive content and unit plans as well as contributions to the final exam. He was selected by fellow computer science teachers in Slovenia who are a part of the Slovenian ACM branch, teachers' section.
Mahara in use
Making effective use of the Mahara ePortfolio platform and SmartEvidence as a tool for professional growth and reflection
Duncan Driver (University of Canberra, Australia)
Standards are designed as a tool for continual reflection and growth: they are exploited to best effect when introduced early in a program as a 'built-in' requirement. I introduced a new assessment task into my unit that required students to select an educational artefact and annotate it against their chosen standards using SmartEvidence. The purpose of the task was to familiarise pre-service teachers with the standards as early as possible and engage them in an authentic assessment instrument that could form the basis of a professional portfolio to be added to over the course of their degree, eventually being used for registration/certification purposes.
The result of this SmartEvidence trial has been significant and impactful. The Director of Professional Standards and Recognition at the Teacher Quality Institute reviewed one student portfolio and wrote back, saying
I agree this was a great early example of reflective practice. Through keen observation, the PST (Pre-Service Teacher) has identified key features of practice including enquiry and cooperative learning, questioning and formative assessment, and collaborative teacher practice. [The student] has described what she has observed well in narrative form and begun to interpret what she has seen in terms of impact on students and teachers. She has aligned the practice she has observed, and her own, with descriptors at the Graduate/Proficient level... I really appreciate this opportunity to see the level of insight achieved by a first-year student. It bodes well for the profession that this is the caliber of candidates.
Given the common application of Mahara ePortfolios as a platform for assessment at the University of Canberra and our strategic plan's emphasis on educating 'workplace-ready' professionals, there is a strong potential for SmartEvidence. Other professional standards or KPIs from a range of professional fields could be added to the extant list of options in SmartEvidence in Mahara.
Metaphors for introducing portfolios
Kristina Höppner (Catalyst, New Zealand)
Metaphors are powerful tools to explain new concepts in familiar ways. They are often used in portfolio practice. The Mahara project designer Evonne Cheung created two illustrations for metaphors that are used by community members.
You can find them in the user manual for Mahara 18.10. Both metaphors, the gallery / museum and the performance, had been showcased in the January 2018 newsletter.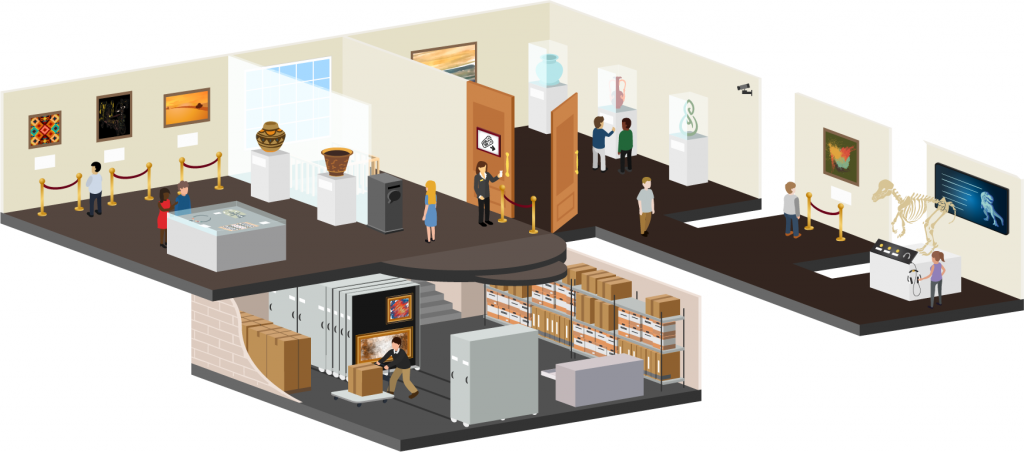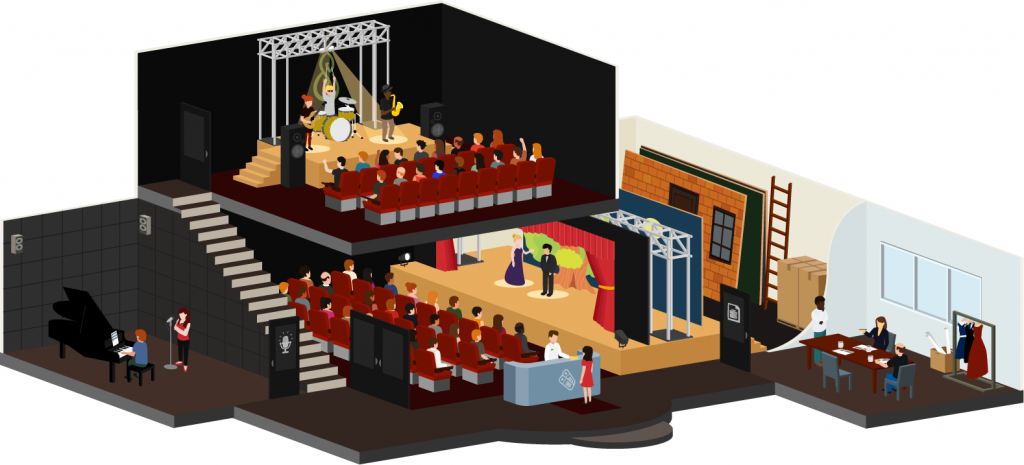 What metaphors do you use to make it easier for your learners to grasp the concept of portfolios? Please share your ideas in the "Pedagogy" forum.
Mahara in review
Changes to page functionality
Kristina Höppner (Catalyst, New Zealand)
We are committed to keeping Mahara current and making improvements to its usability. One area of review is the look and feel of Mahara pages. It has been remarked that they are "blocky". I think this is mainly due to the fact that we have the possibility to comment on artefacts and thus have the commenting links as well as the "Details" links available directly on the page when it is viewed.
A review of online tools that allow the creation of web pages / portfolios has shown that many use blocks like Mahara as well to pull specific content into a page. However, typically, they do not have the feedback functionality available and the possibility to dig deeper to see metadata of an artefact.
Having identified that as a major contributor to making Mahara pages look somewhat "administrative" or less like a showcase portfolio, we looked into ways of dealing with that without loosing the possibility to comment on individual content items as that is important to many people.
You can see the result of these first ideas. We invite your feedback on the options that we've drafted.
Extending SmartEvidence
Kristina Höppner (Catalyst, New Zealand)
SmartEvidence has been in Mahara since version 16.10. Over the past year, we've received a bit feedback on it as well as numerous additional framework files that we are making available online. We are working on adding a visual editor to Mahara to facilitate the creation of the frameworks.
At the moment, SmartEvidence allows for the creation of frameworks that consist of standards / competencies on one level of expertise. Frameworks that combine multiple levels, e.g. graduate - first-year teacher - experienced teacher, would need to be split up and a SmartEvidence file for each level created. That is not always practical as it doesn't allow the mapping of competencies across these levels.
Therefore, we are proposing to change SmartEvidence to accommodate multi-leveled frameworks. Dublin City University initiated the investigation of this change. We'd like to hear from you if that would be a useful enhancement and what you think about the current proposal.
Mahara in past events
Mahara Hui DACH18, 29 November - 1 December 2018
Kristina Höppner (Catalyst, New Zealand)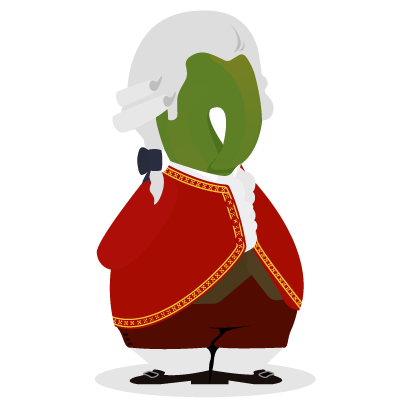 At the end of November, I had the privilege of attending Mahara Hui DACH18, Mahara Hui for Germany (D), Austria (A), and Switzerland (CH). The event was held at PH Wien, the University College of Teacher Education Vienna. There was a pre-hui day on 29 November 2018, and the two-day hui followed.
Mahara Hui DACH was for everyone invested in giving learners a supportive learning environment. And by learning environment I don't just mean an electronic portfolio, but also a learning management system, various other tools that help students progress in their learning, physical spaces that invite students to learn, and also an atmosphere that imparts on students that learning is not done by rote but by many other, more creative, means.
While a number of sessions did have a portfolio focus, many others didn't and allowed the participants to explore other areas of learning that can now enrich their own teaching repertoire.
The next Mahara Hui of the German-speaking countries will take place in Kassel, Germany, from 28 to 30 November 2019, and everyone is invited to attend. Conference languages are always German and English.
Mahara in development
Mahara 18.10: Facilitate reflections and assessment
Kristina Höppner (Catalyst, New Zealand)
On 25 October 2018 the Mahara core project team released Mahara 18.10. It was a big release for the time with a number of large new features that support reflecting on learning and assessing of portfolios. Since the release of this new version of Mahara, I've talked to lots of people about the new features, and three stood out in particular:
The new features are documented in the user manual, and the highlights can be found in the "New in Mahara 18.10" section.
We'd like to thank everybody who contributed to this latest release. Many participated again in different capacities, including UX, graphic design, front-end and back-end development, testing, translating, infrastructure support, user support. We also had numerous features sponsored by various organisations around the world. Read the release notes for the full announcement.