Welcome to the October 2018 newsletter. Today, 1 October 2018, is a milestone in the Mahara project. We made the release candidate for Mahara 18.10 available. We also have lots to celebrate, especially within the Irish community, and as usual have a number of stories of using Mahara in a variety of contexts.
If you want to share how you are using Mahara, please send us your article. We'd love to hear how you are using Mahara.
The next newsletter will be published on 1/2 January 2019, and you can send articles to [email protected].
The Mahara Newsletter is published under the Creative Commons BY-SA license 3.0.
Congratulations
Congratulations go to to Dublin City University for having received two notable awards recognizing the work the DCU teams have been doing to support students in their learning portfolio journey.
Lisa Donaldson (Dublin City University, Ireland)
The Association for Learning Technology (ALT) Learning Technologist of the Year Awards celebrate and reward excellent research and practice and outstanding achievement in Learning Technology. This year the Awards and ALT conference were held at the University of Manchester, UK, from 11 to 13 September 2018. The Learning Portfolio Team from Dublin City University (DCU) was selected as the winner of the Learning Technologist of the Year Team Award for their support of the successful implementation of DCU's learning portfolio.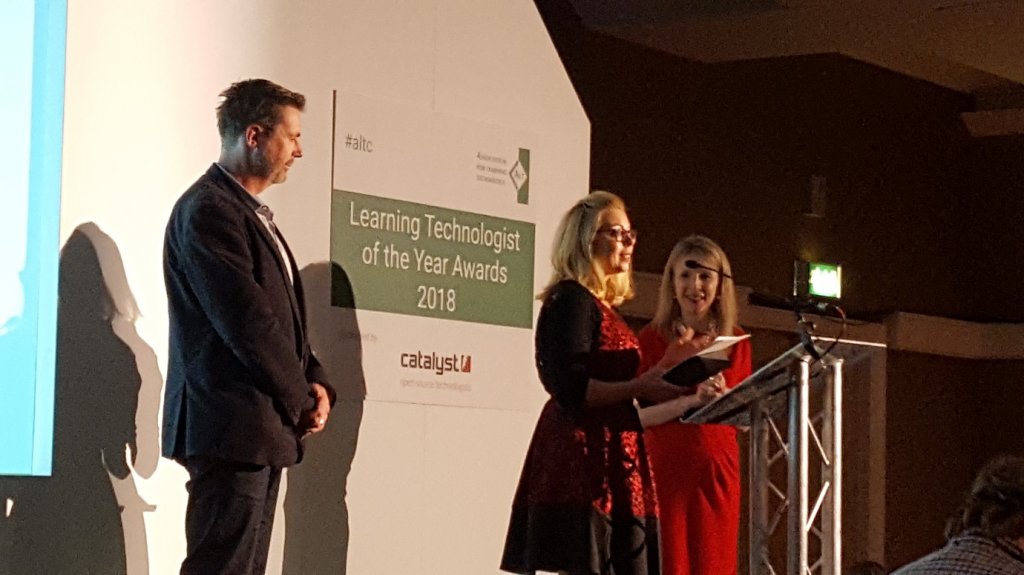 The learning portfolio platform, based on Mahara, now has over 10,000 users and is used in many different contexts across all faculties. The team is led by Lisa Donaldson and Mark Glynn, and supported by student eterns Chloe Langan, Niamh Gurrin, and Mirenda Rosenberg.
In addition to this judges choice award, the team are very honoured to have been selected by ALT peers for the Community Choice Award. Watch the video to learn more about the learning portfolio initiative at DCU.
Earlier this year, DCU was announced as the overall winner in a very competitive Coaching & Mentoring Category at the Irish Institute of Training & Development (IITD) National Training Awards. Since 2013, over 600 students have been mentored by hundreds of DCU alumni. A feature of this year's programme was the integration of DCU's online portfolio called Reflect. Students were invited to record and reflect on their learning experiences in the Mentoring Programme. In addition, they uploaded their career action plan and CV for future applications.
Mahara in use
PhD research showcase
Sam Taylor (formerly Cranfield University, UK; now Catalyst, UK)
Here at Cranfield Defence and Security we have been using Mahara predominantly to record outcomes from problem-based learning tasks and for group ePortfolio assessments. Recently, we've been receiving requests from our (amazing) PhD students who were looking for a platform to promote their work. I'd like to present Antony Nyombi's portfolio and his feedback about his experience of using Mahara to share his passion for his research with the world.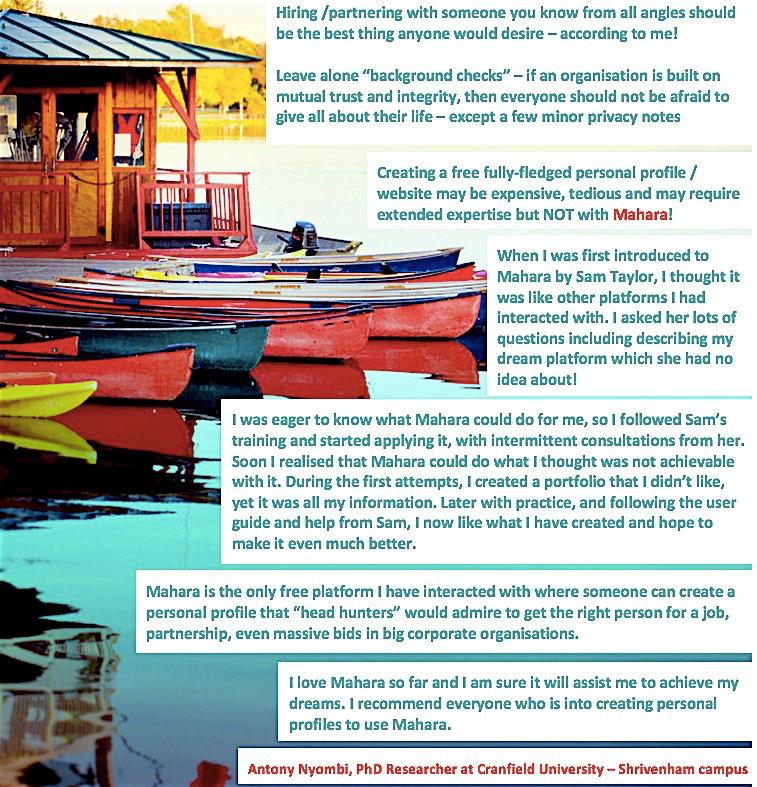 Transcript of the feedback shown in the image by Antony Nyombi, PhD Researcher at Cranfield University - Shrivenham campus:
Hiring / partnering with someone you know from all angles should be the best thing anyone would desire - according to me!
Leave alone "background checks" - if an organisation is built on mutual trust and integrity, then everyone should not be afraid to give all about their life - except a few minor privacy notes.
Creating a free fully-fledged personal profile / website may be expensive, tedious and may require extended expertise but NOT with Mahara!
When I was first introduced to Mahara by Sam Taylor, I thought it was like other platforms I had interacted with. I asked her lots of questions including describing my dream platform which she had no idea about.
I was eager to know what Mahara could do for me, so I followed Sam's training and started applying it, with intermittent consultations from her. Soon I realised that Mahara could do what I thought was not achievable with it. During the first attempts, I created a portfolio that I didn't like, yet it was all my information. Later with practice, and following the user guide and help from Sam, I now like what I have created and hope to make it even much better.
Mahara is the only free platform I have interacted with where someone can create a personal profile that "head hunters" would admire to get the right person for a job, partnership, even massive bids in big corporate organisations.
I love Mahara so far and I am sure it will assist me to achieve my dreams. I recommend everyone who is into creating personal profiles to use Mahara.
Showcasing the benefits of TEL
Kristina Höppner (Catalyst, New Zealand); with information from Sam Taylor (formerly Cranfield University, UK; now Catalyst, UK)
Staff at Cranfield Defence and Security (CDS) published the first issue of the CDS inTEL Review, an annual online magazine using Mahara features stories from around the campus on how technology enhanced learning using Mahara has benefited course delivery at CDS.
EPortfolio-based assessment: Getting the word out
Teresa MacKinnon (University of Warwick, UK)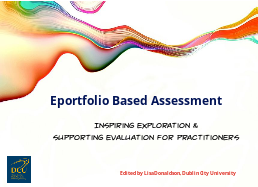 When I was approached by Lisa Donaldson (Dublin City University) about possibly contributing to an e-book about ePortfolios for assessment, I was delighted to contribute. I had written and published openly about how as a team of language teachers we had developed and implemented an ePortfolio approach as partial assessment for some of our modules in a language context. I was particularly excited about the opportunity to showcase this – now over 6 years of work – within a collection of examples from other disciplines as a contribution to rethinking how we assess.
We use Mahara as a reflective, personal space for students to reflect upon their skills development in language learning. The project has brought a better understanding between tutors and students, giving real agency in the learning process and creating renewable assessments as an open educational practice.
I sent Lisa lots of links to my writing and resources and somehow she worked her magic, pulling all the submissions together in a very effective and useful volume. The published e-book provides a really useful resource to any teacher wanting to find inspiration for ePortfolio assessment, whatever their context.
---
If you'd like to get involved in MUM, the Mahara Users Midlands group, and chat with Teresa, join the MUM online community and watch out for event announcements for in-person meetings.
Reflective telecollaborative practice through Erasmus+ Virtual Exchange
Teresa MacKinnon (University of Warwick, UK)
The Erasmus+ Virtual Exchange initiative offers cross border interaction through telecollaboration, giving young people over 18 years old the opportunity to connect and better understand the lives of their counterparts in other countries in a structured way.
This initiative aims to support the international experience which may otherwise be impossible for those who, for reasons of family commitments or financial demands, are unable to spend time studying abroad. The scheme also offers free training for academics and administrators in higher education institutions who would like to include this sort of activity in their programmes.
Participation in training through a wide range of possibilities shown on the website is recognised through the award of Erasmus Plus open badges. For the next few years I am working as part of the EVOLVE project in support of this inclusive approach to internationalisation and I am pleased to say that we will be using Mahara as a reflective space for participants in order to:
help increase the impact of their learning and
to provide research data in order to better understand how such activities can transform the way we understand each other.
I am very excited to be part of such an innovative project and will keep you updated on our activities. Meanwhile, if you know of colleagues interested in telecollaboration, please share the links above with them and watch out for the twitter feeds from @evolve_erasmus and @ErasmusVirtual.
Mahara in upcoming events
ePortfolio Forum, 9-10 October 2018
Kristina Höppner (Catalyst, New Zealand)
The ePortfolio Forum is the annual gathering of portfolio researchers and practitioners in Australasia. This year, it is going to take place at Griffith University in Brisbane, Australia, and marks the 7th annual event. The theme is "Exploring, Experiencing, Engaging, Energising, Expanding" and promises conversations that fit the theme very well.
Registration for this event is open. Check out the programme for more information. Follow #eportforum for updates.
Mahara Hui DACH, 29 November - 1 December 2018
H.D. Hirth (Lpaso, Germany)
Vienna Calling! We are glad to announce the 6th Mahara Hui for central European countries, provided and supported by Lpaso Institute of Learning Culture e.V.
The upcoming event with the title "Mahara Hui DACH18" will take place from 29 November to 1 December 2018 at University College of Teacher Education Vienna (PH Wien) in Austria. The organizing team wish to invite ePortfolio users from Germany (D), Austria (A), and Switzerland (CH). Other portfolio practitioners from across Europe are warmly welcomed to take part at this unconference as well.
The event language is German, but attendees are free to offer their sessions in English if that is more convenient.
Following the tradition, the event will begin with hands-on sessions on 29 November 2018 followed by a shared dinner near the venue.
The first conference day will start with a keynote by Dieter Omert (Audi AG, Ingolstadt, Germany). It will be followed by a full day of sessions planned by the hui attendees. We encourage participants to offer sessions of all kinds of topics and experiences around education. Later in the day, there is the possibility to learn more about the history of the city on a bus tour to historical places in Vienna before gathering for the conference dinner.
The conference dinner will be accompanied by the "Open Mic Band" of PH Wien. According to the conference motto, they will play hit songs by Falco, like "Vienna Calling".
The third day will be kicked off by Josef Buchner, university lecturer at University of St. Gallen in Switzerland. His keynote will be followed by more sessions offered by attendees before Mahara Hui DACH 2018 will come to a close in the late afternoon.
Mahara Hui DACH is again very affordable at 50€ per attendee for the main conference, 30 November to 1 December 2018, including coffee breaks, lunch, and conference dinner. The workshops of the pre-conference on 30 November and the bus tour of Vienna are charged separately.
You can register for the event. The organizing team from Lpaso e.V. and University College of Teacher Education Vienna look forward to welcoming you in Vienna later in the year.
Mahara in past events
Eportfolio Ireland unconference, 7 September 2018
Lisa Donaldson (Dublin City University, Ireland)
Eportfolio Ireland, Ireland's first ePortfolio community of practice, recently held its second unconference. This flexible and discussion driven format proved a huge success with Irish ePortfolio practitioners in January 2018 and resulted in the collaborative development of an ePortfolio assessment e-book which was launched at the event.
The e-book "Eportfolio based assessment: Inspiring exploration and supporting evaluation for practitioners" contains sample ePortfolio assessments and reflections on the same from practitioners across Ireland and the UK. It can be accessed online. A number of collaborative articles are currently being developed by the attendees of the September unconference which we hope to publish shortly. Follow us at @EportfolioIRL.
Mahara in development
Preview of Mahara 18.10
Kristina Höppner (Catalyst, New Zealand)
The preview version of Mahara 18.10 is available for download, installation, and testing. It's your chance to take a look at it and explore it before we are finalizing it for release at the end of October 2018. We are very happy to be offering you a large number of exciting new features. Amongst them are:
New navigation menu structure
Submit a portfolio to an LMS via LTI
View old versions of your portfolio in a timeline
Create a page based on tagged content automatically
Set up institution tags
Explore other people's portfolios via their tags
Support blind peer assessments
Sign off and verify portfolio pages
Set up a custom landing page after login
Edit plans directly within "Edit" mode of a page
Copy group portfolios into group member's accounts automatically
Set up instructions for a page
Moderate portfolios that were flagged as having objectionable content.
The user manual is being updated, and a large number of these features has already been documented. View them via "New in Mahara 18.10" in the manual's index.
View details in our announcement of the release candidate. We look forward to hearing from you about these new features.