Welcome to the January 2018 newsletter and thus a new year. We wish you all the best for 2018 and look forward to talking with you about Mahara. We hope you enjoy this first newsletter of 2018.
If you want to share how you are using Mahara, please send us your article. We'd love to hear how you are using Mahara.
The next newsletter will be published on 1 April 2018, and you can send articles to [email protected].
The Mahara Newsletter is published under the Creative Commons BY-SA license 3.0.
Mahara in use
ANU coffee course: Introductory course to portfolio learning and ePortfolio
Rebecca Ng (Australian National University, Australia)
The Australian National University (ANU) recently launched Mahara ePortfolio as a new tool for academic and professional development. To coincide with its launch, the team at ANU Online ran a 'Coffee Course' introducing portfolio learning and ePortfolio. Our Coffee Courses are short, online, and open access courses (requiring up to 15 minutes a day) covering topics in educational technology, teaching online, digital tools, pedagogy, or trends in technology.

In the ePortfolio Coffee Course, we introduce pedagogical benefits of portfolio learning, provide examples of ePortfolios used in higher education, and discuss risk factors and affordances of the technology.
Field guide to ePortfolio
Kristina Höppner (Catalyst, New Zealand)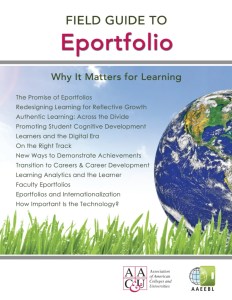 In 2015, AAEEBL (Association for Authentic, Experiential and Evidence-Based Learning) had the idea to publish a short book on important aspects of ePortfolio use in higher education. More than 50 contributors - predominantly from the U.S.A., but also from Australia, Canada, Great Britain, and New Zealand - worked collaboratively on this guide to bring together research, experiences, and case studies.
The twelve chapters are all kept short and contain a wealth of additional reading for delving deeper:
The promise of eportfolios for student learning and agency
Redesigning learning: Eportfolios in support of reflective growth within individuals and organizations
Authentic learning: Eportfolios across the divide
Promoting student cognitive development: Integrative learning, reflection, and metacognition
Learners and the digital era: Digital identity, digital literacy, and eportfolios
On the right track: Using eportfolios to address institutional challenges
New ways to demonstrate achievements: Warranting eportfolio evidence
Transition to career and career development
Learning analytics and the learner
Faculty eportfolios: Teaching and learning and professional development
Eportfolios and internationalization: Meeting the needs of the emergent global learner
How important is the technology?
The book is available as free download, and you are encouraged to share it with your network, team members, administrators who make decisions about portfolios at your institution, and anybody else who's interested in ePortfolios and wants to have a quick overview.
Bibliographic reference: Batson, T., Coleman, K. S., Chen, H. L., Watson, C. E., Rhodes, T. L., & Harver, A. (Eds.). (2017). Field guide to eportfolio. Washington, DC: Association of American Colleges and Universities.
I had the privilege to work with four ePortfolio researchers on one of the book chapters. We presented on our collaboration at the AAEEBL 2017 conference in Portland, Oregon, and provided a glimpse into our group work that spanned two hemispheres, four time zones, and three countries.
Introducing ePortfolios: Which metaphor do you use?
Kristina Höppner (Catalyst, New Zealand)
In November we asked in the forum and on social media what metaphors are used to explain ePortfolios. This question was prompted by a sharing of metaphors at Mahara Hui @Tauranga in New Zealand. The two metaphors shared there were: Stage / backstage and crime story. A few more were mentioned on in the Facebook group "Eportfolios community of practice":
Digital journey
Digital filing cabinet
Curated scrap book
Wardrobe
Kate Coleman dedicated an entire chapter to the topic of metaphors and ePortfolios in her PhD thesis An a/r/tist in wonderland: Exploring identity, creativity and digital portfolios as a/r/tographer.
In the following, you can read two metaphors. If you want to share your own, please email me. We are also looking at including the metaphors into the user manual in 2018 to make them more easily accessible.
Metaphor: Art gallery
Mandia Mentis (Massey University, New Zealand)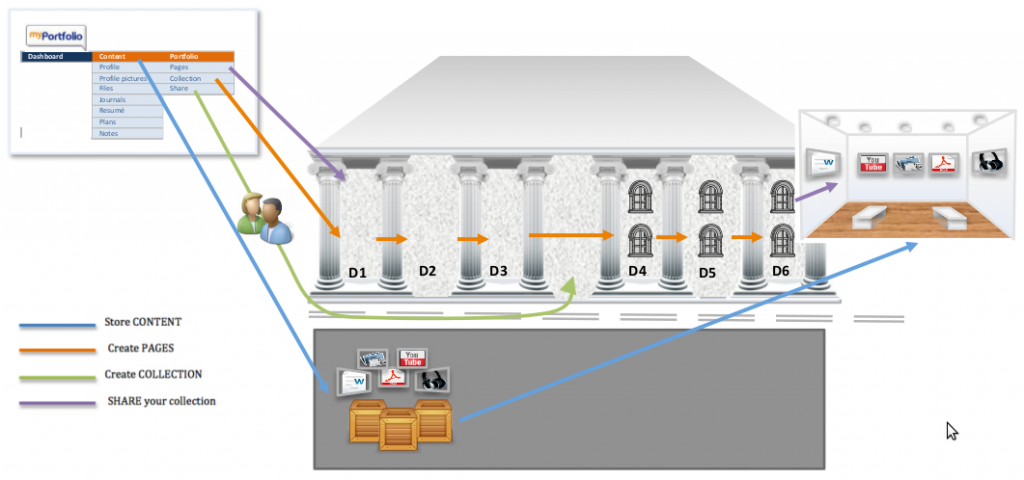 Imagine your portfolio was like showing your work at an art gallery as the image illustrates. The steps to creating a portfolio would involve:
| | |
| --- | --- |
| Steps involved in myPortfolio | Using the metaphor of an art gallery |
| Step 1: Store your content | In the art gallery metaphor this would be like storing your artefacts / content in the basement of the gallery to use later. Organising your storage space well will help to find artefacts later! |
| Step 2: Create pages | In the art gallery metaphor this would be like showing your artefacts /content in different rooms of the gallery – a  different room for each domain area. |
| Step 3: Create a collection (link pages into your portfolio) | In the art gallery metaphor this would be like linking the rooms into a exhibition - your final portfolio made up of all the domain pages. |
| Step 4: Share your collection (open your portfolio to be viewed) | In the art gallery metaphor this would be like allowing people into the gallery to view your exhibition - provide people with a link to view your myPortfolio. |
Note: This metaphor has been reproduced with permission from Mandia Mentis who had shared it under a Creative Commons BY-SA license. "myPortfolio" is the instance of Mahara that Massey University uses.
Metaphor: Performance
Hazel Owen (Ethos Consultancy NZ, New Zealand)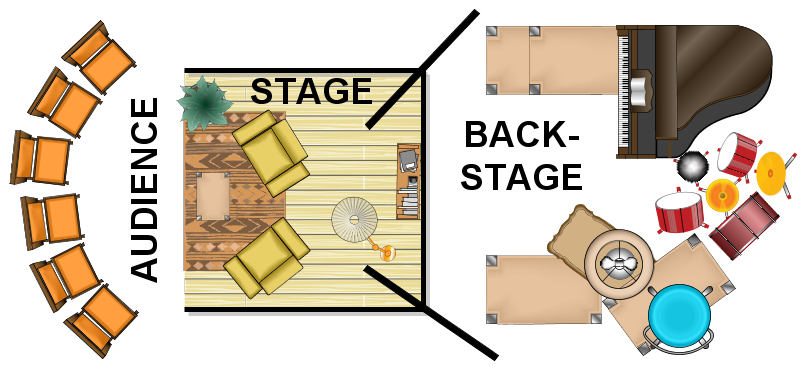 Thinking about how learners and educators use / experience ePortfolios, it is worth considering how they might be described conceptually. The idea of an ePortfolio as 'performance' can be developed to capture and illustrate the following notions:
Back stage: Collection of 'projects' – some half-finished, some ready for the next production, some still in the concept phase, some abandoned
Apprenticeship: Learning the 'language' and ways of being of a discipline (back stage and rehearsals; peer and tutor feedback – spend time as an apprentice, 'sweeping, painting scenery, learning the vocabulary')
Types of ePortfolio: Development & process (backstage & rehearsal); showcase/professional (final performance; multiple owner (the cast, director etc); working (combination of all the spaces)
Private / public space
Building trust/rapport and community
The performance as a production within and for a range of communities (see this diagram for more detail)
Rehearse as a group as well as an individual
Start to rehearse. Feedback from director/peers (work collaboratively to interpret a script)
Personality and creativity: interpretation of the script (role/assessment/rubric)
Audience: Who are they? Appropriacy. Don't always know (global)
Dress rehearsal/first night: iterative feedback loop
Some of these points may be stretching the analogy a little :-) , but it seems to pull together the potential of what an ePortfolio might be, and also stresses the need for scaffolding and support – you wouldn't expect someone to become a fully fledged actor with it!!
The point I built from was that most definitions and descriptions recognise ePortfolios as "a collection of 'works' ... that represent physical evidence of achievements" (Mason, Cochrane, & Owen, 2008), but they all seem rather esoteric and dry. The human element and sense of everything happening in communities often appears to be missing.
Reference: Mason, C., Cochrane, T., & Owen, H. (2008, March). E-portfolios. Paper presented at the Centre for Teaching and Learning Innovation Lunchtime Series, Unitec New Zealand, Auckland.
Note: This excerpt from ePortfolios was published with permission from Hazel Owen. Text: Creative Commons BY-SA 3.0; Image: Creative Commons BY-NC-ND 2.0.
Mahara in upcoming events
Integrating authentic ePortfolio assessment – An ePortfolio unconference, 26 January 2018
Lisa Donaldson (Dublin City University, Ireland)
This ePortfolio unconference, funded by the Irish National Forum for the Enhancement of Teaching and Learning, will support faculty integrating ePortfolio into teaching and assessment practices. It is demand led through feedback from the MaharaIRL ePortfolio community of practice – a group consisting of representatives from many Irish higher education institutions interested in exploring and sharing ePortfolio best practice.
The day will feature a presentation by Sam Taylor from Cranfield University, one of three founding members of an ePortfolio community of practice and key contributor to many ePortfolio initiatives in the UK. Following the presentation, the unconference will then dynamically address the individual interests of participants via electronic polling. These participant driven sessions will focus on the potential of an ePortfolio approach to assessment. Attendees may collaboratively develop and evaluate best practice principles for ePortfolio based assessment; design shareable resources and samples for ePortfolio use, to be disseminated to the wider community; or may choose to participate in / facilitate an ePortfolio conversation of their choice. Potential areas for discussion in the sessions may include:
First steps in considering ePortfolio based assessment
Developing discipline specific authentic assessment ePortfolio samples
Supporting critical reflection with ePortfolios
Documenting workplace learning through ePortfolios
Assessing ePortfolios through the generation of rubrics
...although you will decide and reimagine these on the day!
It is anticipated that best practices and resources developed through these breakout sessions will be shared back to participants and the National Forum to contribute to a body of knowledge on ePortfolio practices and assessment in Ireland.
Refreshments and lunch will be served. Please RSVP for logistics and catering purposes.
We look forward to welcoming you to DCU for an exciting and interactive unconference!
MoodleMoot Germany 2018, 13-15 March 2018
Pascal Fischer (Universität Kassel, Germany)
From 13 to 15 March 2018, the University of Kassel will organize the national practice-oriented conference MoodleMoot Germany with the Service Center Teaching and the German Moodle partner eLeDia at the University of Kassel. It is open to anyone interested in using Moodle and Mahara in their respective educational fields and institutions from different perspectives - whether as developers, users, or decision makers.
The main topics of the conference are:
• Designing educational offers in the process of social digitization
• Developing teaching and learning cultures, lifelong and barrier-free design
• Effective use of interfaces in the educational landscape
• Thinking about technology, law, and education in one context
• Developing together
There will be three keynote speakers: Moodle founder Dr. Martin Dougiamas (Australia), Elizabeth Dalton (U.S.A.), Research Analyst at Moodle Headquater, will talk about learning analytics, and Ralf Hilgenstock (Germany), co-owner of eLeDia, will report about data privacy when using learning management systems.
The final preconference programme as well as a first version of the main programme are available at moodlemoot.de. There you will also find more information and the conference registration form. Contributions to the programme can be submitted until 21 January 2018.
We look forward to seeing you at MoodleMoot in Kassel.
Mahara in past events
Mahara Hui EU17, 30 November - 2 December 2017
Jan Schulze (Lpaso, Germany)
The Lpaso team thanks all participants for a successful Mahara Hui EU17 and makes a review of the unconference available.
You can find interviews and opinions around learning and teaching in the audio journal. The video journal contains the edited recordings of the keynote presentations.
Listening and watching is worth it, and we'd love for you to share the links with others.
---
Mit einem Rückblick auf die erfolgreiche Mahara Hui EU17 bedanken wir uns bei allen Teilnehmern.
In dem Audiotagebuch findet ihr Interviews und Stimmen rund ums Lernen und Lehren. Im Videotagebuch sind die bearbeiteten Mitschnitte der Keynotes bereitgestellt.
Vorbeischauen lohnt sich und über eine Weitergabe des Links an Interessierte würden wir uns freuen.
Mahara in development
Assignment submission via LTI: First sponsor
Kristina Höppner (Catalyst, New Zealand)
In Mahara 17.04, we implemented the initial stage for making Mahara compatible with LTI: Single sign-on from a learning management system to Mahara. This work was made possible through funding from Instructure, the creators of Canvas.
The next stage would be to have assignment submission available via LTI so that Canvas, Blackboard, and other LMSs can integrate more comfortably into the assessment work flow because currently, assignment submission is only possible via Moodle.
The Mahara project is seeking sponsorship for this large piece of work. A few institutions have shown interest, and the first confirmed sponsor is the University of Canberra in Australia with $2,000. If you want to co-sponsor this feature, please get in touch with me to discuss the details to make this functionality happen.
Mahara and the GDPR
Kristina Höppner (Catalyst, New Zealand)
The GDPR (General Data Protection Regulation) is going into effect in the European Union on 25 May 2018. The Mahara project team is working on making necessary changes to adhere better to this regulation in order for institution to continue working with Mahara. These changes will be available in Mahara 18.04, which we are planning to release in the first half of April 2018.
Institutions should seek legal council before 25 May 2018 to determine what changes they may need to make to their privacy statement, terms and conditions, communication work flows, and whether they should upgrade to Mahara 18.04 before the end of May.
You can find information on the actions that the Mahara team is taking in the forum discussion and on the wiki.