Kia ora - welcome to the October 2017 newsletter of the Mahara project. No matter where in the world you are, you can benefit from insight of academics working with Mahara, receive some tips of implementing Mahara, and find out about past an upcoming events, besides looking forward to a new release of Mahara by the end of October.
If you want to share how you are using Mahara, please send us your article. We'd love to hear how you are using Mahara.
The next newsletter will be published on 1/2 January 2018, and you can send articles to [email protected].

The Mahara Newsletter is published under the Creative Commons BY-SA license 3.0.
Mahara in use
Employability and careers portfolios using Mahara
Shaun Pulman (Auckland University of Technology, New Zealand)
AUT trialled the use of Mahara as an employability portfolio over three months with a group of 25 students from various areas of the university. The trial was delivered in partnership between AUT's Employability and Careers team and CfLAT, the Centre for Learning and Teaching.
It marks a departure from the typical use of Mahara as an assessment or reflection tool for academic purposes at AUT, and instead allowed students to enhance their employability awareness and opportunities in two ways:
Development of a dynamic web profile containing diverse media, which can be shared with employers as a job application, but also with peers and AUT staff;
Employability information and resources (such as industry resources like AUT's Future Career Sheets, application information and videos) in one place and in various formats.
Two large employers (NZME and Auckland Council) partnered with AUT for the trial and offered advice and insights on the process. Other companies consulted were really positive about the idea, including Fonterra (NZ's largest company) and Air New Zealand.
The trial commenced with two workshops delivered to a combined total of 26 students in a computer lab. The workshop detailed the objectives of the trial and benefits to students, and then started the students off with using Mahara. Students then developed their own pages, with some submitting these as job applications.
Currently, students are submitting feedback through user testing and written surveys. The intention is that the portfolio will be used across the university in the future.
Shaun will be presenting on the trial at the NAGCAS conference in Sydney in late November 2017.
Who is using what down-under?
Michael Sankey (Western Sydney University, Australia)
A recent survey conducted by the Australasian Council on Open, Distance and e-Learning (ACODE) of which universities where using which ePortfolio tool, has found that 41% are using Mahara. The second most popular tool was PebblePad at 23%. Forty-four out of a possible 49 universities participated in this activity across Australia, New Zealand, and the South Pacific. Despite ePortfolio being a topic that most universities have come to terms with over the last five to seven years, four universities were still struggling to come-up with a centralized solution for their students. Anecdotally, this is partly to do with how the market place is changing, with the plethora of social media tools that can now slot (although not comfortably) into this space. It is partly to do with different academic disciplines not be able to agree on a common tool to meet their various needs, while others are leaving it to commercial entities such as LinkedIn to be a default professional profile.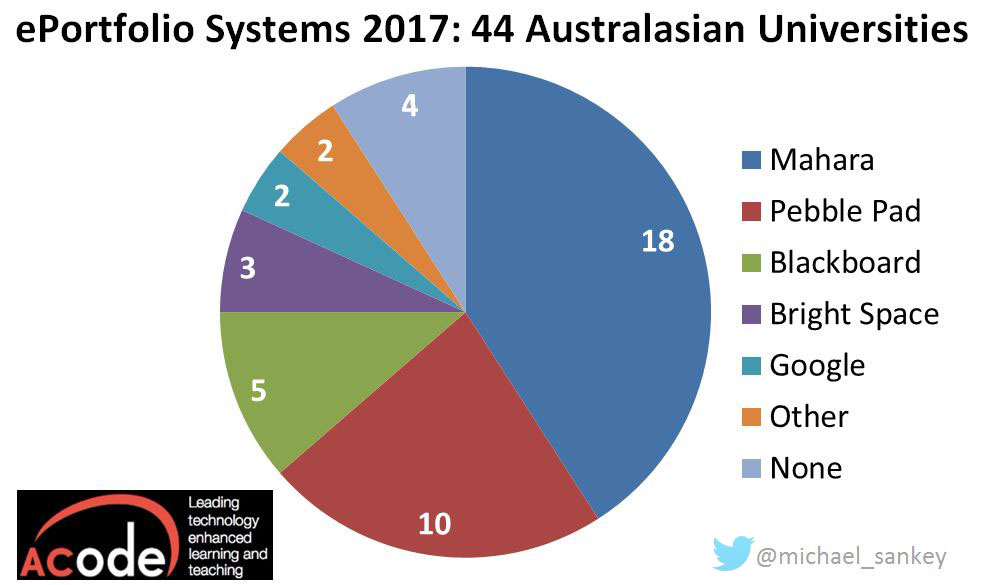 Notwithstanding, among these 44 universities, there was a huge reported variance in use of their ePortfolio. So although they may have a centrally supported system, others within the university were bypassing this for other (non-supported) solutions. This is not necessarily a problem, but it does either point to the fact that the centralized system may not necessarily be fully hitting the mark.
This is a dynamic space, as we look to the future we see the need for our centralized university systems to be able to engage with a whole range of external systems, whether they be software as a service (SaaS) or self-hosted. This applies equally to the learning management system (LMS), content management system (CMS), and ePortfolio, not to mention staff and student reward and recognition systems, but I would argue it is particularly important for the ePortfolio. With the rise of digital credentialing, blockchain certs and badging, there is an increased awareness of the portability and validity of ones online persona and professional presence that transcends, or extends the now obligatory although simplistic LinkedIn profile.
On a personal level, all roads lead to Rome (or in this case my ePortfolio). My former university (USQ) allows their alumni to keep their ePortfolio for life, as long as they keep up their profile with them (their password current), so this has allowed me to make my ePortfolio the centre of my professional profile. So I link to my ePortfolio from all my other professional social media sites (not Facebook), my Twitter, my SlideShare, my ResearchGate, etc. There is a really practical reason for this, it means I do not have to keep extensive profiles on all these different systems, I just need to keep one major site up-to-date and do the bare minimum on the others. But it also means I can lead people to my full profile that gives them a fuller picture about who I am, if they are interested (not that I expect anybody to be necessarily).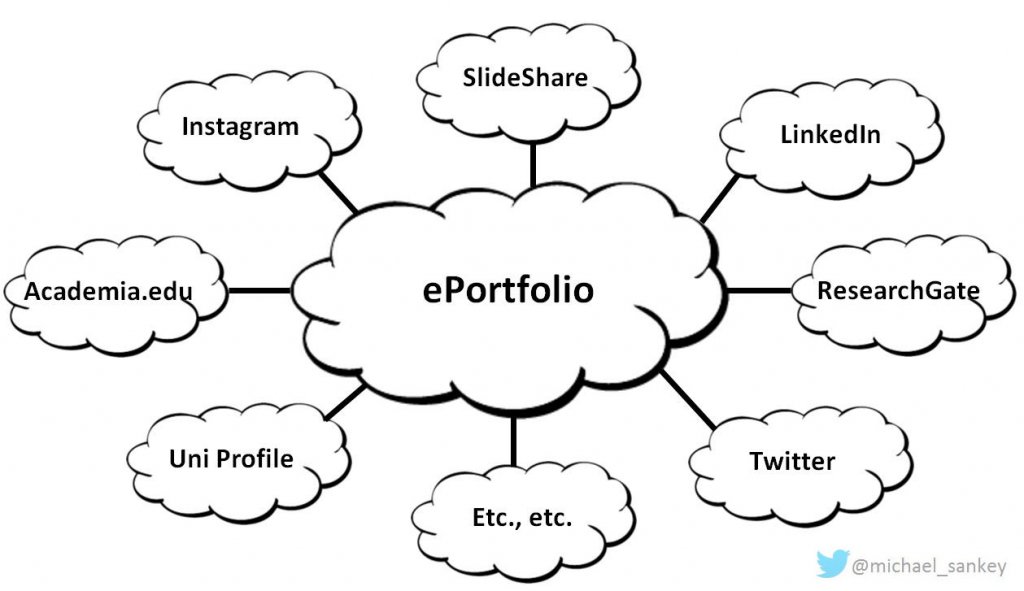 So what does this mean for ePortfolio companies as we move to 'what's next'? It means I want be able to integrate feeds from all these types of sites and to allow for my credentials to be seamless. I think I would like to be able to use it as my backpack as well. If I were an institution, I would want to be able to use my site to credential student and staff learning outcomes linkable to my student management system and staff professional development system. Why? Because that is going to make the ePortfolio usable by most, if not all the disciplines, the careers people, HR, professional accrediting bodies and most importantly potential employees.
EPortfolios to document learning and assessment
By Andrea Ghoneim (Danube University Krems, Austria)
The project ATS2020 (Assessment of Transversal Skills) and its learning model puts the learner in the center. For the documentation of the learning process, a learner centered virtual learning environment (VLE, a.k.a. LMS) helps collecting multimedia artefacts, reflections and assessment.
ATS2020 has provided partners from 10 European Union countries and their schools with the learning environments Office 365/OneNote Class notebook (hosted by the Cyprus Pedagogical Institute) and its own Mahara site (hosted at Danube University Krems). At the end of the pilot, a total of 102 schools were using Mahara, 113 were working with Office 365/OneNote Class Notebook. A few schools (21) decided to go their own way, mainly using own developments.
You can read more details on platform use, and dood practices and learning designs can be found via the ATS2020 resources portal. You can also check out a heartwarming video of Spanish students, entitled "We are Maharers".
Mahara theming on a budget
Sam Taylor (Cranfield University, UK)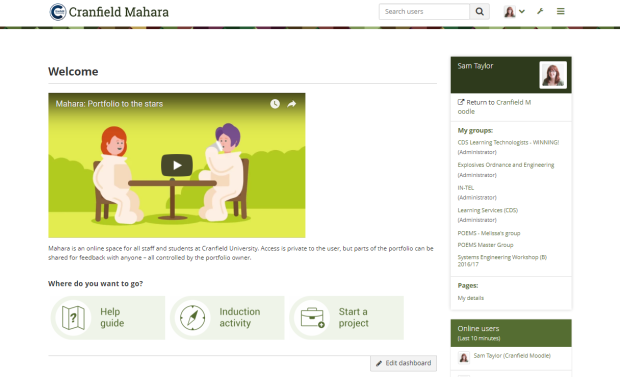 Some institutions are very lucky to have a team that can develop bespoke themes for their online sites. In our team (the Flexible Learning Support Centre) we don't have that luxury, so we've often just gone for a theme that's 'out of the box' for our Mahara site.
This time around, we thought we'd be a bit smarter and try to customize our site so that the system better reflects our needs. Read our Mahara theme journey from the start to where it is now, and how we have created our own blocks on the dashboard using the "Static pages" editor.
Mahara in upcoming events
You can view all event listings online and subscribe to our events calendar.
Mahoodle Moot, 20 October 2017
Kristina Hoeppner (Catalyst, New Zealand)
Cambridge Assessment International Examinations is hosting its first Mahoodle Moot in Cambridge on 20 October 2017. The event will take place from 9:30 a.m. to 3:30 p.m. featuring speakers from across the UK, Ireland, and continental Europe allowing for discussions around Mahara and Moodle among the participants and presenters.
You can find out more about this free event and register on the event web page.
KiwiMUG, 3 November 2017
Anne Stevens (Bay of Plenty DHB, New Zealand)
Come join us in Tauranga, New Zealand, to network with other Mahara ePortfolio enthusiasts. See and hear what's happening with SmartEvidence, Mahara Mobile and new features in Mahara 17.10. Stephen Bright, Anne Stevens, and Pascale Hyboud-Peron will be co-ordinating this event. Register for this free event today to secure your attendance.
Mahara Hui EU, 30 November - 2 December 2017
Kristina Hoeppner (Catalyst, New Zealand)
Tickets are available for the first Mahara Hui EU to be held in Kassel, Germany, from 30 November to 2 December 2017. This unconference gives every participant the chance to share their ideas, insight, and questions in sessions that are going to be organized on the unconference days. Find out more about how you can contribute to the success of the event. Mahara Hui EU has both English and German as official event languages, but other languages can also be spoken in the sessions if all session participants agree.
Mahara in past events
Mahara Hui New Zealand
Kristina Hoeppner (Catalyst, New Zealand)
The third Mahara Hui in Australasia took place in April 2017. Educators from across New Zealand, Australia, Fiji, and Switzerland attended the event at AUT in Auckland. Presentations covered a wide range of portfolio use primarily in tertiary education and beyond. We could welcome long-time Mahara community members as well as newcomers like Shaun Pullman, who is now trialling Mahara for employability purposes at AUT as outlined in an article in this newsletter.
You can view the recorded sessions and learn more from each of the presenters.
MOF2017
Shin-Ichiro Kubota (Kumamoto University, Japan)
Mahara Open Forum 2017 (MOF2017) took place at Hiroshima University (Higashi-Hiroshima Campus) in Japan on 4 and 5 September 2017. MOF is organized by the Japanese Mahara User Group (MUG Japan) annually.
As a challenge for the Japanese MUG, MOF2017 organized a pre-conference workshop in which Prof. Takahiro Sumiya showed participants how to create a blocktype plugin. Attendees who found it difficult to set up their own plugins before received a number of tips to jump start their own development.
We had an invited online presentation from Kristina Hoeppner in which she talked about the latest features of Mahara 17.04 and upcoming ones in Mahara 17.10. As the keynote lecturer, Prof. Yasuhiko Morimoto reported on ePortfolio use cases, positioning of the ePortfolio and the importance of the learning community in an active learning environment in primary and secondary education.
After the lecture, we had seven presentations on various aspects of portfolio work. For example, one presentation showcased different use cases of portfolios at universities. In another session, portfolios were looked at from the lens of supporting learning outcomes across multiple subjects and classes and how to accomplish their evaluation. Attendees also had the opportunity to deepen their knowledge in specific areas of Mahara. In the panel discussion that concluded MOF2017, attendees discussed implementation issues and future directions for the use of Mahara based on the reports of six universities currently working with the ePortfolio platform.
For more information, please see the MOF2017 website. Next year, MOF2018 will take place at Kio University in Japan.
MaharaIRL autumn webinar
Lisa Donaldson (Dublin City University, Ireland)
The MaharaIRL user group met for its first online webinar on 19 September 2017 following on from the success of the inaugural face-to-face meeting in April. The group was founded in early 2017 to build a community to share information, support learning, and aid collaboration on ePortfolios across Ireland. Originating from a small group of pilot leads adopting ePortfolios at Dublin City University, the wider MaharaIRL community encompasses faculty, learning technologists, and technical staff from many higher education institutions. Attendees from eight institutions were represented at the webinar which was aligned with the theme "Using ePortfolios to support and assess students on work placement and to track competencies".
Anne Stevens, a Learning Technology leader from New Zealand, presented a fascinating insight to using Mahara ePortfolios to track competencies of graduate nurses. Lively conversation ensued around the delicate balance between providing structure and inhibiting creativity when using a template approach with students as well as the positive impact of ePortfolio grading on the assessors.
A Q&A session around using ePortfolios to support work placement highlighted that the majority of programmes had a work placement element, but there was a three way split between those using, not using and those about to consider using ePortfolios to support same. Time, technical support, money, and resistance to change were identified as the main impediments to integrating ePortfolios.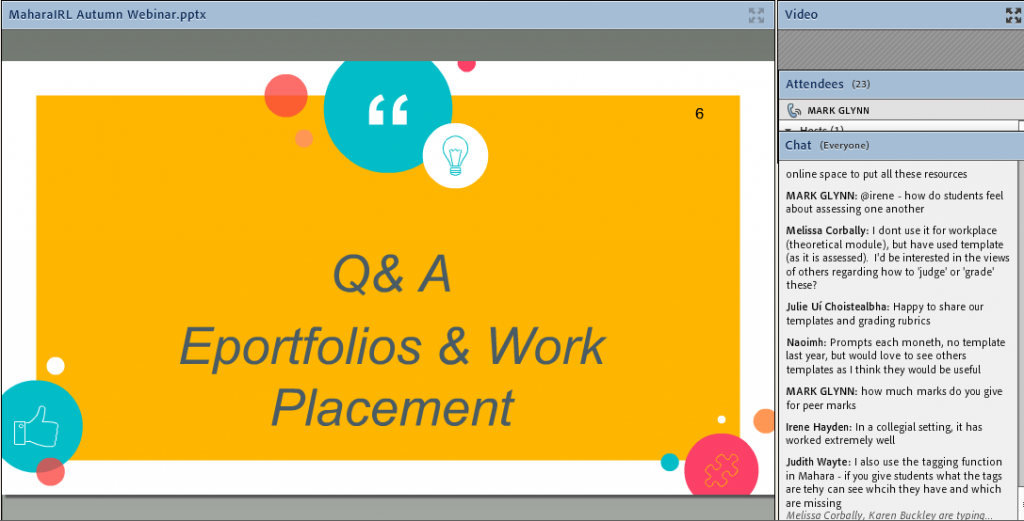 Fingers were flying across keyboards as those currently using ePortfolios in this capacity offered examples of how they were assessing experiential learning and what supports they were providing. Support referenced included: short videos, introductory lectures, follow-up emails, FAQs, prompt sheets, lectures on professional development and critical thinking, webinars, handbooks, weekly supervision, online forums and student eterns. The collaborative nature of the group was evident through the many offers to share these valuable resources.
The majority of cases discussed did not feature to a peer-to-peer component, but this came out strongly as an area attendees were interested in exploring further. Conversation again turned to templates and whether templating helps or hinders the development of the placement portfolio and digital literacies. Templates, prompts and rubrics proved to be commonly used among the group particularly when first introducing ePortfolios to students.
The webinar then moved on to Kristina's Corner. A specially recorded piece by Kristina Hoeppner (Catalyst IT) on tracking competencies through SmartEvidence – many thanks Kristina. The functionality of SmartEvidence proved appealing and the video was posted online for further review.
With time against us, we had a whistle stop tour through attendees' wow moments and woe moments when integrating ePortfolios. Sample wows included: an oral showcase of final-year portfolios, a student expressing gratitude for the 'space' provided by the ePortfolio, and graduates reporting huge success in securing teaching jobs through presenting their portfolios at interviews. The inevitable woes featured educators' own lack of experience, students not being able to see past the need for technical skills, and a desire to see greater focus on softer skills / graduate attributes.
Our webinar closed after an hour of amazing and generous interaction with a suggestion for a next face-to-face meeting or ePportfolio day and perhaps a regular Twitter chat. We hope to plan for those before the end of 2017. Watch this space! If you would like to join our ongoing conversations around sharing impactful ePortfolio practice, please contact me.
Many thanks to attendees from Dublin City University, Marino Institute of Education, Hibernia College, National College of Ireland, Galway-Mayo Institute of Technology, Institute of Technology Sligo, Mary Immaculate College, and the National Forum for the Enhancement of Teaching and Learning.
You can watch the recording of the webinar.
New term, new connections
Teresa MacKinnon (University of Warwick, UK)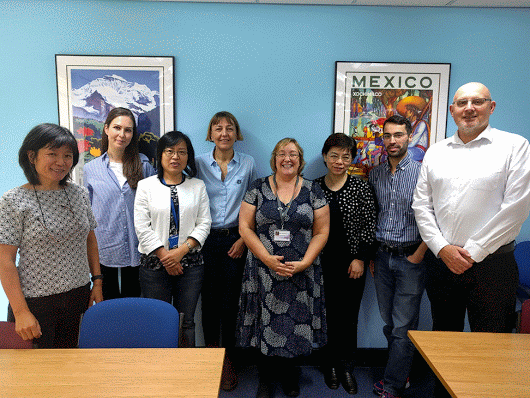 Our first meeting of the MUM group (Mahara Users Midlands) for the new academic year on 27 September 2017 was a welcome opportunity for the University of Warwick cohort to touch base. We were hoping to welcome Anne Stevens on a visit to the UK from New Zealand but unfortunately she became ill and was unable to come. I hope we will meet another time even if it is just via one of our webinars.
Changes afoot at Warwick meant there was plenty to talk about. Teresa MacKinnon gave a quick overview of previous MUM events and shared the G+ community. Jim Judges, who is moving to a full time teaching role in our Centre for Lifelong Learning shortly, gave us an overview of Warwick's Mahara user statistics and spoke about some interesting uses including Warwick Manufacturing Group who have a cohort of Jaguar Land Rover Masters students using it for their research. As the site [email protected] (a Mahoodle which has been used by the Language Centre for six years) is no longer to be supported, the ePortfolio assessment will now happen through MyPortfolio, the university's Mahara site. School of Modern Languages and Cultures tutors, including language centre tutors, are now to join and student and staff support groups are being set up within it.
We shared information about exporting between Mahara instances using Leap2A or HTML formats and free hosting beyond the institutional setup. The Language Centre has previously suggested to use folioforme and FolioSpaces. Teresa also showed the open badges display from her CMALT review page which automatically picks up public badges belonging to her user identity.
Bernadett Bus from the learning technology support team at the University of Gloucestershire showed us how they are growing their use of Mahara across modules where she currently supports over 1,000 students. A Moodle course is used to curate the key documentation, and face-to-face sessions provide student support. The discussion revealed many similar concerns to my own around the use of templates for ePortfolio creation. We briefly shared views around the importance of learner agency in the Mahara space, a technology which is unusual amongst many educational technologies as it respects the individual's right to experiment without constant tutor or assessor surveillance. We agreed that the use of this tool allows students to learn more about their permissions management, a digital competence which is increasingly important. This was also one of the conclusions arising from the Warwick International Higher Education Academy student engagement project where students reflected on their use of technology within their teaching context. Bernadett made the point that in her experience, user problems subside if they are given greater flexibility rather than a restrictive template.
Jim raised the issue of student push back on ePortfolio use and the discussion concluded that if the implementation is well suited to the learning purpose and good support is available in the early days, then students do overcome their concerns and they are legitimately challenged to move beyond their comfort zone and acquire important 21st century skills.
A brief photo session and some chocolate rounded off this first face-to-face meeting of the year and we hope to continue our connecting, making many new friends.
Mahara in development
Mahara 17.10 is on its way
Kristina Hoeppner (Catalyst, New Zealand)
It feels like the Mahara 17.04 release was not that long ago, and now we are already getting closer to the 17.10 release. We are aiming to have 17.10.0 available either in the third or fourth week of October. That all depends on how the testing of the release candidate goes. And that is where we are looking to you.
We published the release candidate (RC), essentially a beta version of Mahara 17.10, on 29 September 2017. Installing this version on a test or development server, will give you access to all the new features of Mahara and allow you to test them to your heart's content. We look forward to your feedback as that will help make the stable release of Mahara 17.10 later in the month more robust.
This new version of Mahara will include the following, amongst others:
New reporting section consolidating all statistics and reports in one area
Advanced reporting (in conjunction with Elasticsearch) - initial results of the AAIM project
Elasticsearch upgrade to a modern version of Elasticsearch.
Search for notifications
Consolidation of the page settings screens and buttons on all editing screens
Support the upload of a second logo for small devices
Group homepage to list all members that have not submitted anything to the group
Display of image via data base64
Configuration of ADFS via the SAML authentication option
Find out more about the release candidate and how to test it.
Mahara for first-time users
Kristina Hoeppner (Catalyst, New Zealand)
Recently at Catalyst, we started a UX (user experience) project looking into the experience of people new to Mahara. We are planning on conducting a series of interviews (in Wellington, online, and at Mahara Hui EU) over the course of the next two months. If you recently gathered feedback from first-time users or are want to recommend people to talk to, please get in touch.
Shared SmartEvidence frameworks
Kristina Hoeppner (Catalyst, New Zealand)
Over the Northern hemispheric summer holidays, a number of academic institutions upgraded to a version of Mahara that includes SmartEvidence, which is either Mahara 16.10 or Mahara 17.04. I'm excited that the use of this comprehensive feature is now being explored more than over the last year and look forward to the resulting discussions.
Since competency frameworks are often required across institutions, we set up a space where you can download existing framework files. Recently, Paul Taylor shared six Learning Machine frameworks created as SmartEvidence files. At Catalyst, we set up the new New Zealand teacher standards in both English and Te Reo Māori (both will be included in Mahara 17.10 replacing the existing standards), the latter with support from Ian Cormack who provided translations for the assessment statuses. If you created frameworks and want to make them available, please send them via email for inclusion.