Welcome to the April 2017 issue of the newsletter. We are excited to share a lot of development news and to announce numerous events that are happening this year.
If you want to share how you are using Mahara, please send us your article. We'd love to hear how you are using Mahara.
The next newsletter will be published on 1 July 2017, and you can send articles to [email protected].
The Mahara Newsletter is published under the Creative Commons BY-SA license 3.0.
Mahara in use
Dearborn tech coaches help students and teachers explore portfolios
Christopher Kenniburg (Dearborn Public Schools, U.S.A.)
Dearborn Public Schools operates a "Mahoodle" service for students and staff. We have 20,000 students in grades K-12. A new initiative in the district focuses on students taking ownership of their learning and creating individual learn plans. We call this initiative "My Learning Plan", and while the initiative doesn't spell out any one tool, we believe Mahara is the best choice.
There is a lot of innovation from both teachers and students as they get more comfortable with the tools. More importantly is that the tool allows for creativity and not a prescribed way to display portfolios. This creativity is getting all of us to think differently and to look at things in ways we have not before.
We have two tech coaches that tour the district training teachers every day. From blogging to email and everything in between, they are in the classrooms and schools working one-on-one with teachers. I couldn't possibly do their work justice so I will link to several key blog posts about how we are utilizing Mahara.
Developing an online academic presence: Fordson High School students are building My Learning Plans and using Mahara to display and organize everything for them.
Fordson photography students are using Mahara to display their amazing work: Students at Fordson have been using Mahara ePortfolios to collect and curate their best work.
Elementary students are starting off the year with Mahara ePortfolios: This school year started off with a specific focus on goals and artifacts in several elementary schools around the district. Teachers at Geer Park, William Ford, Haigh, Maples, and McDonald have begun using Mahara ePortfolios with their classes to keep track of goals and collect important artifacts throughout the school year.
Transversal skills and ePortfolios
Isabell Grundschober (Danube University Krems, Austria)

The latest ATS2020 (Assessment of Transversal Skills) meeting took place in Zagreb, Croatia, between 13 and 15 March 2017. During the project, a student-centred learning model based on the ePortfolio approach was established. It aims at supporting the development and assessment of transversal skills in K-12 schools in Europe fostering autonomous learning, information competency, collaboration and communication as well as creativity and innovation.
CARnet, the Croatian Academic and Research Network, hosted the meeting in Zagreb. Experiences from implementing the ATS2020 learning model in 10 EU countries were shared. Schools used either Mahara or OneNote/Office 365 when applying the learning model in class. Furthermore, possibilities for using learning analytics were explored.
At the moment, teachers all over Europe are testing the ATS2020 learning model and apply an ePortfolio approach centered around the Mahara plugin "My Learning", which is also available as a template for Office 365. Lesson designs are available via the ATS2020 resources portal. Find the best-of collection of the meeting tweets at "ATS2020 in Zagreb: Our Twitter Story".
All in all, 12,349 students are engaged in the pilot implementation in the following countries: Belgium, Croatia, Cyprus, Estonia, Finland, Galicia, Greece, Ireland, Lithuania, and Slovenia! Read more about the classroom experiences with Mahara/OneNote.
Mahara in upcoming events
MUGSE meeting, 25 April 2017
Anne Hole (University of Sussex, UK)
The University of Sussex will be hosting the spring meeting of the Mahara User Group Southern England (MUGSE) on 25 April 2017. The day will begin with coffee and networking at 11 a.m., move on to presentations and discussions at noon, and finish at 3.30 p.m. A sandwich lunch is very kindly being provided by Catalyst.
Presentations will include:
There are also opportunities for participants to share with the group in either a five-minute lightning talk or a short (15 minutes) presentation. Please complete the registration form to book a place and let the organizers know if you want to offer a presentation.
MaharaIRL user group meeting, 27 April 2017
Lisa Donaldson (Dublin City University, Ireland)
The MaharaIRL user group is looking forward to its first face-to-face meeting at Dublin City University on 27 April 2017. This user group hopes to build a community to share information and support learning and collaboration on ePortfolios across Ireland.
We welcome all ePortfolio users to join us at St. Patricks Campus, Drumcondra, for a morning of speakers from many institutions and roundtable discussions for ePortfolio users of all kinds and stages. Speakers from Dublin City University, University College Dublin, and Royal College of Surgeons in Ireland will share their experiences of ePortfolios and Enovation Solutions will present on the new features of the April Mahara release. Round table discussions are planned to enable the sharing of problems (as well as solutions!) and best practices with ePortfolios for teaching and learning. A light lunch will follow the event.
Mahara User Group meeting, 23 May 2017
Kristina Höppner (Catalyst, New Zealand)
The next Mahara User Group (MUG) meeting will take place online on 23 May 2017 at 3 p.m. EST. If you want to present at the meeting, please send an email to the MUG organizers.
Mahara Hui FR, 28-30 June 2017
Kristina Höppner (Catalyst, New Zealand)
Mahara Hui Francophone will be held in Lyon (France) from 28 to 30 June 2017. More information is available on the MoodleMoot FR Mahara Hui FR website. If you are really quick, you can still propose a session by the end of 1 April 2017. Registration closes on 29 May 2017.
Eportfolio Forum, 20-21 September 2017
Allison Miller (Digital Capability, Australia)
This year's 6th Eportfolio Forum will be focussing on owning, supporting and sharing the ePortfolio journey. The Forum will take place at Monash College/University in Melbourne, Australia, on 20 and 21 September 2017. You can propose a session until 22 May 2017, and and registrations open in May.
Keep up to date with what is happening with this event and other ePortfolios Australia activities by either subscribing to the eNewsletter or by following the blog.
Mahara Hui | EU17, 30 November - 2 December 2017
Dietmar Johlen (LPaso, Germany)
The first Mahara Hui EU will take place in Kassel, Germany, from 30 November to 2 December 2017. The Mahara Hui DE team invites Mahara users from around Europe to attend this first European Mahara Hui. The keynote speakers will be Thomas Strasser on Friday and Gunter Dueck on Saturday. The event is under the motto "agile learning for success". Mahara Hui will be organized as a barcamp. Join us for three days of learning and sharing.

More information will be shared soon on the website and Twitter.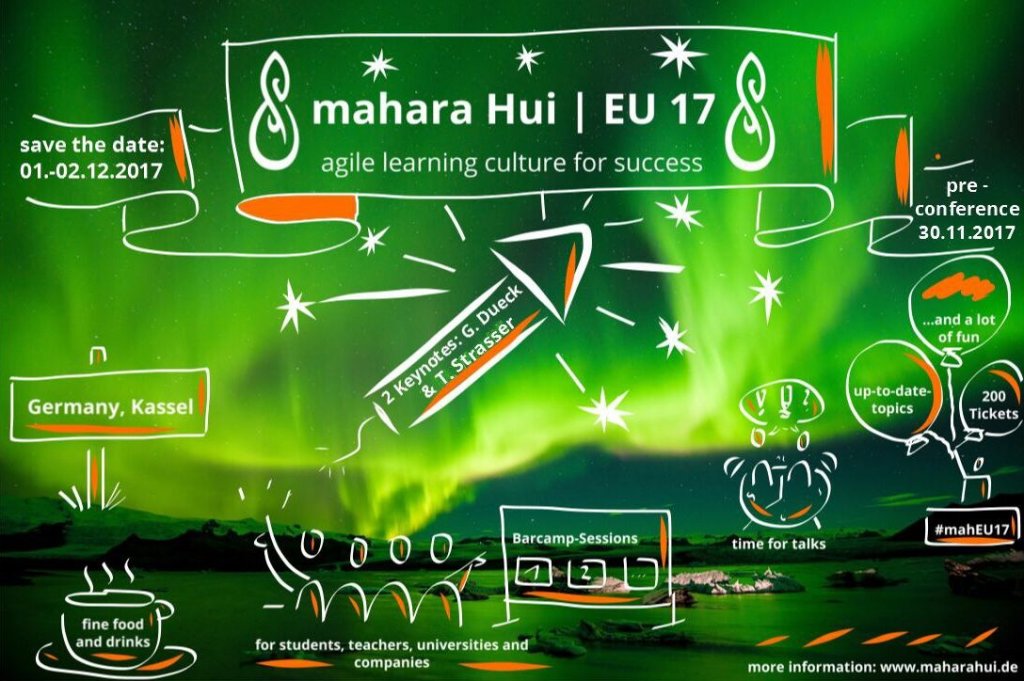 Mahara in development
Mahara 17.04 upcoming release
Kristina Höppner (Catalyst, New Zealand)
It's April again and that means that there will be another Mahara release in the last week of April. You can help us test the release candidate to make the stable release as best as possible. It would help if you tested the new functionality on one of your test installations or used our development instance (for the non-site administration features).
We have a number of new features for you to look forward to:
App-style navigation for Mahara
Support for single sign-on via LTI from an LMS
Pages and collections are displayed on one screen
New "Default" theme
Portfolios of your friends that you have access to can be tracked easily on your dashboard
MochiKit JavaScript has been removed from Mahara
Language packs can be updated via CLI
Check out the forum post for more information.
Enhanced analytics in Mahara
David Walker (University of Sussex, UK)
The reporting capabilities within Mahara will be fundamentally enhanced in version 17.10 as a result of a project led by the University of Sussex and Dublin City University.
The Higher Education Funding Council for England (HEFCE) funded Advanced Analytics in Mahara (AAIM) project aims to provide Mahara administrators with more fine grained insights into how portfolios are used over time and how learners engage with the system.
A scoping exercise open to the global Mahara community captured requirements to inform the design of the new analytics reports with input from an expert reference group providing further direction to the project team on the proposed developments. 
Four key reports emerged as a result of the scoping exercise:
Page activity
User activity
Collaboration
Group activity
The project has engaged Catalyst to deliver these enhanced analytics capabilities which will be available to the entire Mahara community.
Europass plugin for Mahara
Gregor Anželj (POVSOD, Slovenia)
The last minor update of the Europass plugin for Mahara happened in July 2015 when some Europass service features were deprecated. The last major update was back in December 2012. Since then both Mahara and Europass saw major changes. So it was time for a major upgrade of the Europass plugin for Mahara.
The new Europass XML format resulted in changes to the official online editor and these are also reflected in the new version of the Mahara plugin. The user interface of the plugin was rewritten from scratch, and there are many improvements that are hidden under the surface (for web developers that want a bit more insight: SOAP API was replaced with REST API).
The latest update of the plugin contains the new user interface, better support for language-related information (language knowledge as well as language diplomas, certificates and experiences), computer and digital literacy, and other aspects of a curriculum vitae (CV).
Data entered into the plugin in Mahara can be exported into formats such as PDF, Microsoft Word and OpenDocument. Making it possible to import a CV is a priority for the next release of the plugin alongside allowing importing from and / or exporting to professional social networks like LinkedIn and XING.
Download the latest release of the plugin to give it a go.