Welcome to the summer / winter 2016 edition of the Mahara newsletter. Take out your calendar and mark all the dates of Mahara events starting tomorrow for the Northern Hemispheric summer.
If you want to share how you are using Mahara, please send us your article. We'd love to hear how you are using Mahara.
The next newsletter will be published on 1 October 2016, and you can send articles to [email protected].

The Mahara Newsletter is published under the Creative Commons BY-SA license 3.0.
Mahara in use
Introducing ePortfolio into undergraduate nursing
Carmel Haggerty (Whitireia New Zealand)
Portfolios are a common assessment tool used in undergraduate nursing education internationally (McMullan, 2005; Oermann, 2002). As nursing educators move to ePortfolio, there would appear to be little consistency in how to use the ePortfolio most effectively for student learning and / or assessment. There is much discussion and disagreement between and within nursing programmes in regard to the platform to use. Add to this the fact that the use of technology in undergraduate nursing education can be stressful for both students and tutorial staff (Andrews & Cole, 2015; McMullan, 2005).

We decided to go with Mahara, mainly as it was available through our existing LMS and would be internally support by our ICT Helpdesk and Online Learning Team. However as we became more familiar with the platform and were upgraded to the latest version (including the CPD plugin), we found that Mahara met all of our needs for a professional undergraduate nursing degree and would continue to meet the needs of graduates into their careers. 

Although Andrews and Cole (2015) saw the ePortfolio platform Mahara as complex, they also saw its benefits and recommended to introduce small components of it at one time rather than all at once. They identified a three-stage approach over the three years of an undergraduate nursing degree, with complexity and technical skill increasing over the three years. The end output would be that students develop over time an extensive portfolio of evidence that could be used for assessment and employment purposes. Our research project supported this approach and recommended that the implementation of ePortfolio into any programme of study needs to be well planned, supported by sound pedagogy, and evaluated overtime.
Scaling the social media mountain using Mahara
David Bell (Kiwiconnexion, New Zealand)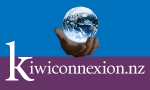 On the social learning site kiwiconnexion.nz, the overwhelming majority of users are in the 50+ age group. Understandably, perhaps, the most frequent user criticism of Mahara is that it is hard to learn.

The reality is that Facebook, Twitter, and Google+ are also hard to learn for the majority of older adult users who are not used to working with software like this.

Let's acknowledge there is a problem here. And then ask a different question.

What does the finished output of an experienced Mahara user look like? How well do their pages and collections scan? Do they stand out? Is the result a handsome design that invites participation?

If the answer to that is yes, then users will want to learn not just how to curate and display their content in their Mahara instance, they will want to design it so that others will want to participate in it.

Our site was begun under the premise that creative work has to be designed to both inform and be marketable.

Our objective is social learning around leadership and design within a voluntary organization.

It's an ongoing project, always a work in progress, an evolution of ideas and concepts. You can check out how we are encouraging Mahara as the platform of choice for social learning of this kind, And how Open Badges are integral to social learning development.
[email protected]: Mahara ePortfolios in career-integrated study programmes
Angelika Köhnlein-Welte and Christiana Nolte (Duale Hochschule Baden-Württemberg Villingen-Schwenningen, Germany)
The Baden-Wuerttemberg Cooperative State University Villingen-Schwenningen has 2,500 students and, in cooperation with almost 1,000 selected companies and social institutions, offers  career-integrated study programmes in the Business and Social Sciences schools. At the School of Social Science, we have been using Mahara since 2009.
Today our current Version is 15.10. We appreciate the regular updates, the added and improved important features, and enhanced usability of our Mahara installation.
Active participation varies between 30 and 240 students on a yearly basis. We employ Mahara for study deliverables that are created by the students while they are working in a social institution away from the university. We use Mahara to provide continuous support and counseling, information and communication, for feedback, for group organization and networking, as well as encouragement for peer learning.
The students develop individual reflection portfolios and deliver these portfolios as a structured study deliverable. The reflection portfolios are shared and discussed in student peer groups. We call a set of portfolios shared to one group of students transfer portfolios. These portfolios show different approaches to the transfer of theoretical concepts to practice in the field of social work.
Further information, especially about the strong and the weak points of the approach you can find in a recent presentation.
ATS2020 getting prepared for classroom piloting
Andrea Ghoneim (Danube University Krems, Austria)
ATS2020 project partners convened in Dublin, Ireland, on 9 and 10 May 2016 to discuss further milestones of assessment of transversal skills. Piloting of the ATS2020 Learning and Assessment Model in classrooms across Europe will start in autumn. Students, aged 10 to 15 years, and their teachers will practice assessment for learning based on an ePortfolio approach. Following the ATS2020 framework for transversal skills, the pilot will focus on autonomous learning, information competency, collaboration and communication as well as creativity and innovation.

ATS2020 aims to provide teachers and students with an innovative model for learning through assessment. The model is going to be piloted in classrooms throughout Europe. A brochure and the project website give a good overview over the project which is funded by the Erasmus+ programme of the European Union. Assessment for learning is done within ePortfolio platforms, following a model of self-evaluation, setting learning targets, collecting artefacts to document the learning path and assessment thorugh peers and the teacher.

The ATS2020 partners had a close look at a range of ePortfolio platforms and other personal learning environments to decide upon the suitability for this approach to assessment for learning. On this basis and on the basis of the input of a range of key teachers, Mahara and Microsoft's Office 365 were chosen as the main platfoms for the pilot. Mahara provides tailormade support of the ATS2020 learning cycle with its plugin MyLearning.

In the framework of the ATS2020 project a range of CPD material, including guides for Mahara users, have been developed. They are openly available via the project's Mahara space. Find out more.
Mahara on the look out
Experienced PHP developer for Mahara core
Kristina D.C. Höppner (Catalyst, New Zealand)
The Mahara core team is looking for an experienced PHP developer to start immediately. We are based in Wellington (who doesn't want to live in New Zealand?) and are looking for a new team member to join us in the city where the Mahara project was founded. You can learn more about he role on the Catalyst job page. Working in the Catalyst Mahara team is exciting because you contribute almost all work to Mahara core.
Researching portfolios as learning and qualitative evaluation tool
Laura Muñoz González (Universidad de Málaga, Spain)
Mahara started to be used in the Faculty of Education of Universidad de Málag six years ago in 2010. Its implementation was due to interest by three university teachers: Encarna Soto, Mª José Serván and Rosa Caparrós.
 
Starting this year, their students have been using Mahara as the only evaluation and qualification tool through an interdisciplinary project in Early Childhood Education with an innovative methodology where experience and mentoring are fundamental pillars. For these student teachers, Mahara ePortfolio is a valuable tool for developing teaching competencies stimulating critical and reflective thinking, creativity, definitely, the reconstruction of practical knowledge of future teachers.

At present, I am researching these educational experiences. The focus of my PhD study is the portfolio as a learning and qualitative evaluation tool in initial teacher education and its influence on the development of practical thinking skills. I would like to learn from others in the community who have similar experiences at other European universities. Please get in touch via email.
How do online portfolios change readability?
Shen Zhang (AUT University, New Zealand)
We ran a workshop for a group of students who are studying Public Policy. A question came up from the lecturers on the differences between reading essay documents v.s. Mahara pages. 
Traditionally, a lot of essay type of assignments are written in word documents. The way how you read it is from the top to the bottom line by line. If the same essay is created in a Mahara page to incorporate rich media to help with expressing ideas, it's a very different way of reading information from the audience point of view.
The lecturers want to understand how the page design affects the person who reads the information. Is anyone here aware of any research around this aspect? Is there any kind of guideline we can provide to the students when they are designing their pages. Please share your thoughts or research online.
Mahara in upcoming events
You can view all event listings online and subscribe to our events calendar.
Moodle-Mahara-Barcamp Hessen 2016, 2 July 2016
Kristina D.C. Höppner (Catalyst, New Zealand)
The Moodle-Barcamp in the German state of Hessia will feature Mahara as well this year. If you haven't made any plans for 2 July 2016 yet and are in the area, you will be able to catch up with and share your own use of Moodle and Mahara in Dreieich. View the website for more information.
Mahara Hui Francophone, 6-8 July 2016
Kristina D.C. Höppner (Catalyst, New Zealand)
The MoodleMoot / Mahara Hui Francophone is also very close with well over 350 registered participants who will make their way to HES-SO Valais-Wallis for the kick-off of this event on 6 July 2016. Martin Dougiamas from Moodle HQ will attend in person, and this event is the latest in a series of successful events where both technologies are featured besides talking about learning concepts and dicussing pedagogical questions.
MUGSE Summer meeting, 25 July 2016
Sam Taylor (Defence Academy, UK)
Roger Emery, Domi Sinclair and Sam Taylor would like to invite you to the next MUGSE meeting!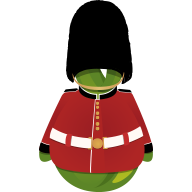 The next Mahara User Group South England (MUGSE) meeting will be taking place at the Defence Academy for the United Kingdom, hosted by Cranfield University. All are invited, but priority will be given to those in the South as there is a limited number of spaces.

Find out more about MUGSE.

This free event is a chance for you to meet key Mahara users across the South of England, share your knowledge and experiences, and put questions to developers and teachers.

Date: Monday 25th July 2016, 9:00 a.m.-2:30 p.m.
Venue: Global Classroom, Cranfield Defence and Security, Defence Academy for the UK
Register: [email protected]

The loose agenda is as follows:
Workshop with Kristina Hoeppner
Case study from Cranfield Defence and Security
Show & Tell: Supporting Mahara Implementation (6 mini demos from across the region)
Mahara Clinic: A chance to put your questions to other Mahara users and developers
Networking time from 2:30pm onwards
We look forward to hearing from you!
Mahara User Group meeting, 9 August 2016
Kristina D.C. Höppner (Catalyst, New Zealand)
The next Mahara User Group (MUG) meeting will take place on 9 August 2016. The details still need to be finalized, including whether it will be held as face-to-face meeting somewhere in New York, as online meeting or as a blended one. If you are interested in hosting this MUG meeting, please get in touch with Heather Askildsen. Join the MUG Facebook group to receive a notification as soon as more information is available.
Mahara Open Forum 2016, 7-8 September 2016
Kristina D.C. Höppner (Catalyst, New Zealand)
The call for proposals as well as pre-registration for the next Mahara Open Forum (MOF) open today. Submissions are accepted until 22 July 2016. The organizers of MOF invite participants to the University of Yamanashi in Japan. For more information, please see the MOF website and join the Japanese Mahara Users Group.
Mahara DE16 – Mahara Hui Rüsselsheim, 25 November 2016
Dietmar Johlen (Herwig-Blankertz-Schule, Germany)
Stakeholders in all areas of education can share experiences, ideas, recipes and concepts in an open barcamp atmosphere.

While learning management systems like Moodle are widely used in many places around the world, ePortfolio systems like Mahara are not yet as popular. As you pursue knowledge and development through lifelong learning, it is necessary to record and capture the acquired knowledge and skills. In addition to recording learning evidence, Mahara allows you to visualize and showcase all learning processes thru lifelong learning.

Barcamps are user-organized conferences (unconferences). They are open participatory workshop events, the content of which is provided by participants in the form of a presentation or a work example. To participate, you may submit your work examples and presentations at the conference. All presentations should be provided under the context of schools, universities and organizations' education strategies.

The conference languages are English and German. The conference will be held in Rüsselsheim, Hessen, in Germany, on 25 November 2016. For unconference information and registration, please visit the Mahara DE website, which will contain more information soon.
Mahara in past events
Mahara Users Midlands (MUM): Looking forward, 22 June 2016
Teresa MacKinnon (University of Warwick, UK)
The second meeting of the Mahara Users Midlands took place on 22 June 2016 in the beautiful Curzon Building at Birmingham City University hosted by Dr Andrew Hollyhead and provided the perfect opportunity to share and plan our way forward.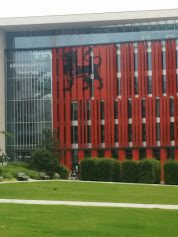 Jaye Ryan shared the work she is leading on creating a Learning Wheel on the use of Mahara. This visual way of highlighting the skills and approaches that work well for ePortfolio implementation is a great way to share the impact of Mahara use. Once the wheel is ready, we will be sharing it through the usual social media channels. So look out for that #mum #mahara share!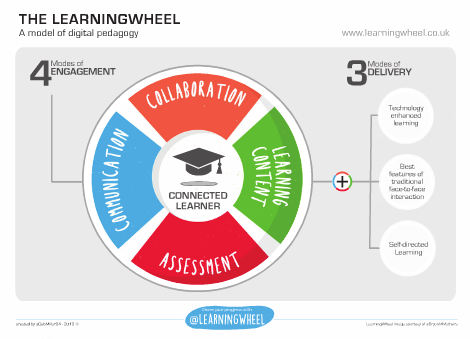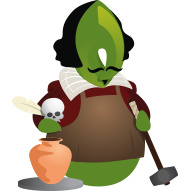 Our future plans include having a physical presence at the Association for Learning Technology conference at University of Warwick in September and following up with an online meeting on 13 September 2016 at 3 p.m. All those using Mahara in the UK who are geographically between Scotland and the South / London (where user groups already exist), whatever your sector or role, are very welcome to join our group. Help shape the agenda and share tips and tricks.

Teresa also had news of the new business partnership between Moodlerooms (host to [email protected]) and Mahara, which brings the latest Mahara instance to the site.

You can find the MUM network on mahara.org and on Google+ and we love our new logo, which perfectly combines the crafts and industries at the heart of the UK.
Mahara in development
Onto Mahara 16.10
Kristina D.C. Höppner (Catalyst, New Zealand)
Work on Mahara 16.10, scheduled for release in the second half of October 2016 is well underway. Several features have already been committed to the codebase and several more are already in review along with numerous bug fixes. If you want to propose features for Mahara 16.10, please submit them to our code review system in July for consideration. Bug fixes are accepted at all times.
Or you can join a translation team and translate Mahara and / or help translating the Mahara user manual.