Welcome to the second newsletter in 2016. In this edition, we have our usual mix of people sharing how they use Mahara, upcoming events and software news. We are delighted to be announcing the Release Candidate for Mahara 16.04.
If you want to share how you are using Mahara, please send us your article. We'd love to hear how you are using Mahara.
The next newsletter will be published on 1 July 2016, and you can send articles to ne[email protected].

The Mahara Newsletter is published under the Creative Commons BY-SA license 3.0.
Mahara in use
Plymouth State University's Mahara journey
Melinda Barnsley (Plymouth State University, USA)
Plymouth State University (PSU) first installed Mahara in 2010. Over the course of six years, the use of Mahara has grown steadily. We have used it for certification programs and the faculty Promotion and Tenure (P&T) program. The first-year art and meteorologist students use it to collect their portfolios digitally and students create portfolios for required projects. Templates have been created for all areas that utilize Mahara to help with standardization.
We first started using Mahara for students' special projects in a variety of areas such as languages and art. Some faculty decided to document personal projects of their own using Mahara. The platform has benefited certification programs like Elementary Education, Health Education, and School Counseling to name a few. Mahara templates containing all the standards have been created for each certificate program.
About me: Present yourself with Mahara
Michael Drawe (Freiherr-vom-Stein-Berufskolleg, Germany)
Keeping a portfolio is perfect when students leave our vocational college and look for a job or an apprenticeship. To promote the students' development, we organize a meeting and face-to-face application training between representatives of our local businesses in industry, trading and banking and our students every year. To be prepared, the students write a cover letter for their job application. We also collect a digital version of this letter as PDF file.
This year we expanded the tasks. The students prepared an "About me" website built with Mahara. The content should contain a photo, a short text about themselves, and the formal digital cover letter as PDF. 
The benefit for the students is to present themselves in a different way. In Germany ? we think it is the same in other countries ? the written application is standardized. In this case Mahara is like a pretty package to introduce a person more distinctly. Another benefit for the students is that they always have a digital copy of their certificates and references available. 
We collected a total of 400 portfolios in a Moodle database to have easy access to them. 
The students were prepared for the use of Mahara because they prepared and presented a case study with Mahara in another context a few months earlier. 
Some public examples of simulated "About me" pages made by students for students 
Mahara in upcoming events
You can view all event listings online and subscribe to our events calendar.
Mahara Hui @University of Waikato, 21 April 2016
Kristina D.C. Höppner (Catalyst, New Zealand)
The Kiwi MUG (Mahara User Group) will hold the first local New Zealand Mahara Hui this month. Instead of organizing a national Mahara Hui this year, local Mahara Hui are organized around the country, and a bigger event is intended for 2017.
The event will take place at University of Waikato on 21 April 2016 between 10:00 a.m. and 1:45 p.m. This is a free event, but you are asked to register.
Mahara developer meeting, 28 April 2016
Kristina D.C. Höppner (Catalyst, New Zealand)
The Mahara developer meetings take place roughly every 4-6 weeks. The next one will be held on 28 April 2016 at 7:00 a.m. UTC (check your local time). You can propose items for the agenda and find information on how to join the meeting on IRC there.
MUG meeting, 11 May 2016
Kristina D.C. Höppner (Catalyst, New Zealand)
The next Mahara User Group meeting will take place on 11 May 2016 at 2 p.m. Eastern time (check your local time). If you would like to give a brief presentation or lead a discussion, please send an email to the MUG organizers. This meeting will be a one-hour online session. If you want to stay informed about the event, you can join theMUG group on our website and the MUG Facebook group.
Mahara Hui Francophone, 6-8 July 2016
Kristina D.C. Höppner (Catalyst, New Zealand)
The MoodleMoot / Mahara Hui Francophone will take place in Switzerland this year from 6 to 8 July 2016. The organizer HES-SO Valais-Wallis invites Moodle and Mahara enthusiasts to Sierre in Valais. You still have until 15 April 2016 to submit a presentation or workshop proposal.
Mahara Open Forum 2016, 7-8 September 2016
Shin-Ichiro Kubota (University of Miyazaki, Japan)
The Mahara Open Forum 2016 (MOF2016) will be held at University of Yamanashi in Japan on 7 and 8 September 2016. Join the Facebook group (in Japanese) for an update when more information about this event will be available.
Mahara in past events
Mahara Open Forum 2015, 10-11 October 2015
Shin-Ichiro Kubota (University of Miyazaki, Japan)
The Mahara Open Forum 2015 (MOF2015) took place at the Open University of Japan in Chiba, Japan, on 10 and 11 October 2015. There were 47 participants, two keynotes, three sessions, and one panel. The topics of this forum were: Mahara toward application of educational big data. In total, MOF2015 had 11 speakers. We shared experiences and discussed Mahara and ended MOF2015 on a high note.

For more information, please see the event page and join our Facebook group (in Japanese).
Mahara Users Midlands (MUM) launched, 11 February 2016
Teresa MacKinnon (University of Warwick, UK)
During a Mahara webinar last summer a discussion with Andrew Hollyhead led to a decision: We would try to see if there was a taste for a local network of Mahara users in the Midlands. He is based at Birmingham City University and I am at University of Warwick. We put feelers out through Twitter and a Google form and soon had a reasonable list of names. In November at Mahara Hui UK 15 hosted by Southampton Solent University, Andy and I met up and Kristina Höppner agreed to create a space for us on Mahara.org and allocate a designer to create a logo based on the attractions of our area. We emphasised the mix of both creative cultural attractions (such as Shakespeare) and our industrial heritage (e.g. the potteries, glass, needles, automotive) as this unique mix of both is significant to the economic success of the Midlands. We have interpreted this geographical area quite broadly to include Warwickshire, West Midlands, East Midlands, Derbyshire, Leicestershire, indeed anywhere between the domains already covered by Mahara Users Southern England (MUGSE) and Machara in the North!
Responses from the initial Google form showed that the vision for the group revealed an interest in both face-to-face on online collaborations, sharing of practice and resources and help with understanding how to make feature requests through Mahara.org. Our first agenda therefore included an opportunity to set up plans to meet the needs expressed and the minutes are available. So our first steps have been taken, and we would like to enlist the help of all Mahara users in order to extend membership to all those based in the Midlands. We are using the hashtag #MUM to connect and welcome student and staff Mahara users.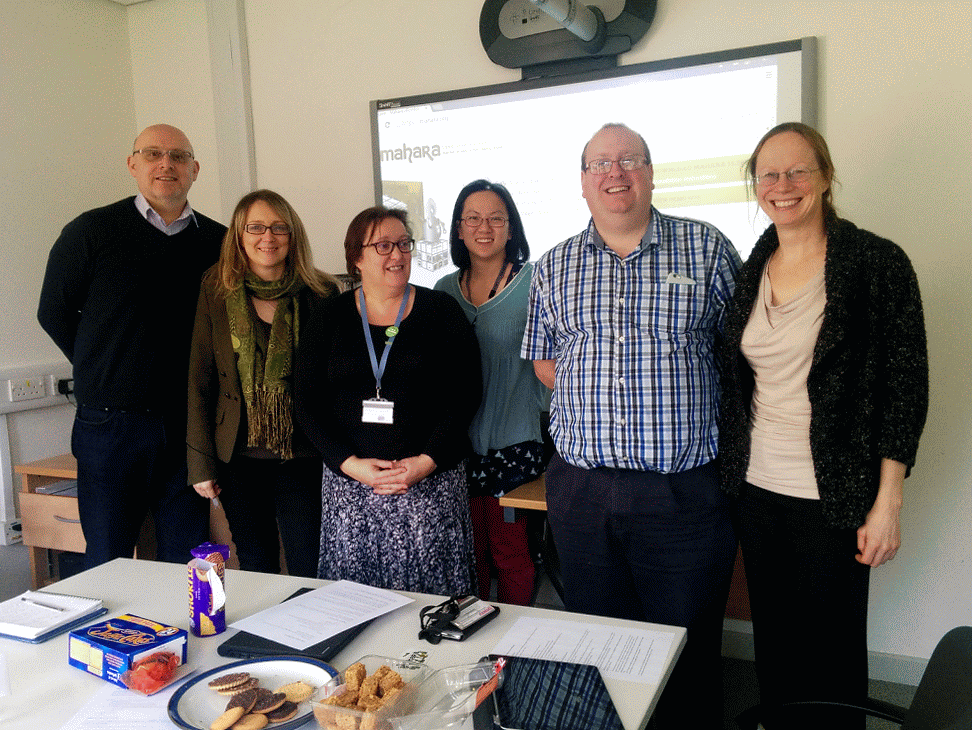 Mahara in development
Mahara 16.04 release
Kristina D.C. Höppner (Catalyst, New Zealand)
The first release candidate for Mahara 16.04, the April 2016 edition of Mahara, is available for download and testing. The release candidate phase is a crucial time in the release cycle of Mahara and allows you to test the new features and changes made since the last release in October 2015 and report any issues to us before we bring out the final stable release of Mahara in the second half of April. We invite you to download the release candidate and test it on your non-production sites or a dedicated testing site. Please report any issues on our bug tracker.
There are a number of new features again in this release. Many of them have already been documented in the user manual for Mahara 16.04. We look forward to hearing from you how you like the new and changed features.
A few highlights that you'll be able to take advantage of in this upcoming version of Mahara:
HTML5 media player for select video and audio formats replacing the Flash player
Support for displaying Open Badges from the Mozilla Backpack and the Open Badge Passport (no need for the plugin anymore as it was incorporated into Mahara)
Native support for Embedly embed code
Notifications from wall posts to owners of the wall
You can read more information in the release candidate announcement.
With the release of Mahara 16.04 later in the month, the support for Mahara 1.10 will end. We recommend that you move to one of the supported versions of Mahara. Mahara 15.10 is supported until April 2017 and both 15.04 and 16.04 are supported until October 2017. Mahara 15.04 is supported longer than other releases because it is the last release before we moved to the Bootstrap framework requiring changes in CSS and HTML.
OpenID Connect authentication plugin
James McQuillan (Remote-Learner, USA)
Remote-Learner is proud to announce the first release of its OpenID Connect authentication plugin for Mahara. This is a standards-compliant OpenID Connect implementation allowing integration with any identity provider that supports OpenID Connect. OpenID Connect is a standardized identity layer on top of OAuth2, providing an interoperable method for authentication.
This plugin is an extension of Remote-Learner's work with Microsoft on the Office 365 Moodle plugins we've developed over the past year or so. Office 365 supports OpenID Connect so we were able to build generic OpenID Connect plugins that not only serve as our connection to Office 365, but also support an open standard. We built this Mahara plugin as our first venture into Mahara, but Microsoft is really interested in what you'd like to see in the future!
If you use or want to use Office 365, let us know what you'd like to see integrated with Mahara in the future.
Czech and Spanish translations
Kristina D.C. Höppner (Catalyst, New Zealand)
Jesús Basco López announced in the Spanish community group that Campus Virtual de la Universidad de Málaga created a complete Spanish translation of Mahara. You can download the translation. 
Viktor Fuglík from Univerzita Karlova provided a Czech translation that you can download.
We will get in touch with the teams to investigate options for bringing these translation into our regular translation tool so any updates can be made available via the language pack page.