Welcome to the first newsletter in 2016. We wish you all the best for this new year and look forward to discussing, collaborating on and advancing Mahara with you. Towards the end of last year, a number of Mahara and ePortfolio events took place in Europe, and of course, we released Mahara 15.10. Please read on to find out more.
If you want to share how you are using Mahara, please send us your article. We'd love to hear how you are using Mahara.
The next newsletter will be published on 1 April 2016, and you can send articles to [email protected].

The Mahara Newsletter is published under the Creative Commons BY-SA license 3.0.
Mahara in use
Innovating equine graded unit at SRUC with anonymous 'Digipals', Moodle and Mahara
Ali Hastie (Scotland's Rural College, UK)
Scotland's Rural College, Barony Campus specialises in training and education for the land-based and animal care industries. The campus is set within a working 260 hectare estate, which is situated in the rolling landscape of Dumfries and Galloway in South West Scotland.
Graded unit is a mandatory element of the framework of all Scottish Qualifications Authority (SQA) HNC and HND frameworks within Scotland's Colleges. Both staff and students find the complexity of the Graded unit requirements in comparison to other units within the framework challenging.
Staff at SRUC within the Animal and Equine Department decided to approach SRUC Barony Campus' eLearning Team to look for innovative approaches to engaging students and staff within the HNC Equine Graded Unit 1.
The project team has created a transferable and flexible model using instructional scaffolding for the two of three stages of the graded unit assessment.
Technologies effectively applied with this flexible model included the use of Mahara as a means of collecting and collating information for investigative and practical elements and the incorporation of the Moodle workshop module to develop peer assessment processes and a support podium.
More information surrounding the award-winning project can be found within the online report on Barony Campus' Mahara site and a news article.
Trying out Mahara – an ePortfolio adventure
Colin Simpson (Australian National University, Australia)
Managing your online identity – particularly your professional identity – is arguably now one of the core digital literacies. This is why I've long taken an interest in the use of ePortfolio tools.

As Learning Technologist in the "Education Innovation Office" in a college at a major Australian university, it's my job to keep us moving forward and to find the best ways to do so. I'd previously dabbled with ePortfolios before coming here but had never really used them for a project and thus had no direct evidence to support a case that they are worth pursuing.

A few months ago I came across CMALT – Certified Member of the Association of Learning Technologists – a useful seeming accreditation and connection to a community of practice of my peers. The application process lends itself very well to the use of ePortfolios so I decided to take the Mahara ePortfolio platform out for a spin. You can view my application online.
Introducing Mahara at Miyazaki International College
Debra Occhi (Miyazaki International College, Japan)
After ten years using Moodle, Miyazaki International College received an Accelerated Program grant from the Japanese government and installed Mahara in September 2015.

We now have an integrated ePortfolio system which allows easy submission of Mahara work into Moodle for rubric-based grading as called for in the grant.
As an active-learning based liberal arts college in a Japanese EFL context, our ePortfolios will help students analyze and show evidence for what they are learning in this unique environment.
Initially, the first-year students will use Mahara to show they have acquired college study skills, understand the meaning of liberal arts education, link first-year goals to long-term goals, and apply critical thinking skills to real-world issues. As they progress, we will add criteria for second-year, study abroad, and upper division studies until all students create ePortfolios. Some faculty are already using Mahara for their class work as well.
Contribute to the AAEEBL Field Guide to ePortfolio
Kristina D.C. Höppner (Catalyst, New Zealand)
AAEEBL, the Association for Authentic, Experiential and Evidence-Based Learning, is working on the "Field Guide to ePortfolio". This is a collaborative initiative between researchers and ePortfolio users worldwide. The field guide will cover the following topics:
Maker Learning
Real World Learning
ePortfolio and Metacognition
ePortfolio Bringing Emerging Learning Designs to Center of Planning
ePortfolio as an Enculturating Instrument into Digital Age
ePortfolio and Institional Challenges
New Ways to Demonstrate Achievements
Transition to Career and Career Development
Internationalization
Learning Analytics and the Learner
Creative Teaching Portfolios
How Important is the Technology
I am on the team for the section "Transition to Career and Career Development". If you would like to contribute material such as examples, literature and other resources for this topic or any others, please get in touch with me.
Mahara in upcoming events
You can view all event listings online and subscribe to our events calendar.
MUG meeting, January 2016
Kristina D.C. Höppner (Catalyst, New Zealand)
The date and time for the January 2016 Mahara User Group meeting has not yet been finalized. If you would like to be informed when it takes place or are interested in giving a brief presentation or leading a discussion, please send an email to the MUG organizers. The online session will also be announced in our events calendar, on Facebook and in the MUG group on our website.
Mahara in past events
Mahara Hui UK, Southampton, 9-10 November 2015
Domi Sinclair (University College London, UK)
Mahara Hui UK 2015 took place at Southampton Solent University in Southampton between 9 and 10 November 2015. Mahara Hui UK is the title of the official UK Mahara conference. It is a gathering of the community that often boasts an international participants list. To honour Mahara's New Zealand roots, the conference is referred to as a 'Hui' from this year on, which is a M?ori term for a social gathering or assembly. The conference is held annually in different locations around the UK and features a variety of talks and workshops on all aspects of Mahara.
There was a lot of Twitter activity during the conference and you can review it with the hashtag #maharauk15 to see what people were tweeting.
As with most conferences, there were some key themes that seemed to emerge and repeat over the two days of the event. The key themes were learner control and learning versus studying. Let me explain these in more detail in my blog post.
Swiss ePortfolio and Personal Learning Environment event, 20 November 2015
Kristina D.C. Höppner (Catalyst, New Zealand)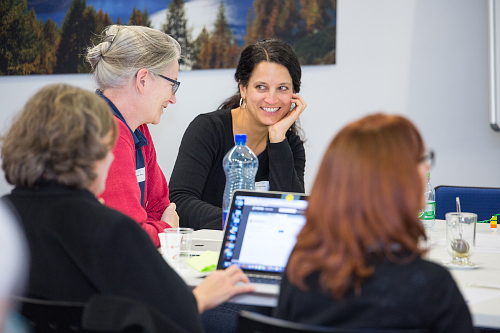 On 20 November 2015 academics from across Switzerland gathered at SWITCH in Zürich to discuss ePortfolios and Personal Learning Environments. The event was organized by eduhub, a Swiss community promoting the use of new learning technologies in Swiss higher education institutions.
I was privileged to attend and learn more about the use of Mahara and other tools in Switzerland as well as share a few tips and tricks on using Mahara. You can find the presentations from the day online and see for yourself that Swiss institutions of higher education are to watch for innovative ways of using technology.
Photo by Dominik Aebli (SWITCH)
Mahara | DE15 in Kassel, 26 to 28 November 2015
Heinz D. Hirth (Oskar-von-Miller-Schule, Germany)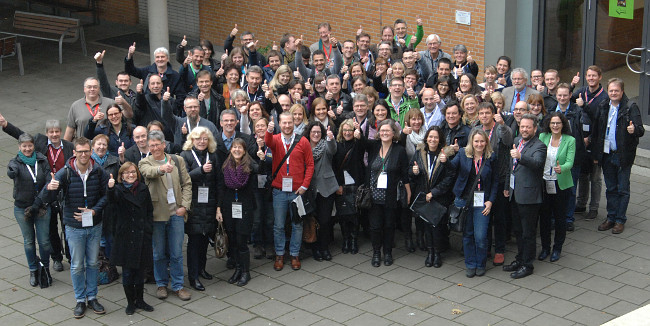 Photo by Bodo Schlüter (used with permission)
(English version is further down)
Unter dem Motto "märchenhafte Wohlfühlmoot" fand in der Zeit vom 26.-28.11.2015 die 3. Maharamoot des deutschsprachigen Raums statt. In der Heimatstadt der Gebrüder Grimm und im historischen Ambiente der Zeughausruine an der Max-Eyth-Schule in Kassel trafen sich mehr als 100 Teilnehmer zum Austausch über das Lernen mit ePortfolios. Professoren, Lehrende und Studierende aus Deutschland, Österreich und der Schweiz bereicherten die im Barcampformat organisierte Konferenz mit Beiträgen zu Technik, Anwendung und Konzepten rund um Mahara.
Besondere Highlights der Märchenmoot waren die beiden Keynotes von Prof. Max Woodtli, PH Thurgau (CH) und Kristina Höppner, Catalyst (NZ). Max Woodtli berichtete in seiner Freitags-Keynote mit dem Titel "SterntaLern" davon wie Lernen gelingen kann, während Kristina Höppner in ihrer Samstags-Keynote mit dem Titel "Lasst mich was erzählen" einen Einblick in die Entwicklungsgeschichte und die weiteren Aussichten zu neuen Versionen des Mahara ePortfoliosystems gab.
Um dem Veranstaltungsmotto "märchenhafte Wohlfühlmoot" gerecht zu werden, wurde die gesamte Veranstaltung von einem bunten Rahmenprogramm begleitet. Eine geführte Bustour folgte den Spuren der Brüder Grimm und gab an Originalschauplätzen Einblicke in geschichtliche Ereignisse der Stadt Kassel. Teilnehmer trafen sich auch auf dem bekannten Märchenweihnachtsmarkt am Donnerstagabend, wo sie Neuigkeiten austauschten und neue Bekannschaften schlossen, aber auch Glühwein probierten.
Das Organisationsteam des Veranstalters, dem Lpaso-Institut für Lernkultur e.V., plant aktuell bereits an einer D-A-CH - Mahara Hui in 2016 sowie einer Euro-Mahara Hui, inspiriert von Sam Taylor, die 2017 stattfinden soll.
Weitere Informationen werden zeitnah auf http://maharahui.de und http://lpaso.de veröffentlicht. Eindrücke können unter Storify und Twitter nachgelesen werden.
-----------
The 3rd Maharamoot of German speaking countries took place from 26 to 28 November 2015. The backdrop was the hometown of the Brothers Grimm, Kassel, Germany, and the historical ambience of the armoury ruins at the Max-Eyth-School. It operated under the slogan: "Fairy tale-like comfort moot" as the organisers emphasized participants' comfort, a relaxed atmosphere conducive to the sharing of ideas and knowledge as well as tying it in with the historical fairy-tale traditions of Kassel.

More than 100 participants exchanged ideas and practices about learning with ePortfolios and related pedagogical topics. Professors, teachers and students from Germany, Austria and Switzerland enriched the event, which was organised as barcamp,  by contributing sessions around Mahara with subjects ranging from technology, application and concepts.

Particular highlights were the two keynote presentations at the fairy tale moot by Prof. Max Woodtli, PH Thurgau (CH), and Kristina Höppner, Catalyst (NZ). Max Woodtli reported in his keynote on Friday, entitled "SterntaLern" (referencing the fairy tale "Star Money / Star Talers" which reads to emphasize the word "Lern", "to learn" in German), of how learning can succeed, while Kristina Höppner in her keynote on Saturday, entitled "Let me tell you a story", gave an insight into the evolution and the future prospects for new versions of the Mahara ePortfolio systems.

To meet the event's motto "fairy tale-like comfort moot", the entire event was accompanied by a colorful social program. A guided bus tour to locations throughout the city of Kassel followed in the footsteps of the Brothers Grimm and gave insights into historical events of the city. Participants also braved the cold visiting the well-known fairy tale themed Christmas market to catch up, make new acquaintances and sample some mulled wine.

The planning team of Lpaso (Institute of Learning Culture), a recently formed non-profit, is currently working on plans for D-A-CH Mahara Hui in 2016, a gathering of German, Austrian and Swiss users of Mahara, and a Euro Mahara Hui event to be held in 2017, inspired by Sam Taylor.
More information will be published on http://maharahui.de and http://lpaso.de soon. Participants used Storify and Twitter to document parts of the event.
Mahara in development
Mahara 15.10 is available
Kristina D.C. Höppner (Catalyst, New Zealand)
Mahara 15.10 has now been available already for a few weeks. We are very proud of this latest version of Mahara as it is a good base for future development. One of the biggest changes has been the move to the Bootstrap CSS framework. We've already seen a number of institutions upgrade or install Mahara 15.10, and it's looking very good. Plugin and theme developers also already started upgrading their contributions. Since Mahara 15.10 uses Bootstrap, plugins and themes need to be carefully upgraded (plugins) or created new (themes) in order to continue to work.
Work on Mahara 16.04 is in full swing. If you'd like to contribute a new feature, please submit your feature by 5 February 2016, feature freeze, for it to be taken into consideration for the April 2016 release of Mahara.
Updated Mahara assignment submission plugin for Moodle
Ruslan Kabalin (Lancaster University, UK) and Kristina D.C. Höppner (Catalyst, New Zealand)
A new version of the Mahara assignment submission plugin is available (also in the Moodle plugin database). Its major improvements are: 
use Moodle events for the locking / unlocking behaviour,
the locking behaviour configuration is more flexible and includes site defaults and per-assignment settings,
grading workflow support has been added
These features were contributed by Lancaster University.
If you are using Moodle 2.7 or newer, you do not require the Mahara assignment feedback plugin anymore. Everything is contained within the Mahara assignment submission pluin.
The plugin is compatible with Moodle 3.0.
Mahara Partners
Kristina D.C. Höppner (Catalyst, New Zealand)
The new Mahara Partner Programme was launched in September 2015. Since then, a number of previous partners renewed their commitment to the project and a series of new partners - both Business Partners and Supporters - came on board. Please find out about them in the Partners section on our website.