Welcome to the spring issue - or fall issue if you live in the Northern hemisphere - of the Mahara newsletter. This newsletter is jam packed with use cases, future and past events as well as information on the upcoming release of Mahara 15.10. Read on to find out more.
If you want to share how you are using Mahara, please send us your article. We'd love to hear how you are using Mahara.
The next newsletter will be published on 1 January 2016, and you can send articles to newsletter@mahara.org.

The Mahara Newsletter is published under the Creative Commons BY-SA license 3.0.
Mahara in use
Living the American Dream: An international student's ePortfolio journey
Sarah Koppalakonda (Pace University, U.S.A.)
As an international student, I have a wide scope of experience when it comes to education, but Mahara's ePortfolio platform is the first learning tool that has inspired me to reflect on my journey from India to the United States. During my time studying in the U.S.A., I have grown as a person and a student. I believe in action rather than words, and ePortfolio has enabled me to reflect on this mantra and continues to motivate me towards my goals.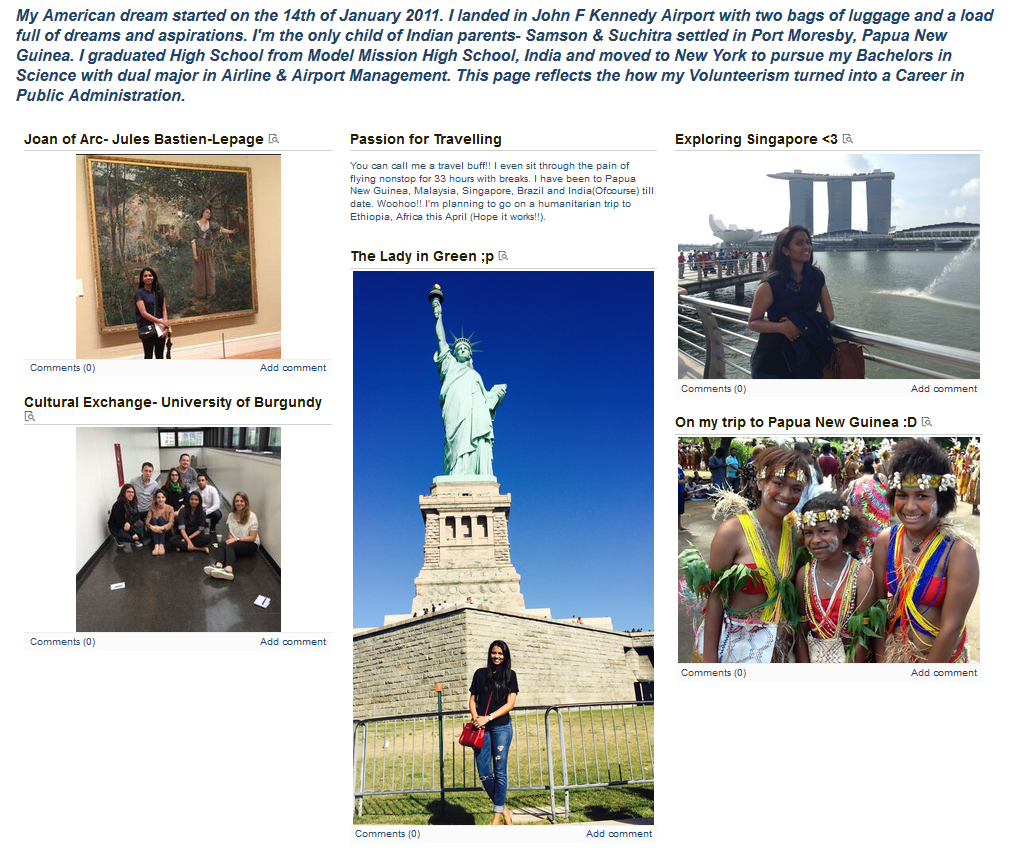 My pages express who am I and what I believe in. They allow my peers, my professors, and potential employers to get to know the "Me" beyond the classroom. I have shared my Public Administration career aspirations and my research interests to gather feedback on Pace University's anti sex-trafficking initiatives. An exciting component of my American journey were my two internships this summer—Restore NYC, an anti sex-trafficking organization that works to rebuild the lives of trafficked women, and Historic Richmond Town, a museum complex that celebrates the ordinary men and women who helped build America. This work was both fulfilling and inspiring, and ePortfolio gave me the opportunity to document and reflect these experiences.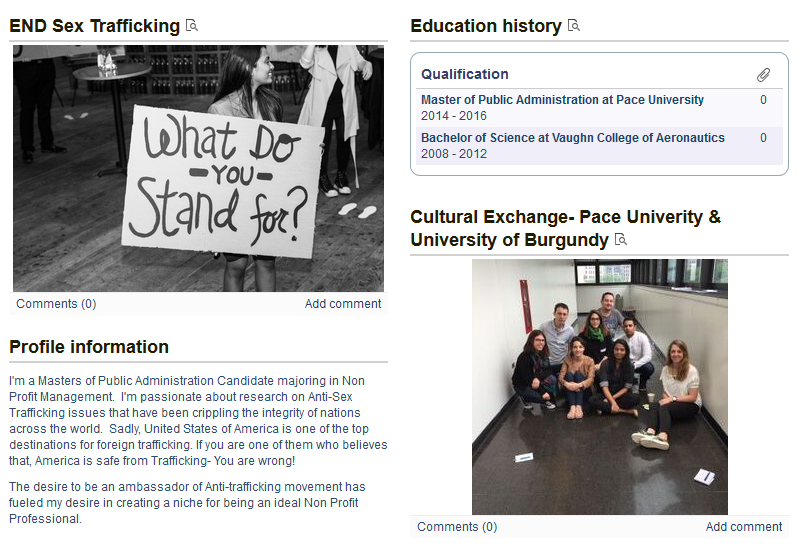 EPortfolio has also encouraged me to connect with the Pace community. I have something new to add to my profile every week and am continually connecting with new people through it. With the freedom to choose my viewers, I can comfortably reflect on my experiences in a privet sphere and build pages that I can then proudly share with the world.
Tiny Mahara site goes global with micro-MOOC
David Bell (The Methodist Church of New Zealand, New Zealand)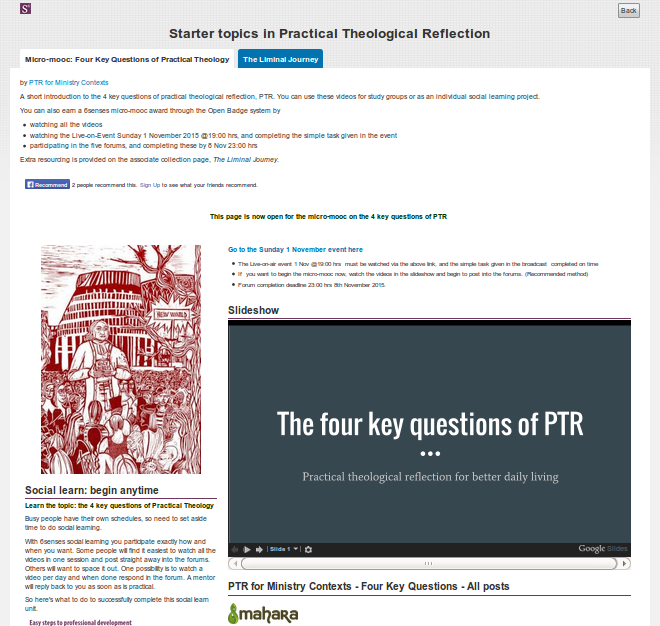 The Methodist Church of New Zealand has been promoting a social learning site called 6senses.nz which is powered by Mahara. We are a very small church and attempt to put lay leaders and clergy in contact as a community of best practice.
Recently, we have explored the concept of what we call micro-MOOCs (micro-Massive Open Online Course). Our aim is to get anywhere between 5 and 50 people participating in free professional development.
Schedule Google Hangouts-on-air form the core video conferencing and a range of short videos feed the forum interaction. The micro-MOOC can be completed within a day, although it is open for 6 weeks. An award in the form of a badge issued through the (wonderful!) Open Badge Factory rounds off the experience.
You can view our first micro-MOOC and follow our 6senses.nz newsletter, another really useful concept from the Mahara toolkit.
Mahara connected to Sakai via LTI
Siboniso Ronald Sithole (University of South Africa, South Africa)
The University of South Africa has opted to use the Mahara ePortfolio system as an alternative form of student assessment. The Mahara solution was selected for a pilot project following an investigation and subsequent report by the Academy for Applied Technologies in Teaching and eLearning (AATTeL). The main justifications for its selection are that it meets most of the functional requirements of potential users, it is LTI enabled and enjoys wide use by many tertiary institutions globally.
Sakai is Unisa's current learning management system. Since Sakai makes use of LTI, this necessitated a configuration where Mahara resides on an independent server acting as an LTI provider. A plugin is necessary to allow Mahara to be the LTI provider. Although this solution is not elegant, it is highly functional. Challenges remain with the implementation of Mahara on Unisa systems. Firstly, Mahara cannot run within an iframe, mandating the use of a new tab when launching. Secondly, when students access the settings page, they are able to change their usernames. This is a problem since Unisa uses those usernames as a shared identity tracking system between software installations. The development team's main desire at present is to harvest the marks from Mahara via LTI to the Sakai gradebook where marks are consolidated.
Principal Network: Using Mahara to build a global education leadership community
Alan Harrland and Mark Sparvell (Principal Network, Australia)
Principal Network is a community of shared professional practice, targeted towards leadership teams within K-12 education settings globally. The site has a simple HTML-based landing page which channels visitors to the Mahara site for registration or login. A range of language extension packs have been incorporated to ensure accessibility for the global audience. Google Analytics code has been embedded to supplement the rich user data available from the Mahara reporting tools.
Icon sets have been utilized to create a more visual navigation experience and to highlight functions which are most useful to this audience, e.g. the Continuous Professional Development Tool. The site has been live since August 2015 and is continuously updated with new resources and information for the profession. The site is free and completely independent, providing a space for leaders in the education profession to connect, communicate and collaborate.
Mahara was chosen as the platform due to the power and potential of the tools available within it. The ability to create private and public groups, the provision of journals for users, creation of media rich pages, the improved integration with social media content and the ease of administrative use all add to the rich user experience we wish to provide.
Principal Network is continually evolving with new resources and tools, and we continue to strive to use Mahara to its full potential.
A short story of Mahara usage at Blackburn College
Victoria Newens (Blackburn College, UK)

Technology is increasingly becoming embedded in all aspects of society and our lives in general while eLearning is becoming ever more present in the role of teaching, learning and assessment. The changing context of Higher Education (HE) means a significant shift is needed to ensure smarter, more efficient and up-to-date methods are employed. With resource limitations, a rise in social networking, internet usage, widening participation agenda and the digitalisation of teaching, learning and assessment, this becomes an important issue for all of us, in ensuring opportunities are provided for students to learn through multimedia platforms.
The implementation of Mahara at Blackburn College, to some degree, has aimed to address these changes with many higher education students now opting to use Mahara as an assessment tool within the module Reflective Practice and Personal Development Planning. Participation has increased over the years and students are now becoming experts in developing their portfolios often, and showing staff many of the key functions. It is hoped that Mahara continues to be a success as the new students commence their studies in the academic year of 2015.
Mahara celebrates five years at Central Michigan University
Rob Alford (Central Michigan University, U.S.A.)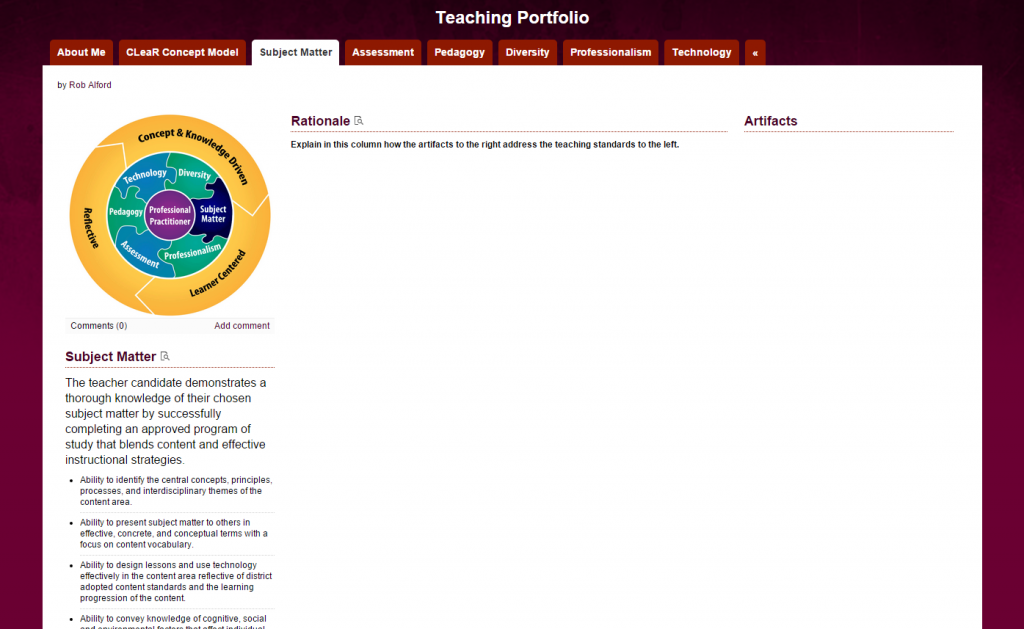 Central Michigan University is going on its fifth year of using Mahara. We have customized our Mahara environment to limit the amount of space each student can utilize for their uploads. We created portfolio templates for students and faculty to copy to ensure we have all the information we need. Recently, we started experimenting with the groups feature in our affiliated Georgia and Canada environments outside of Michigan.
Our portfolio assessment team has seen increases in the use and utilization of Mahara in post-graduate use in job interviews and entrance materials for graduate schools. The ability of attaching third-party items like YouTube videos, Prezis, and other multimedia forms have made our lives much easier with assessment of student work all in one location. We are excited to see where Mahara will take us in the near future. If you are interested in chatting about how we have implemented Mahara in our higher education environment, please email me.
Electronic portfolio development in three professional programs in British Columbia
Tim Hopper (University of Victoria, Canada)

New technologies such as electronic portfolios have the potential to create powerful learning opportunities within personalized virtual learning environments. The electronic portfolio accesses the quality of new professionals' experiences, recognizing that their professional knowledge is situated and socially constructed. That innovative practice develops from the relationship between content and expertise formed within professional learning communities.
In this study we consider how Folioz.ca, powered by Mahara 15.04, influences students' learning and instructors' pedagogical practice in three professional programs (Education, Nursing and Social Work). Taking professional programs as dynamic systems, a complexity theoretical lens is being used to interpret and note the emergent processes in the study. Case studies of each program's ePortfolio innovation are being developed in regard to emergent ePortfolio processes and professional learning, and also in regard to the differences between students and instructors in and across programs.
The screenshot below shows a sample data source from an exit interview. Student responses, as shown here, are coded in YouTube and then compared across cases. Critical for ePortfolio success is instructors developing activities and assignments that enable student choice, authentic learning and the use of rich media.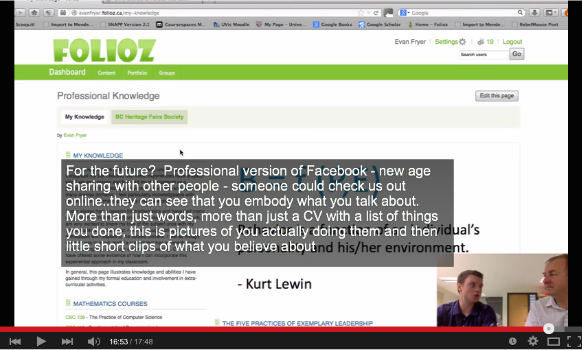 Read more about this ePortfolio project.
Pascale Hyboud-Peron (ThinkAgency, New Zealand)
Venture Centre is a innovation hub operating in Tauranga New Zealand. Venture Centre works with early stage entrepreneurs, freelancers, learning institutions and local government organisations. It provides services and technologies to grow the innovative community and foster entrepreneurial competences through learn-by-doing and knowledge transfer experiences.
Venture Centre maintains Collxtion, a hosted, multi-tenanted instance of Mahara. Collxtion is an online service for:
individuals who want to develop their own portfolio or port their existing one
organisations who want to implement:

a cost effective solution to their alumni ePortfolios
a user-centred communication service for their teams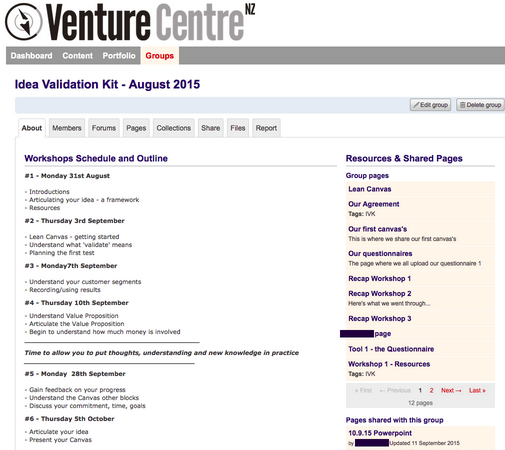 Venture Centre customers are using Collxtion to improve collaboration, support constant learning/iteration, provide repository for ideation, validation, and development documentation and streamline due-diligence and reporting.
Read on to find out more about the use of Mahara at Venture Centre.
Mahara in upcoming events
You can view all event listings online and subscribe to our events calendar.
MUG meeting, 14 October 2015
Kristina D.C. Hoeppner (Catalyst, New Zealand)
The next meeting of the Mahara User Group (MUG) will take place online on Wednesday, 14 October 2015, between 2 and 3 p.m. EDT (check your local time). If you are interested in giving a brief presentation or leading a discussion, please send an email to the MUG organizers.
6th Mahara Open Forum, 10-11 October 2015
Kristina D.C. Hoeppner (Catalyst, New Zealand)
The Mahara Open Forum (MOF) is in its sixth year in Japan. This year it will take place at the Open University of Japan from 10 to 11 October 2015. For more information, please refer to the MOF website and the Facebook group.
Free webinar: ePortfolio introduction and demo in Spanish, 27 October 2015
Sach Chaudhari (Paradiso Solutions, U.S.A.)
Paradiso Solutions would like to announce the webinar "Mahara Introduction in Spanish" to be held on 27 October 2015 at 11:00 a.m. CST (Bogota, Colombia time; check your local time). This webinar will give you the opportunity to participate in an introduction and live demo of Mahara.

With the growing popularity of online learning, there is increasing need and demand for ePortfolios. This webinar will show you one of the best and open source ePortfolio platforms - Mahara. View more information on Mahara in Spanish.

The webinar will cover:
A quick overview of Mahara
A few case studies of Mahara
Live demo
Q and A
The entire session will be in Spanish.

Please email Laura Gómez for registration details.
-------
Webinar gratuito, Introducción a E-Portafolio, 27 octubre de 2015
Sach Chaudhari (Paradiso Solutions, U.S.A.)

Paradiso Solutions quiere anunciar el seminario ( Mahara ) que se celebrará el 27 de octubre de 2015 a las 11:00 AM, Hora local Colombiana, este seminario ofrece la oportunidad de participar en la introducción y demostración en vivo de Mahara.

Con la creciente popularidad del aprendizaje en línea, se crea la necesidad y demanda de E-Portafolio, este seminario le mostrará una de las mejores y más abiertas plataformas E-Portafolio - Mahara . Para obtener más información sobre E-Portafolio , visite ParadisoSolutions/Mahara.

El seminario cubrirá:
Una visión general de Mahara.
Estudios de casos de éxito, Clientes Mahara.
Demo en vivo.
Q y A.
Registrese al correo electrónico Laura Gómez.
Mahara Hui UK 2015, 9-10 November 2015
Caroline Lynch (Catalyst IT Europe, UK)
The annual Mahara Hui UK for the European region will be hosted this year by Catalyst IT Europe and Southampton Solent University.
Keynote speakers are Kristina Hoeppner, Mahara Project Lead, who will be covering the latest release of Mahara and taking you through the new features, and Sigi Jakob, a Moodle and Mahara veteran, who will be sharing her personal learning story.
The programme is still being finalised but you can expect the usual exciting mix of proposals, workshops, networking and sharing from the Mahara community.
You can find more information on our website and purchase tickets.
We look forward to seeing you there.
Nathalie Roth (SWITCH, Switzerland)
The SIG E-Portfolio, SIG Personal Learning Environments and SWITCH are pleased to announce the next national event, which will take place on Friday, November 20, 2015, in Zurich. The event will be split in 2 parts. The morning will be dedicated to different presentations about the SIGs' activities, such as the Swiss Chapter, Traveling Workshops, Personal Learning Environments in e-portfolios as well as a roadmap of SWITCHportfolio. In the afternoon Kristina Hoeppner from Catalyst will lead a hands-on workshop Hidden Treasures in Mahara for e-portfolio.

We are looking forward to your participation! Join us at this event, by registering until Friday, November 13, 2015.
Mahara DE15 – "Cantuccini MaharaMoot Cassel"*, 27-28 November 2015
Heinz D. Hirth (Oskar-von-Miller-Schule, Germany)
*Seasonal cookies for the first Sunday of Advent, hence Cantuccini - MaharaMoot.
Good Cookies need good recipes and that ist what we learn at Mahara DE15. Stakeholders in all areas of education can share experiences, ideas, recipes and concepts in an open barcamp atmosphere.
While learning management systems like Moodle are widely used in many places around the world, ePortfolio systems like Mahara are not yet as popular. As you pursue knowledge and development through lifelong learning, it is necessary to record and capture the acquired knowledge and skills. In addition to recording learning evidence, Mahara allows you to visualize and showcase all learning processes thru lifelong learning.
Barcamps are user-organized conferences (unconferences). They are open participatory workshop events, the content of which is provided by participants in the form of a presentation or a work example. To participate, you may submit your work examples and presentations at the conference. All presentations should be provided under the context of schools, universities and organizations' education strategies.
The conference languages are English and German. The conference will be held in Kassel, Hessen, in Germany, from 27 to 28 November 2015. For unconference information and registration, please visit the Mahara DE website.
Mahara in past events
AAEEBL Annual Conference, Boston, U.S.A., July 2015
Domi Sinclair (University College London, UK)
July saw the 2015 AAEEBL conference hosted in Boston, Massachusetts. Although this was not a specific Mahara conference there were a number of session about Mahara, and the rest of the portfolio sessions were general enough to benefit all platform users.
The main themes to come out of the conference were: a consensus to use the term "portfolio" rather than "ePortfolio" to prevent distraction, collaborative use of portfolios and the use of badges to compliment a portfolio system. To read more about these areas and to find out what AAEEBL stands for please see the full review on my blog.
Presentations at the AAEEBL Conference on / with Mahara:
YouTube channel for Mahara presentation recordings
Kristina D.C. Hoeppner (Catalyst, New Zealand)
For Mahara Hui we set up a YouTube channel earlier in the year. This has now been expanded to also include recordings from user group meetings and other events so we can have one place where the Mahara community can access presentation videos. If you would like to share your videos, please send us an email.
Mahara in development
Mahara 15.10 ready for testing
Kristina D.C. Hoeppner (Catalyst, New Zealand)
The Mahara core project team at Catalyst is happy to announce that after many months of development work by people around the world, Mahara 15.10 is ready for more extensive user testing. We published the first release candidate (RC1) on 29 September 2015 and invite everyone to give it a spin and check out the new features and also the Bootstrap themes.
If you cannot set up a testing instance, you are welcome to use http://master.dev.mahara.org. For more information, please read the forum post.
Mahara Partner Programme
Kristina D.C. Hoeppner (Catalyst, New Zealand)
Over the last year, we had conversations with Mahara Partners and others over making changes to the Mahara Partner Programme. We re-launched the Mahara Partner Programme in September 2015 which will now consist of two tracks: One for companies offering Mahara support services (Mahara Business Partners) and one for other entities that actively support the Mahara project (Mahara Supporters).
There are no fees associated with the Mahara Partner Programme. Instead, partners are expected to contribute actively to the Mahara project and community.
For more information on the Mahara Partner Programme, please review the Partners section on the website.