2015 is shaping up to be a year full of Mahara events around the world. There are lots coming up in the second half of the year. Take a look below so you don't miss any. We also have reviews of past events if you want to follow up with them.
If you haven't submitted an article yet, please consider to do so. We'd love to hear how you are using Mahara.
The next newsletter will be published on 1 October 2015, and you can send articles to [email protected].

The Mahara Newsletter is published under the Creative Commons BY-SA license 3.0.
Mahara in use
The joys of starting again from scratch
Sam Taylor (Cranfield School of Defence and Security, UK)
It's been almost 3 months since starting my new post at Cranfield School of Defence and Security. Since being here I've been able to see the tools that I've been using for the past 8 years with 'fresh eyes'. One tool in particular would be the Mahara ePortfolio system which has only just been installed here since my arrival.
Read on to find out what changes Sam is making.
Using Mahara to support information literacy at Hadlow College LRC
(Jacob Knight, Hadlow College, UK)
At Hadlow College Learning Resource Centre (LRC), we are working on two Mahara projects. Mahara is being used to highlight our work to support information and in turn digital literacy skills as part of an eLearning day to be held at Hadlow on 6 July 2015. We've created a range of linked pages; key areas of focus include Moodle as a portal to e-resources, ways in which eBooks are promoted in the physical space of the LRC and advanced search skills in the online environment. This initial project allows staff new to Mahara to become more familiar with it.
We are moving on to develop Mahara templates our Higher Education students can use to create information literacy ePortfolios. Students will be supported to develop essential skills that Mahara will allow them to showcase to potential employers and universities. Key areas of focus will be skills in finding, using and presenting information.
EUfolio – EU classroom ePortfolios on Mahara and O365
Andrea Ghoneim (Danube University Krems, Austria)
In the framework of the EUfolio project, ePortfolios were piloted in lower secondary classrooms across Europe. With the end of the project in April 2015 a broad range of resources are now available for further use via the EUfolio website and the EUfolio resources portal. The most heartwarming document is a video that summarizes the project outcomes and the importance of ePortfolios as a catalyst for a new approach to teaching and learning – with statements of learners, teachers, and project partners.
EUfolio ePortfolios were based on a Microsoft ePortfolio solution (a combination of O365, Yammer and OneDrive) and an open source solution, for which Mahara was chosen as a platform: http://mahara.eufolio.eu. A Mahara collection (what else? ;-)) serves as documentation for the setup of, training with and the use of Mahara by EUfolio partners and piloting schools.
Mahara in the Czech Republic
Linda Pospisilova (University of Pardubice, Czech Republic)
ePortfolio tool Mahara was introduced to the Czech higher education in 2009 at Brno Masaryk University thanks to Petr Sudicky and especially to Sigi Jakob-Kühn, aka the Networking Lady, who gave her Mahara workshop there. Since then there has been some pilots and studies run and ePortfolio has been adopted with certain difficulties at some institutions. At the University of Pardubice Mahara ePortfolio was installed in 2012. In the past two years it has been successfully tested, implemented by several teachers and used in language teaching and learning, in international cooperation and projects, and piloted in teacher training. 
In 2014 MaharaCZ was established and has been maintained mainly by the University of Pardubice. Thanks to DisCo15, networking possibilities there, hard work of Sigi Jakob Kühn, international community support and learning possibilities provided by numerous experts in the field there is a potential to create a small but active community of several Czech universities and professionals employing ePortfolio in their learning and teaching.
Learn more about the Czech community and the recent DisCo conference at which Mahara played a big role.
Mahara at the University of Paris Descartes
Anne Soussay-Cazier, Thierry Koscielniak, Ludivine Alvarez, Iman N'hari (University of Paris Descartes, France)
The University of Paris Descartes developed a Mahara ePortfolio model via Cap Emploi workshops, which are workshops to help with and prepare students for their job search by identifying their particular skills.

In this context, since 2007 the SOFIP (Studies Programme and Professional Integration Department), which offers guidance and career services to students and graduates, has developed a methodology for creating its portfolio of experience and expertise: The students, through the analysis of each of their experiences (academics, professional experiences and extracurricular activities), connect them with the skills they gained and then present them in their portfolio.

Mahara was chosen to help students in both the analysis of their experiences and in the establishment of their portfolio. The ICT services and SOFIP collaborated to implement a pilot of this model with a small group of eight students in the Psycho-Social Health Masters degree in March 2015.

We used the artifact "Booklet" developed by Christophe Declercq at the University of Nantes (view more information on this plugin). Booklet allows you to set up an enhanced Mahara CV by changing, adding or removing fields.

Moreover, a Mahara group was created so that students and their workshop facilitators can benefit from collaborative features (document sharing, exchange via forums) during and between sessions.

The next step is to propose this model to all Cap Emploi trainings and then to the students in a more self-study way.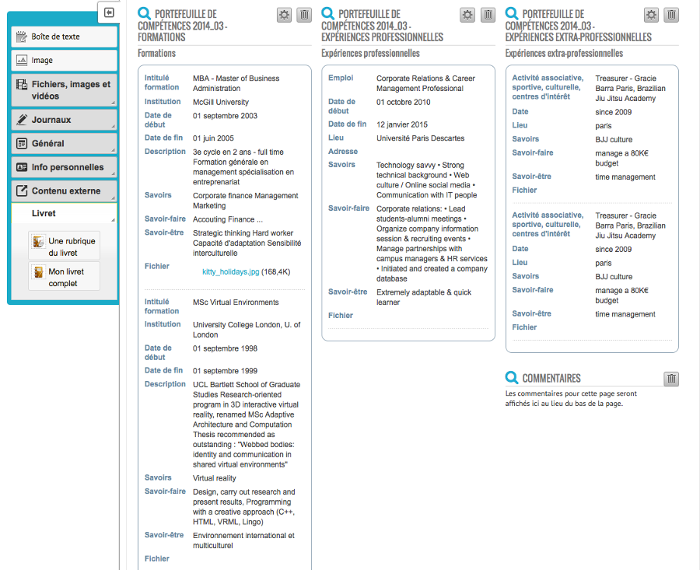 Don't forget the "e" of "ePortfolio"
Toni Soto (Colexio Apóstol Santiago, Spain)
For some years now, the Colexio Apóstol Santiago of Vigo (Spain) has had a Mahara ePortfolio available to students and teachers of the secondary school. Our Mahara is linked to Moodle for single sign-on. I started to use Mahara to introduce my students (and myself) to the concept of ePortfolios.
The goal was to create an ePortfolio for science to present at the end of the course. I already had an idea about what I wanted and expected from my students. But the first problem I had to face was not a pedagogical but an ICT issue. I soon realized that I had to teach my students to use Mahara.
Although the usability of Mahara is getting better with each new release we must admit that it's still difficult for those who want to log into their account and start creating a simple text page from scratch. If you also ask for some graphical evidences of learning such as pictures, charts or diagrams you'll soon realize that implementing a digital portfolio with young students is not as easy as it looks.
Mahara in upcoming events
You can view all event listings online and subscribe to our events calendar.
Mahara User Group Australia, 7 July 2015
Kristina D.C. Hoeppner (Catalyst IT, New Zealand)
MUGOZ (Mahara User Group Australia) will meet at Monash University's Clayton Campus on 7 July 2015 at 5 p.m. It's a great opportunity for Mahara users attending the MoodleMoot to catch up with others. For questions, please send an email to the organizers or post it in the Google+ community.
Europortfolio German Chapter online meeting, 9 July 2015
Kristina D.C. Hoeppner (Catalyst IT, New Zealand)
The fourth community call of the Europortfolio German Chapter is dedicated to teaching portfolios and their place in the professional development of higher education instructors. Join Thomas Czerwionka, Oliver Tacke and Timo van Treeck as well as other community members.
The event will take place online on 9 July 2015, 6:00 p.m. - 7:30 p.m. (check your local time).
MUG meeting: Join in the ePortfolio conversation! 24 July 2015
Heather Askildsen (Pace University, U.S.A.)
The Mahara User Group (MUG) will be hosting an in-person meeting at Teachers College, Columbia University in Harlem, New York City, on 24 July 2015 from 10 a.m. to 12 p.m. with an open invitation to lunch from 12 p.m. to 1:30 p.m.
Join educators from around the world to discuss the evolving role of ePortfolio in an international context. Topics will include ePortfolios for faculty promotion and tenure, strides made with ePortfolios in Switzerland, a Mahara improvement feedback session, and much more. There will also be a free forum to open the discussion up to your thoughts on using ePortfolios in the current academic landscape.
Have an idea for a topic? Get in touch with us.
6th Mahara Open Forum, 10-11 October 2015
Kristina D.C. Hoeppner (Catalyst IT, New Zealand)
The Mahara Open Forum (MOF) is in its sixth year in Japan. This year it will take place at the Open University of Japan from 10 to 11 October 2015. The paper submission starts on 10 July 2015 and ends on 7 August 2015. For more information, please refer to the MOF website and the Facebook group.
Mahara Hui UK 2015, 9-10 November 2015
Trish Stevens (Catalyst IT Europe, UK)
Mahara Hui UK, the biggest Mahara community gathering in the UK, will be held at Southampton Solent University on 9 and 10 November 2015. This year we will have a number of international guests, including Kristina Hoeppner from Catalyst IT (New Zealand) who will deliver the first of the keynotes.
On the agenda will be a showcase of Mahara 15.10 functionality, a strong technical stream and student focused presentations. A Titanic evening of celebrations is planned.
Registration and call for papers will be announced by mid July 2015. Please register on the website to receive updates.
Please follow updates from Mahara Hui UK on Twitter using the hashtag #maharaUK15.
Mahara DE15 – "Cantuccini MaharaMoot Cassel"*, 27-28 November 2015
Heinz D. Hirth (Oskar-von-Miller-Schule, Germany)
*Seasonal cookies for the first Sunday of Advent, hence Cantuccini - MaharaMoot.
Good Cookies need good recipes and that ist what we learn at Mahara DE15. Stakeholders in all areas of education can share experiences, ideas, recipes and concepts in an open barcamp atmosphere.
While learning management systems like Moodle are widely used in many places around the world, ePortfolio systems like Mahara are not yet as popular. As you pursue knowledge and development through lifelong learning, it is necessary to record and capture the acquired knowledge and skills. In addition to recording learning evidence, Mahara allows you to visualize and showcase all learning processes thru lifelong learning.
Barcamps are user-organized conferences (unconferences). They are open participatory workshop events, the content of which is provided by participants in the form of a presentation or a work example. To participate, you may submit your work examples and presentations at the conference. All presentations should be provided under the context of schools, universities and organizations' education strategies.
The conference languages are English and German. The conference will be held in Kassel, Hessen, in Germany, from 27 to 28 November 2015. For unconference information and registration, please visit the Mahara DE website.
Mahara in past events
Mahara Hui NZ, 9-10 April 2015
Kristina D.C. Hoeppner (Catalyst IT, New Zealand)
The second Mahara Hui in New Zealand took place on 9 and 10 April 2015 with a pre-hui day of workshops and discussions on 8 April 2015. Mahara enthusiasts from New Zealand, Australia, Europe and Japan gathered to showcase their Mahara work, discuss ideas and learn from each other. Sam Taylor from Cranfield University in the UK (formerly from Southampton Solent University) and Mark Osborne (CORE Education, NZ) were the keynote speakers and challenged attendees to think about ePortfolios in a wider education context.
You can view the slide decks of the majority of the sessions as well as the video recordings.
Swiss // Moodle // Mahara // Moot, 20 June 2015
Martin Vögeli (HWZ and PH Thurgau, Switzerland)
The Swiss // Moodle // Mahara // Moot 2015 #smmxv was small but beautiful! We had two tracks mainly about Mahara and Moodle. Other topics about (blended) learning and (online) teaching were welcome, too!

If you understand German you're welcome to watch two of our talks "This is probably the best button to press" and "Was Sie schon immer über URL Variablen wissen wollten" as screencasts on YouTube.

We also offered a juicy selection of workshops about the "Five stage model", instruction in a language using ePortfolios as well as eTesting with the help of a learning management system.

The first session in the morning was a hackathon where we identified areas for future investigation in our online forums MaharaCafé and MoodleCafé. Dear reader, your contribution is welcome, too!
German Mahara Granny's Mission at DisCo2015 in Prague
Sigi Jakob-Kühn (Germany)
Another mission to get the ePortfolio spirit with Mahara implemented took me to Prague from 21 to 24 June 2015 to attend DisCo (Distance Education Conference). I could also support my Mahara "daughter" Linda Pospisilova from Pardubice, who has become the Czech Mahara expert and is doing a great job at her university.
Together with Linda, I facilitated a workshop on how to use Mahara in various settings from schools to universities and asked participants to create their first ePortfolio in Mahara.
We made them aware of the great international Mahara network and invited them to join the community and get connected.
I also had the opportunity to deliver a keynote where I stressed the importance of student driven learning and giving evidence of learning progress and achievements by having an ePortfolio.
For my resources and reflections around the conference, please view my Mahara conference page.
Mahara in development
Mahara 15.10 feature freeze
Kristina D.C. Hoeppner (Catalyst IT, New Zealand)
Development at Mahara HQ has been frantic over the past months as we are nearing feature freeze for the October 2015 release of Mahara (Mahara 15.10). If you want to propose new features for Mahara, please put them into our code review system before 2 August 2015. We will then consider them for the October release.
Mahara bootstrapped
Kristina D.C. Hoeppner (Catalyst IT, New Zealand)
A few weeks ago we announced that Mahara 15.10 will be fully bootstrapped for the design. Catalyst IT front-end developers have been refactoring Mahara's entire CSS so that it is now using Bootstrap to be generated. The changes have been merged into the master branch of Mahara so everyone can give it a whirl and bugs are discovered more easily.
Changing to Bootstrap is a monumental task and has implications for the Mahara code, designs and also Behat test suite. We are in the process of creating entirely new themes for Mahara. They will all be responsive and thus work well on mobile devices.
If you want to help test the upcoming version of Mahara, please do so and let us know what you think.
Learn to code with Mahara
Jinelle Foley-Barnes (Catalyst IT, New Zealand)
Working on the Mahara ePortfolio project has proven to be a great way for students of all ages to learn programming – from Rylee, aged 9, to the many high school students who have made their first contributions to an open source project, as well as university students who gain work experience through internships, part-time work or university projects.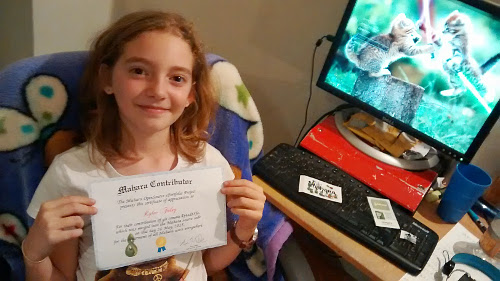 Recently, Rylee contributed her first Behat test. These tests are written in a human-readable programming language, using a pseudo-language called Gherkin. Behat allows test scenarios that are normally completed manually to be run automatically. This makes it possible to perform these scenarios repeatedly during the software testing process, much more quickly than would be possible for a person. Rylee copied and pasted steps from the Mahara Behat wiki page into a document and filled in the blanks with the names of links and buttons she was clicking on to create a journal entry. Rylee's test is now run every time a piece of code is added to Mahara, to check that the links in the journal entry are still always clickable by users.
Continue reading how Behat tests are a good introduction for children to programming.
Open Badges displayer plugin now also for the Open Badge Passport
Kristina D.C. Hoeppner (Catalyst IT, New Zealand)
The Open Badges displayer plugin, the plugin offered by Discendum to connect to the Mozilla Backpack and display Open Badges in Mahara, was updated by the Discendum development team. It is now possible to connect to the Open Badge Passport alongside the Mozilla Backpack. Read on for more information from the developers or check out the code itself.