The Mahara year got off to a great start. We have lots of stories to share, many events coming up, and a new version of Mahara coming out soon. Take a seat and enjoy this latest newsletter. Did you know that this is the first issue of the 5th year of the newsletter already? Time surely flies. We started the newsletter on 1 April 2015 and since then have been receiving stories, news, event announcements, award notifications etc. from around the world. The variety of the submissions shows the many ways in which Mahara can be used.
If you haven't submitted an article yet, please consider to do so. We'd love to hear how you are using Mahara.
The next newsletter will be published on 1 July 2015, and you can send articles to [email protected].

The Mahara Newsletter is published under the Creative Commons BY-SA license 3.0.
Mahara in use
Integrating an ePortfolio assessment into a pre-sessional academic English course
Dustin Hosseini (Coventry University, UK)
Some international students who come to the UK require a 'boost' of their English language and study skills in order to study on a degree program at a university. These students usually study on pre-sessional English programs at a university before their course starts. One way that we at Coventry University will assess students is by integrating an ePortfolio assessment. Students' ePortfolios will consist of 3 parts: a reflective learning journal, video tasks and written tasks - all situated within our Mahara site. The learning journal will be more heavily weighted in terms of marks earned as this reflects the nature of the ePortfolio: to become a more reflective learner who uses reflective practices.
Most UK-based pre-sessional programs don't take this approach, but we hope to break ground by having students construct an ePortfolio within Mahara by reflecting upon their learning in a journal, creating short videos where they practice English individually and within group discussions, and documenting the development and progression of their writing skills. All of this will take place while developing students into autonomous, independent learners through exercising their ICT and digital literacies. We feel this approach has potential for transferability to other second and/or foreign language programs.
"Show what you can do": KidZ EPortfolio Study 2014
Petra Szucsich and Klaus Himpsl-Gutermann (University of Teacher Education Vienna, Austria)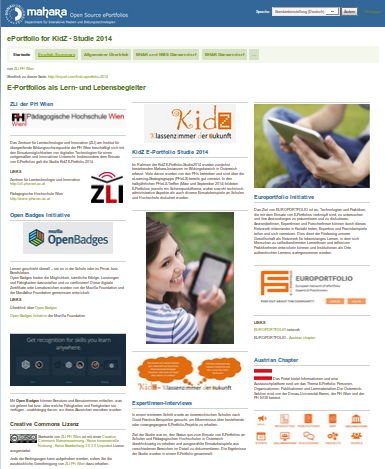 KidZ ("Klassenzimmer der Zukunft", engl. "classroom of the future") is an innovative educational project which was initiated by the Federal Ministry of Education and Women in Austria in the year 2013. Its main objective is to make learning with ICT part of regular school life, thus fundamentally adjusting and modernizing didactics to the requirements of modern times. The research is conducted by the Zentrum für Lerntechnologie und Innovation (ZLI, Center of Educational Technology and Innovation) at the University of Teacher Education Vienna.
In context of the Austrian KidZ project, the KidZ EPortfolio Study 2014 first of all evaluated the existing Mahara entities in Austria. In a second step, good practice examples at Austrian schools were collected and five teachers who had already gained a lot of practical experiences in the use of ePortfolios in class were invited to take part in virtual interviews via Adobe Connect. The major aim of the study was to illustrate and analyze the use of ePortfolios at Austrian schools and to document and share examples.
Conclusions
EPortfolio work enables teachers to offer their students very individualized learning settings. In these settings traditional structures such as time, space, subjects and roles of teachers and learners have to be redefined. The conclusions drawn from the analysis as well as the good practice examples of the participating schools were collected and presented in an ePortfolio collection.
Lecturers have a life, too!
Richard Farr (University of Bolton, UK)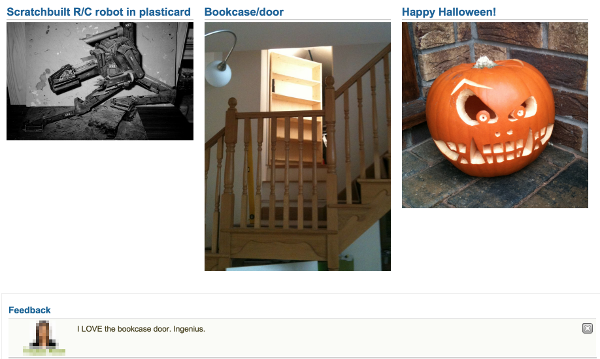 Through my use of Mahara, I aim to become more 'human' to my students. I travel internationally to teach intensive, weekend-long workshops after which I seldom meet the students again. This doesn't leave long for getting to know one another!
Our Moodle learning environment gives students most of what they need in terms of study materials, forums, exercises and the like, but I appreciate a space (accessible with a university login) where students can see something about my work, hobbies and interests – such as photos of my house restoration project, and an RSS feed from my sustainability-themed blog. I also link to presentations and academic papers not directly related to current teaching.
I wouldn't want to invite current students into my 'Facebook life', nor the LinkedIn presence I maintain for professional contacts, but having Mahara just a click away on all our Moodle courses allows me to demonstrate – gently – that a lecturer doesn't always sit at the keyboard, waiting to answer their queries!
Turnitin and invigilation Mahara pages
Marylise Tate (Adam Smith Business School at the University of Glasgow, Scotland)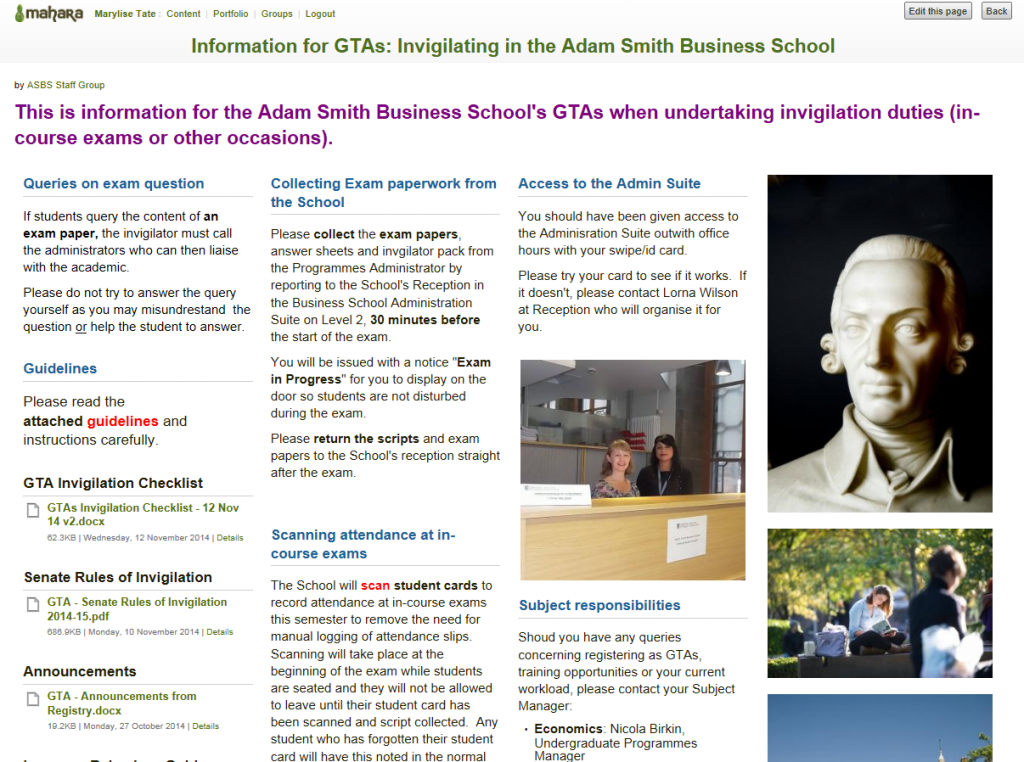 The Adam Smith Business School started using Mahara in October 2014 in order to communicate student information relating to Turnitin more efficiently. This was suggested by the College Learning Innovation Officer to help avoid the duplication required in Moodle. He also provided basic training on how to set up a page.
The School has now four Mahara pages:
Turnitin
Information for GTA invigilators
Information for Registry invigilators on the School TeleForm project
PGT events (administered by the Accreditations Administrator)
The benefits of using Mahara were immediate. Prior to the introduction of theTurnitin Mahara page, all Programmes Administrators had to update their individual Moodle course / programme pages with updates on Turnitin and upload revised guidance documents.

With Mahara, there is one central source of information. Programmes Administrators no longer have to apply any updates using the Mahara link on their Moodle pages.

The revolutionary use of Mahara for Turnitin opened the door to create a page for GTAs (Graduate Teaching Assistants) who assist the School with invigilation during in-course exams. Instead of communicating information by copious emails and attachments, the GTAs now only need to add a Mahara page to their watchlist in order to be notified about important updates.

The feedback received from the GTAs on the page so far was very positive.

Due to the success of the use of Mahara for Turnitin and GTA instructions, the School has set up another information page for its TeleForm project where registry invigilators are briefed on the use of TeleForm answer sheets.

I, personally, love Mahara!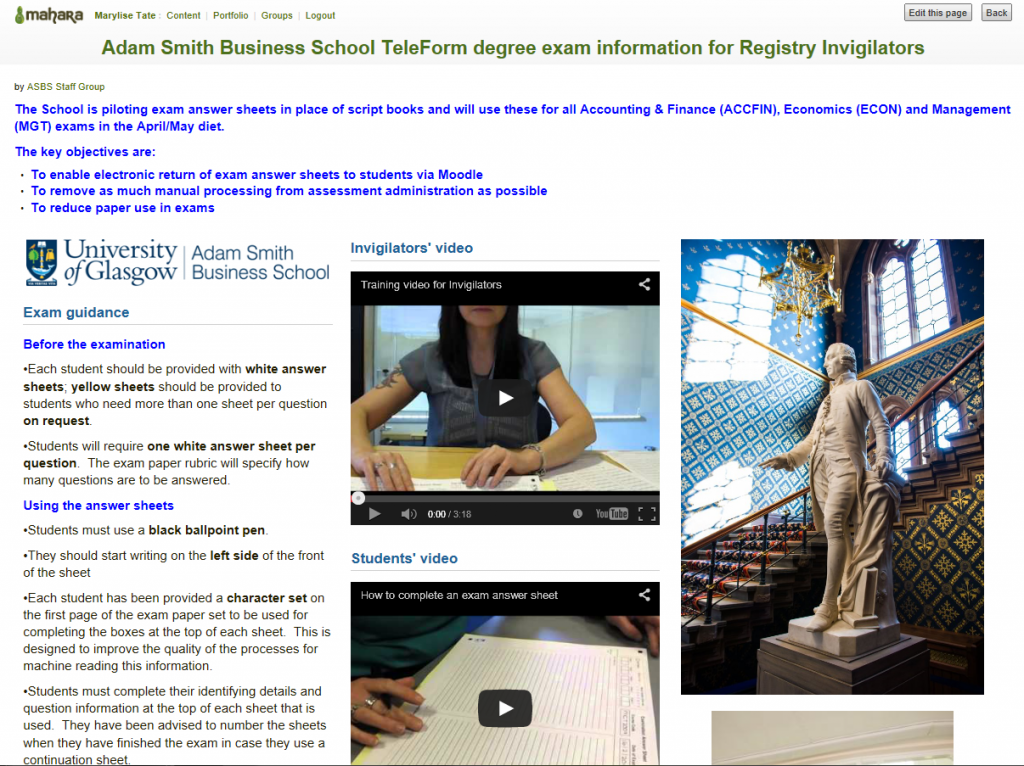 EPortfolio diversity at Pace University
Megan Burke and Heather Askildsen (Pace University, U.S.A.)
Megan Burke – Accounting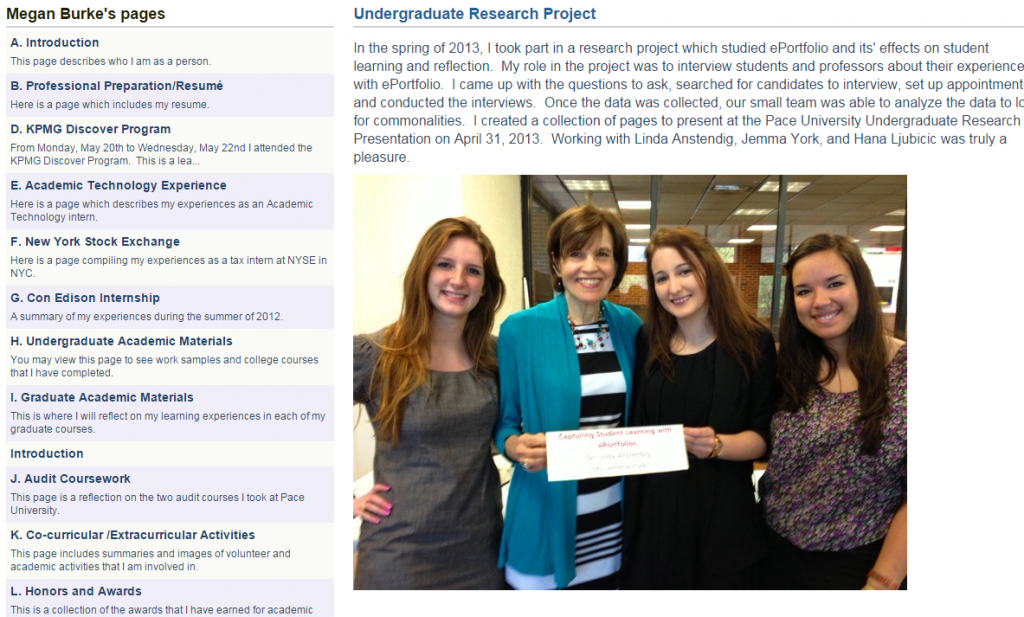 I attended my first ePortfolio demonstration in my Writing in the Disciplines course back in the fall of 2011. Little did I know, my professor was the co-director of ePortfolios at Pace University. Her passion for the tool was infectious; my fellow students and I couldn't help but be excited about our first lesson using ePortfolio.
At the end of the demonstration, the student assistant who was teaching us mentioned that her department had available positions, and I decided to go for it. The first time I edited my pages, I was in a hurry. I wanted to make a fantastic ePortfolio and land the job. But as I further developed my ePortfolio throughout my time in college, I continually updated the content to reflect my professional development.

During my sophomore year, I had filled my pages with descriptions of my volunteer work, career goals, and personality.  By the time I got into the graduate program, I had a wide array of content to include. Since I had many different intern experiences, I created a separate page for each internship to reflect on my experiences there.
Audit coursework
After deciding that I wanted to be an auditor, I created a page called "Audit Coursework" to showcase everything I learned in my audit courses. Content included images of me participating in mock audits with classmates and reflections on what I learned in these classes.
You can view Megan's public portfolio.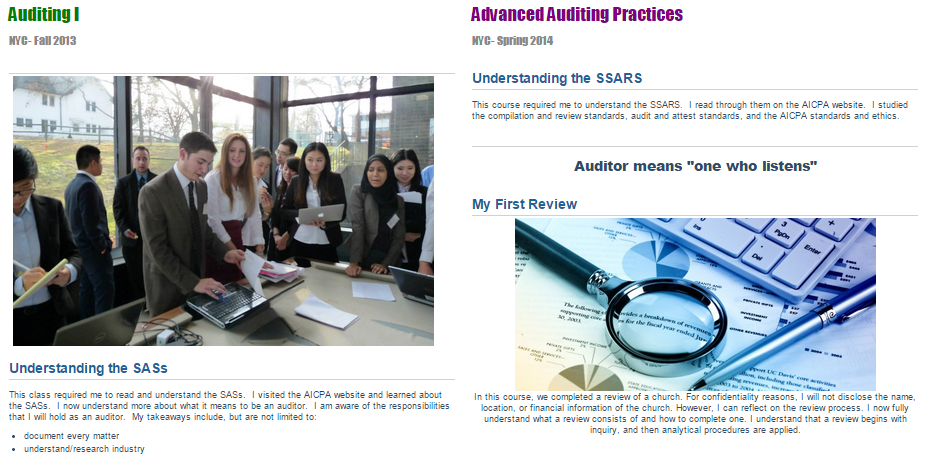 Heather Askildsen - English and Communications
I was introduced to ePortfolio in a graduate capstone course. All Pace University undergraduates now develop their ePortfolios as part of the freshman "Pace Path" program, but I was a transfer student and was new to the idea of an online portfolio. At first, I regarded it as visual-centric resume. But as I began to develop my pages, I slowly started to reflect on what all this content I had produced over the years meant. This prompted me to create two additional sections of my portfolio, my Academic Philosophy and Writing Portfolio page.
Academic Philosophy
This page encapsulates my central theme of my portfolio; active learning. I used the "File(s) to download" tool to upload content I had produced and the "Image" tool to incorporate visual examples of me taking my passion for learning beyond the classroom. The text editor allowed me to link to external blogs posts I had written and pages for events I had helped coordinate.
Writing Portfolio
As an English and Communications major, I had amassed a great deal of written material by my senior year at Pace. EPortfolio gave me a space to showcase my writing and academic achievements, encouraging me to reflect on my educational experiences and craft a multi-media narrative of my undergraduate career. My "Writing Portfolio" page is a collection of my undergraduate work, both creative and analytical. It highlighted my diverse range of writing.
Mahara in action
Bringing Mahara's mobile app into the 21st century 
Scott Allen (Victoria University of Wellington, New Zealand)

For a university paper, I am looking at the usability of MaharaDroid, the Android app for Mahara, and modernising the app. I would like to get in touch with users of MaharaDroid to learn how they are using it. If you are not a MaharaDroid user, but are interested in having a mobile app available for Mahara, please also get in touch quickly so we can talk in April 2015. Please send an email to [email protected] if you would like to participate in this study.
Looking for user stories
Paul Gillary
We are battling with IT to have Mahara setup college wide. They want us to use Sharepoint! To better make our case I was looking for a good set / list of user stories or scenarios, i.e.
| | |
| --- | --- |
| Story | ... so that / Reason |
| As a student I want to create an online ePortfolio... | I can chart my personal development. |
| As a student I want to create an online ePortfolio... | I can show potential employers what I have been doing and why I'm suitable for a role. |
| As a student I want to share my work with peers... | my work can be reviewed. |
| As a teacher I want to access ePortfolios... | to mark them for assessment. |
| As teacher I want to write comments... | to leave feedback for my students. |
Does anyone have anything like this that might cover creation, assessment, sharing etc. Please respond in the forum topic.
Usability improvements for Mahara
Kristina D.C. Hoeppner (Catalyst IT, New Zealand)
The ease of use of a website is important. As community, we are always looking for ways to make Mahara better and more user friendly. We already have lots of suggestions in our wish list to that effect. To get down to business involving users, community members are leading a series of design workshops at Mahara events looking either at usability of Mahara in general or focusing on a particular feature. Later in April we will invite users to check out an idea for improving the management of pages and collections in Mahara to gather feedback which will inform further development. If you are interested in getting more involved, e.g. run a session at your school, university or workplace, please get in touch.
Mahara in upcoming events
You can view all event listings online and subscribe to our events calendar.
Mahara Hui in Auckland, 9-10 April 2015
Kristina D.C. Hoeppner (Catalyst IT, New Zealand)
Next week, Mahara Hui will take place in Auckland on 9 and 10 April 2015. Action-packed presentations, show-and-tells and demonstrations of new Mahara functionality are on the agenda. And for those that want to try their hands in workshops, those will take place on 8 April 2015.
It is the second Mahara Hui in New Zealand. This year we will have a number of international guests, including Sam Taylor from Cranfield University (formerly from Southampton Solent University) who will give one of the keynotes and talk about "Growing up with Mahara".
If you cannot attend in person, you can follow updates from the event on Twitter using the hashtag #maharahui15.
Moodle-Mahara Meetup will showcase diverse ways to support learning and development, 16 April 2015

Allison Miller (Vanguard Visions, Australia)
In a world with many challenges and constant changes, people need to be flexible, resilient, collaborative and innovative. To ensure people have these skills, education and training is being designed, developed and delivered differently. To support this, the 2015 Moodle-Mahara Meetup will showcase diverse practice in the use of Moodle and Mahara coupled with the use of open badges, technical innovations to capture learning on the go and systems which shape and record 70-20-10 learning. The Meetup will be held in Adelaide, South Australia, on 16 April 2015. Follow announcements and more on Twitter via #MMMup.
Australian Mahara Users Group - Do we need one? 17 April 2015
Allison Miller (Vanguard Visions, Australia)
The 2015 Moodle-Mahara Meetup will be followed by a coffee meeting discussing whether an Australian Mahara Users Group is needed or not. This event will take place in Adelaide in the morning of Friday, 17 April 2015.
Find out more and / or register to attend.
MUG meeting: EPortfolios All Around the World, 28 April 2015
Megan Burke (Pace University, U.S.A.)
Join the Mahara User Group virtually on 28 April 2015 at 2 p.m. EDT (check your local time zone) for an international student showcase. We are tuning in to hear student voices and ePortfolio experiences from all around the world.
If you have talented students that you would like to feature, please invite them to join the meeting. It is a best practice to have them prerecord a 3-5 minute presentation of their ePortfolio as per the outline below in case of scheduling conflicts or cancellations.
Student presentation outline
Slide 1: Student quote
Slide 2: Overalls reflection with screen shots of student ePortfolio
Slide 3: Student's favorite ePortfolio feature
Slide 4: Q&A with student
If you would like to participate, please send an email by 24 April 2015.
Europortfolio German Chapter online meeting, 21 May 2015
Kristina D.C. Hoeppner (Catalyst IT, New Zealand)
The Europortfolio German Chapter plans to meet every other month to talk about ePortfolio-related matters. Two webinars have already been completed successfully, and you can find the recordings on the website.
The next community call is scheduled for 21 May 2015, 6:00-7:30 p.m. German time (please check the time zone converter for your time) in Adobe Connect. Sibylle Würz will discuss how competencies can be represented in a portfolio and what job application portfolios can look like. More information about the webinar will be published soon on the website.
Everyone is welcome to participate. Please note that this event will take place in German.
Mahara UK
Kristina D.C. Hoeppner (Catalyst IT, New Zealand)
Mahara UK, the conference on all things Mahara on the Birtish Isles and beyond will take place again this year. The date and place have not yet been confirmed, but will be done shortly. In the meantime, you can already think about what you would like to share at the event and prepare your abstract to be amongst the first to submit one. Watch out for further announcements around date, place and the call for presentations.
Mahara at the AAEEBL Annual Conference, 27-30 July 2015
Kristina D.C. Hoeppner (Catalyst IT, New Zealand)
The organizers of the AAEEBL Annual Conference accepted the proposal by the Mahara User Group to offer a panel presentation on the place of ePortfolios in today's rapidly changing world. If you are interested in joining the group with an example from your own institution, please get in touch with Heather Askildsen and Megan Burke from Pace University.
Mahara DE15 – "Cantuccini MaharaMoot Cassel"*, 27-28 November 2015
Heinz D. Hirth (Oskar-von-Miller-Schule, Germany)
*Seasonal cookies for the first Sunday of Advent, hence Cantuccini - MaharaMoot.
Good Cookies need good recipes and that ist what we learn at Mahara DE15. Stakeholders in all areas of education can share experiences, ideas, recipes and concepts in an open barcamp atmosphere.
While learning management systems like Moodle are widely used in many places around the world, ePortfolio systems like Mahara are not yet as popular. As you pursue knowledge and development through lifelong learning, it is necessary to record and capture the acquired knowledge and skills. In addition to recording learning evidence, Mahara allows you to visualize and showcase all learning processes thru lifelong learning.
Barcamps are user-organized conferences (unconferences). They are open participatory workshop events, the content of which is provided by participants in the form of a presentation or a work example. To participate, you may submit your work examples and presentations at the conference. All presentations should be provided under the context of schools, universities and organizations' education strategies.
The conference languages are English and German. The conference will be held in Kassel, Hessen, in Germany, from 27 to 28 November 2015. For unconference information and registration, please visit the Mahara DE website.
Mahara in past events
MUGSE 6 March 2015 meeting
Domi Sinclair (University College London, UK)
The third meeting of MUGSE (Mahara User Group for Southern England) took place on Friday, 6 March 2015, at the Royal Veterinary College in London. As usual there was a mix of experiences in Mahara and we were once again lucky enough to have Don Christie from Catalyst in attendance.

The session began with a group round table, with everyone having the chance to contribute problems or question and then the rest of the group offering solutions or answers based on their own experiences. After this there were a series of presentations, including help files and case studies from Roger Emery and Sam Taylor at Southampton Solent University, a look at the April Mahara upgrade from Don Christie and finally Domi Sinclair talking briefly about the importance of getting involved in the Mahara community.

If you would like more details about this user group please read the article from Digi Domi and follow MUGSE on Twitter.
Mahara in development
Mahara 15.04 to be released mid-April
Kristina D.C. Hoeppner (Catalyst IT, New Zealand)
Mahara HQ is very busy at this time of the year as a new version of Mahara is about to go out of the door. We would like to thank everyone who has already been downloading the release candidate, i.e. the beta version, of Mahara 15.04 and giving us feedback. So far, everything is looking good and we only have minor to medium issues to fix. Thus, we are still on track for the release of Mahara 15.04 around mid-April.
If you haven't had a chance to give Mahara 15.04 a spin yet, please read on to find out where you can download it. You are also welcome to use our development instance master.dev.mahara.org to check out the new features. The user manual is being updated with the new features, but we are not quite done yet. There are a lot of exciting new things in Mahara this April!
Looking ahead to Mahara 15.10
Kristina D.C. Hoeppner (Catalyst IT, New Zealand)
While we are still finishing up Mahara 15.04, work on the October version already started earlier in the year as we have a number of major changes that we want to get into Mahara later in the year.
For Mahara 15.10, we have a lot of interface changes planned. One of them is to switch the design to use the Bootstrap framework and also to modernize built-in themes. We will reveal more over the coming months to give you an insight into what Mahara will look like from October on.