Welcome to 2015! The Mahara core team wishes you a wonderful new year with much excitement ahead of you. We look forward to this new year in the life of Mahara which will bring a lot of new features and improvements as well as discussions with users.
Although the deadline for this issue fell right into the holiday season parties and getting-thing-done-last-minute-before-the-holidays, we have an amazing range of news from Mahara users around the world who want to share what they have been up to. Sit back in the sun wearing your Mahara jandals (a.k.a. flip flops) or curled up under a blanket on your couch with a hot chocolate in your Mahara mug and have a read. Also keep you calendar handy to enter the dates of Mahara events or subscribe to our newly created calendar.
The next newsletter will be published on 1 April 2015, and you can send articles to [email protected]. What do you want to share with the rest of the community?

The Mahara Newsletter is published under the Creative Commons BY-SA license 3.0.
Mahara in use
Implementing ePortfolios in a secondary school in Spain
The secondary school Instituto de Educación Secundaria Monte Das Moas where I teach is in A Coruña, Spain. Recently, I began to use the Mahara platform for digital portfolios with my students. These twelve-year-old students are studying Technology in the second year of ESO (Enseñanza Secundaria Obligatoria - secondary education). The portfolio has helped me to make a collection of pages to explain different activities about the tangram. The students can show and share their work with me and the rest of the class. The portfolio contains several activities with images and video tutorials, surveys and assessment rubrics. My impression of using Mahara for the ePortfolio work is very positive. I think it's a very accessible and intuitive tool that allows us to carry out high quality work.
Mahara integrated in an interdisciplinary simulation game – Quest 3C
Hazel Grünewald and Michael Moser
Mahara ePortfolios will play an integral role in documenting the development of business engineering students participating in Quest 3C, an interdisciplinary simulation game created at the ESB Business School in Reutlingen, Germany.
The motto of the game is "connect – collaborate – grow as a leader". As students undertake complex problem-solving in cross-functional teams in March 2015, they will be expected to communicate, collaborate and negotiate successfully across hierarchies, disciplines and cultures. The students will use Mahara to reflect on their experiences: "How did they deal with the challenges they faced?", "To what extent have their leadership competencies and knowledge increased as a result of the game?", "What strengths and weaknesses have they perceived in their behaviour over time?"
These reflections will be systematically reviewed by the trainers who will provide both timely face-to-face input and online feedback with respect to the students' individual growth and development. Additionally, learners will receive information on career management and applications including instruction on how to use their Mahara ePortfolio to showcase their skills, abilities and experience in a unique way. Get more information on the simulation game and also take a look at a Mahara video we made.
The core Quest team is comprised of the following members:
An integrated ePortfolio in linear algebra classes
M. Isabel Garcia-Planas and Judit Taberna
In September 2014 we began a pilot project for the development of ePortfolios in a core mathematics subject for undergraduate students at the Universitat Politècnica de Catalunya. The aim of this pilot project is to create "integrated ePortfolios" in linear algebra classes using Mahara. That is to say an ePortfolio that makes use of a number of different ePortfolio techniques.

The Mahara ePortfolio allows us to integrate reflective activities for learners and professors through blog functions and the creation of critical incident diaries in which students of linear algebra classes reflect on their learning and experiences over a given period of time or for a given learning activity. It is the first time that a project using ePortfolios is run in a large learner group. In this case, there are 10 groups of about 80-85 students per group and all of them work individually on their portfolios. Approximately 280 of the participating Engineering School students chose to work with Mahara.

The Institute of Education Sciences of our university is also involved in this pilot project. It provides us with technical as well as pedagogical support for both teachers and students. In order to ease the work in this platform, we have prepared a template that is shown in the following figure.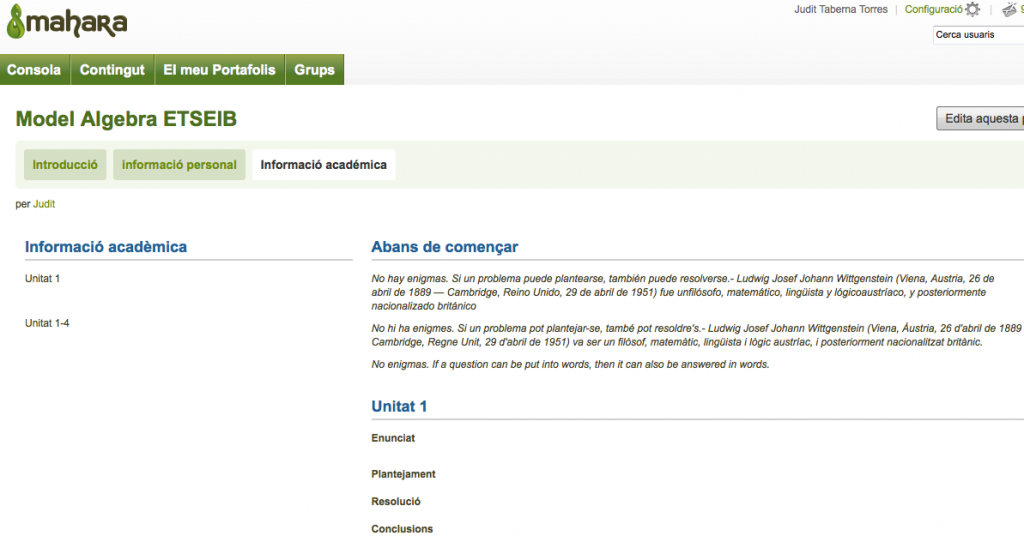 EPortfolios for food scientists
In 2014, the Université Caen Basse-Normandie (University of Caen Lower Normandy) in France deployed the use of ePortfolios in a number of its courses.

For instance, the ESIX Normandy Engineering School at the university decided to start using the Mahara ePortfolio for its Food Science department. At the ESIX School, some students alternate periods of theoretical training with technological and industrial work placements in France and abroad. Each student is managed by a university tutor and an apprenticeship tutor in the company.

In the past, we used to assess students' attitudes, skills and competencies with a paper-based portfolio. However, it was difficult to share information and track the student progress between the student, the university tutor and the company tutor. As a consequence, ESIX, together with the e-learning department (CEMU), launched a project to deploy the Apprentice e-booklet (based on Mahoodle) in early 2014.

Read more about the project.
Expanding ePortfolio use in Western New York
Keuka College, a small liberal arts college in Western New York, U.S.A., was very pleased to welcome Kristina Hoeppner from Catalyst IT in Wellington, New Zealand. Kristina Hoeppner, who came to the United States last summer to participate in conferences and a Mahara User Group meeting on the east coast, came to Keuka College to demonstrate some of the many ways to use Mahara.
Keuka College uses Moodle hosted by Moodlerooms for its learning management system. The Wertman Office of Distance Education, part of Keuka College's Center for Professional Studies, has adopted Mahara as its ePortfolio for various programs on campus as well as in its accelerated studies for adults program, ASAP. Keuka College first connected with Kristina Hoeppner in the fall of 2013 to help set up Mahara in its LMS. The college will be expanding its use of ePortfolios in general, and Mahara specifically, over the coming months.
Storing and sharing PhD research material
I am exploring the affordances of technology for my PhD journey. Mahara offers me a space to story my research journey privately and publicly in multimedia ways. By creating pages for each chapter and topic area of my thesis, I have a dedicated space for the words, images and videos that underpin and stretch my thinking. These pages blend outside materials, such as inspiring TED talks, with my own audio- and video-recorded reflections over time. Hyperlinking essential websites, for instance Google docs, Zotero and the University Library, renders Mahara my one-stop shop.
Mahara also allows me to connect and share with others, creating a community of practice around my study. My supervisors can view my latest work, and we are always working on the same draft. Mahara has supported me in storying the changes to my personal and professional identity through the PhD. I would be very interested in connecting with others using Mahara in similar ways.
Mahara in upcoming events
Mahara developer meeting online, 22 January 2015
Everyone is welcome to attend the monthly Mahara developer meeting. The next one will take place on 22 January 2015, 8 a.m. UTC (check for your time zone). If you want to discuss anything development-related, please feel free to add it to the agenda. The meeting will take place on IRC in #mahara-dev, and you can join in your browser if you do not have IRC installed on your computer.
Mahara User Group meeting online, 22 January 2015
The next Mahara User Group meeting (MUG) will take place online on 22 January 2015 at 3 p.m. EST (check for your time zone). Everyone is welcome to attend. If you would like to add something to the agenda for this hour-long meeting, please post your suggestion.
Europortfolio German Chapter online meeting, 29 January 2015
The Europortfolio German Chapter was launched in the context of Online Educa on 3 December 2014. Europortfolio is a European ePortfolio initiative which is organised on EU-level and on the level of each member state – the so called Chapters.
The Europortfolio German Chapter understands itself as a Community of Practice that aims at connecting stakeholders and practitioners in the field of education who are interested in furthering the use of ePortfolios. We intend to document and foster current ePortfolio developments in Germany and would be pleased, if members of the Mahara community would like to join our activities.
Please find more information on the Europortfolio German Chapter web page.
Our first online community meeting will take place on 29 January 2015 from 6:00 to 7:30 p.m. CET (check for your time zone) in Adobe Connect.
This webinar will be held in German.
Mahara Hui New Zealand in Auckland, 8-10 April 2015
After a successful first Mahara Hui in Wellington in March 2014, we are organizing a second conference for users in Australasia (and beyond). A pre-hui day (pre-conference) is scheduled for 8 April 2015 to be held at the Catalyst IT office in Auckland and the two presentation days will be held at AUT University.
The Mahara Hui team welcomes proposals for presentations and posters as well as sessions on the pre-hui day from school students to university graduates, school teachers, lecturers in tertiary education, learning and technology support staff, developers and others who are interested in Mahara. Please review the information for proposals. You will need to register on the site and enrol in the conference to write your proposal.
The call for proposals is open until 6 February 2015. The Mahara Hui team reserves the right to accept proposals before the call for proposals finishes. Thus, early proposal submissions are encouraged.
For more information about Mahara Hui, please visit the website, subscribe to updates on Twitter and follow the Twitter hashtag #maharahui15.
2015 Moodle-Mahara Meetup in Adelaide, 16 April 2015
The 2015 Moodle-Mahara Meetup (MMMup) will be held on 16 April 2015 at the University of South Australia, City West Campus, Adelaide.
The 2015 Moodle-Mahara Meetup (#MMMup) will help attendees to 'think outside the box' when using the open source learning management system Moodle and the ePorfolio system Mahara in education and training.

The call for proposals closes on 2 February 2015. You can find more details on the Meetup website.
Australian Mahara User Group meeting in Adelaide, 17 April 2015
Do we need an Australian Mahara User Group (AMUG)? The original Mahara User Group (MUG) was established by a group of people from colleges and universities in New York State looking to improve Mahara for their users. Other such groups have now been established in Europe and New Zealand, so this leads to the question: Do we need an Australian Mahara User Group (AMUG)? To test this out, interested folks are invited to attend an AMUG meeting on 17 April 2015 (following MMMup) in Adelaide, South Australia, from 10 am to 12 noon (ACST). Register if you are interested in attending this event in Adelaide.
French Mahara Hui and MoodleMoot in Tours, 10-12 June 2015
In France, Mahara Hui and MoodleMoot will take place as a combined conference in Tours, France, from 10 to 12 June 2015. The event is a project of COMUE Centre Limousin Poitou-Charentes. You can find out more about the conference on its website starting at the beginning of February 2015.
Mahara Hui UK, July 2015
Dates for Mahara Hui UK (formerly Mahara UK) have not yet been announced, but this annual Mahara conference on the British Isles will take place again this year. Keep your diary free for the first two weeks of July 2015 and watch out for an announcement about the conference in the news forum.
Mahara in past events
Mahara BarCamp 2014, 14-15 November 2014
My recent trip to the Mahara BarCamp 2014 in Karlsruhe, Germany, was a real eye-opener! I had the pleasure of meeting and conversing with a number of interesting and enthusiastic teachers who all use (or want to use) Mahara to help their students develop their skills in a variety of subjects.
I was also asked to be a keynote presenter and facilitate a workshop - something I'll be forever proud of! My talk was on how we at Southampton Solent University support such a large number of users and lecturers, and gives examples of the types of portfolios that lecturers are expecting of their students. You can see an edited version of my talk in the video on my blog.
Please feel free to read my notes and view my workshop via my two blog posts: Part 1 and Part 2.
Sam Taylor - Mahara presentation from Learning Technologies on Vimeo.
Second MUGSE meeting, 21 November 2014
November saw the second ever MUGSE meeting, that is the Mahara User Group for Southern England. It was kindly hosted by Sparsholt College, which has a lovely campus in the Hampshire countryside. As with the previous meeting there was a mix for veterans and new users as well as a mix of tutors and administrators.
The meeting featured demos, tips and insider updates about future upgrades and the 2015 UK Hui (formerly Mahara UK). The next meeting is likely to be in London during the first quarter of 2015, although details still need to be confirmed.
You can read more on the Digi Domi blog.
Mahara in development
Important information for the April 2015 release of Mahara
New version numbers
For the next version of Mahara, we are going to change the release numbering system. Our current numbering system does follow any numbering system strictly and thus, it does not offer too much insight into where Mahara is up to and how much change has occurred from one release to another.
We have decided to move to a date-based release versioning system for the Mahara releases. The format will be YY.MM.x where
YY is the year in 2-digit format;
MM is the month in 2-digit format;
x is a minor version number, i.e. for security updates or any other important updates within a given release.
So instead of 1.11.0, we will release 15.04.0 in April 2015, and that will be followed by 15.10.0 in October 2015 and 16.04.0 in April 2016 and so on. After April 2015, we will be releasing 15.04.1, 15.04.2 etc. as security and important minor updates to the stable release of the 15.04 version.
One of the biggest advantages I see for moving to the date-based versioning system is that you as users know when your version of Mahara was released by simply looking at the version number and thus know how old or recent your version is.
Feature freeze
In order to release Mahara 15.04 around mid-April 2015, all new features need to be submitted to our code review system latest in the first week of February to be taken into consideration for 15.04. Please submit any new features as soon as possible to give the code and feature reviewers and testers enough time to check out your feature. We cannot guarantee that all new features make it into the next release, e.g. if there is more discussion for the implementation of the feature necessary, but we will do our best.
If you are planning to contribute a feature that is not yet in code review, please come along to the next developer meeting on 22 January 2015 (see announcement above) and let us know.
French translation of the Mahara user manual completed
Dominique-Alain Jan, the Mahara project's primary French translator, completed the translation of all Mahara user manuals into French right before Christmas. This was no small undertaking as each version is between 176 and 425 pages long (incl. screenshots) if printed as PDF. Congratulations dajan for this great job!
The user manual is also available in German and Dutch (partially). If you want to help translate the user manual, you can do so directly in the online interface of Launchpad or download the files to translate offline.
Mahara this and that
New community characters
The Mahara community is a group of talented people who have different strengths. Some are developers, others are translators or testers, and yet others event and user group organizers and users.
To honor the contributions from all these various different people to the Mahara project, we created swag in the form of T-shirts, mugs, jandals, stickers etc. some time ago. These have now been updated to include some more contributors. Check out the new characters and find yourself.
If you purchase something from the shop, please consider sending us a photo or tag it with @maharaproject on Twitter. We'd love to hear from you how you contribute to the community.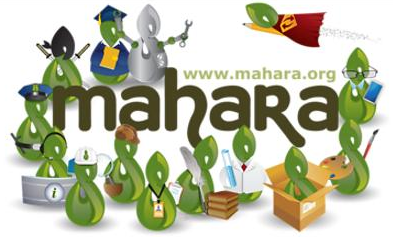 Where are community members active online?
You may already be an avid reader of the general Mahara forums. But did you know that community members are also active in other spaces? If you want to connect with particular user groups in your region or follow project updates elsewhere, check out the list that we compiled. Please feel free to add your group if we have not mentioned it or let us know so we can add it.
Subscribe to the Mahara events calendar
We have had the "Events" page on the Mahara website for a few weeks now. If you want your Mahara event added to the list, please let us know. For the new year we also started a calendar that you can subscribe to for these events. You can also view the calendar online. Many events are set up with notifications 1 week prior to the event and then 1 day / 30 minutes before the event depending on whether it is a full-day event or a shorter event respectively. When you subscribe to the calendar and you wish to get these notifications, please double-check that you have the calendar set up to display these notifications.
For conferences we include two entries: One for the call for proposals and one for the event itself so that you do not miss out on submitting a proposal. We hope, it will be easier to keep track of all Mahara events that way. And as said before: If you organize a Mahara event, send us a message, and we will add your event to the calendar.
Happy new year!