Spring has arrived in Mahara land (or fall depending on where you live) and thus it is time for the October edition of the Mahara Newsletter. Users from around the world sent in their stories, event reports and development ideas, and the core Mahara team announces the Mahara release candidate for version 1.10. Also stay tuned for the release of a new plugin today, 1 October 2014. Find out more by reading on.
The next newsletter will be published on 1 January 2015, and you can send articles to newsletter@mahara.org.

The Mahara Newsletter is published under the Creative Commons BY-SA license 3.0.
Mahara in use
Evidence sharing in Next-Tell
Since the beginning of 2011, Mahara has been the ePortfolio system in the European Union co-funded research project Next-Tell. Next-Tell was created in answer to the key challenge of the 21st Century technology-rich school, "how to keep track of students' learning across time, location, media, and networks".
The Next-Tell Mahara is the central evidence holding element used to create and store collections of artefacts to share with fellow students, teachers and peers as evidence of the assigned learning activity. Mahara is also meant for meeting the needs of established and emerging pedagogy and approaches to learning like reflective learning. The Mahara ePortfolio allows for integrating reflective activities for learners and staff through blog functions and the creation of "critical incident diaries" in which students of select Norwegian, Austrian and German classes reflect on their learning and experiences over a given period or for a given learning activity. Explore the prototype for yourself with the following credentials:
username: testuser
password: demo
Professional development staff pilot: An ongoing project at the University of Canberra
Misty Kirby and Shane Nuessler
In August 2014, we began a staff pilot for developing ePortfolios for annual review using Mahara in anticipation of the August 2015 review. Thirty academic staff across 3 faculties at the University of Canberra (UC) have come together in smaller groups, communities of practice, to work together to create a career portfolio to support their own meaningful professional development.
The goal of this pilot is to engage staff to a greater degree in the developmental aspects of the annual professional development review process at UC. The desired outcome is that staff are empowered to identify their contributions to the university, its strategic directions and their own career path. The PDR Pilot team is comprised of stakeholders from key areas of the university:
Mahara in upcoming events
MUG online, 4 November 2014
The Mahara User Group (New York) will be meeting online on 4 November 2014 at 1 p.m. EST (check the timezone converter for your local time). The agenda will be made available soon in the discussion group and on Facebook. Everyone is welcome to join this one-hour online meeting in the webinar room.
Mahara | DE14 in Karlsruhe, Germany, 14-15 November 2014
The second German Mahara Barcamp will take place in Karlsruhe, Germany, on 14 and 15 November 2014. This unconference is headed by three organizers who invite current and potential Mahara users to join in the conversation and share their experiences using ePortfolios.
Registration is open and you can suggest session topics. If you want to follow the activities of the barcamp and stay up to date with news, follow #mahDE14 on Twitter or join the Facebook group.
Mahara Hui 2015
Preparations for Mahara Hui 2015 in New Zealand are under way. We will be publishing the conferences dates within the next few weeks. Please stay tuned and check Twitter or the website for more information.
Mahara in past events
Mahara UK14
Meredith Henson
Hosted at the University of Brighton and co-organised by the University and Catalyst EU, the Mahara UK14 conference saw representatives from across the UK, New Zealand, Finland, Switzerland, Czech Republic, Republic of Ireland and Germany.
This year MaharaUK was the biggest yet with delegate numbers jumping from the usual 70 to around 130.
Keynote speakers Lisa Gray, Dr Judith Wayte and Gordon Joyes presented their JISC funded research on eportfolios "Crossing the threshold: Moving e-portfolios into the mainstream", and Aaron Wells (Mahara Technical Lead) delivered a brilliant "State of the Mahara Nation" address. You can watch both keynotes on the MaharaUK website.
Over the 2-day event an evolution of breakout presentations was noticeable, with session topics moving away from initial implementations to managing ongoing use and fostering successful user groups.
For the week leading up to, and for the duration of the conference, organisers ran the Mahara UK14 Game. The game was managed via Leaderboarded and Twitter and delegates earned points for tweets, retweets, mentions and various photo challenges. At one point delegates had the hashtag #maharauk14 trending within the UK.
Mahara UK14 was a hugely successful event, with many attendees commenting it was the best UK conference so far.
Read the entire press release.
Mahara at AAEEBL 2014
Samantha Egan
Mahara made a splash at AAEEBL's annual ePortfolio conference in Boston this summer with three different sessions. Topics included a Mahara User Group panel, a session on supporting ePortfolios in online and blended environments, and a presentation showcasing how ePortfolios were integrated in a microbiology course.
The Mahara User Group (MUG) panel was comprised of ten members from various institutions: Linda Anstendig, Samantha Egan and Beth Gordon from Pace University; Michelle Forte from SUNY Empire State College; Gale Justin and Nancy Seidler from Pratt Institute; Marylena Sevigney from Plymouth State University; Kristina Hoeppner from Catalyst IT; and Samantha Taylor and Roger Emery from Southampton Solent University who presented virtually from the United Kingdom. The panel discussed various Mahara projects from each institution and how collaborating with MUG members helped them along. You can view the recording of the panel discussion.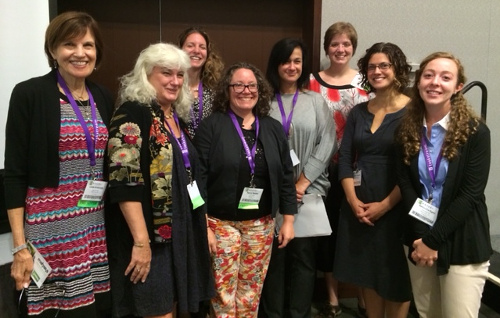 Beth Gordon's and Kristina Hoeppner's presentation focused on methods of supporting ePortfolios both online and face-to-face. For example, Beth Gordon discussed her strategy for integrating ePortfolios into her online counseling course. Rather than introducing ePortfolios at the end of the semester, she used a weekly checklist to get students comfortable with the platform in small increments, with support from student ePortfolio "eTerns".
Andrew Wier from Pace University presented the evolution of his ePortfolio use with biology students and then focused on the current state of his microbiology assignment which used ePortfolios to harness social pedagogy and enhance student learning. Rather than spend class time covering bacteria phylum, Andrew had students pick a bacteria to research and build an ePortfolio page with their findings. Students were required to view their peers' pages to learn the content, from which ten percent of the final exam questions were taken. Andrew Wier found that students scored higher on the bacteria content than any other part of the exam.
In addition to these three sessions, MUG also hosted a lunch table where they connected with several new Mahara users who participated in the MUG meeting at Pratt Institute the following week.
The First KiwiMUG Event at AUT
Shen Zhang
The 1st Kiwi Mahara User Group event was run at Auckland University of Technology (AUT) in Auckland, New Zealand, on 15 September 2014. There was good attendance from people around the North Island. A Mahara user from Sydney, Australia, also attended virtually via Blackboard Collaborate.
Lyn Lewis' (AUT) presentation titled "Student perspectives on Mahara as a platform for learning through ePortfolio" prompted a good pedagogical discussion on the use of ePortfolios and their support through faculty.
Jawyei Wong and Shen Zhang from AUT demonstrated a new plugin for displaying shared pages in an image display view on the group homepage.
Attendees were able to share how they use Mahara in their organisations and what challenges and successes they have.
Kristina Hoeppner from Catalyst IT outlined new features of version 1.10 of Mahara that will be released in October 2014. This was well received as there are some exciting (and long awaited) changes that we can look forward to.
If you want to participate in Kiwi MUG and stay informed about events, propose your own events and discuss topics specific to New Zealand, follow #kiwimug on Twitter and join the group on Mahara.org.
Mahara Open Forum 2014: Two perspectives
The fifth annual Mahara Open Forum took place in Hiroshima, Japan on 27 and 28 September 2014. A wide range of thought-provoking presentations were given on various topics including ways to contribute to Mahara, how various institutions are using the software, the improvements made in recent versions, and the areas that the Japanese community would like to see improved. There was also a panel discussion on the merits of Mahara versus Manaba folio and Karuta.
A particular highlight was an explanation and demo of the new rubric plugin developed by Makoto Miyazaki, which will be released as open source software on 1 October 2014. This plugin aims to be a way of helping students learn and helping teachers understand their students' strengths and weaknesses. The plugin adds the new rubrics artefact type that allows staff to create new rubrics and students to use them for their evidence, as well as a blocktype to display the rubrics as a table or graph. The plugin is already in use by several Japanese institutions.
I feel privileged to have taken part in this conference, and I hope that as Mahara becomes ever more widely used, we can continue to build relationships with Mahara users around the world and become a truly global community.
For some more insight, you can also read Jono's forum post.
The fifth Mahara Open Forum (MOF2014) took place at Hiroshima Shudo University, Japan, between 27 and 28 September 2014. There were 51 participants, 2 keynotes, and 1 panel discussion. The first keynote speaker was Kristina Hoeppner from Catalyst IT. She showed how users can contribute to Mahara in her talk and showed a few new Mahara 1.10 features. The second keynote speaker was Makoto Miyazaki. He showed the rubrics plugin of Mahara and announced that version 0.8beta of the plugin will be released on 1 October 2014. The topic of the panel discussion was: "What is an easy-to-use ePortfolio?".
In total, MOF2014 had 11 speakers. We could share experiences and discuss Mahara and ended MOF2014 on a high note. For more information, please see the MOF resource page that also includes information about past events (in Japanese; parts in English).
Connect with the Japanese Mahara user community on Mahara.org or on Facebook.
Share your Mahara
At the Mahara User Group meeting at Pratt Institute in Brooklyn, New York, on 5 August 2014, attendees suggested to have a place to share portfolio templates and also work flows or even lesson plans. Sam Taylor from Southampton Solent University shared a number of the things that she's been doing at Solent and attendees were keen on having access to these resources. Everyone can share their resources, be they templates, work flows or lesson plans, on the Mahara wiki now.
Mahara in development
This month we are very happy to be able to announce a lot of new development work for both Mahara core, the software that everyone gets when installing Mahara, and third-party applications.
Mahara 1.10 is almost here
Developers from around the world contributed to the latest release of Mahara 1.10, which will be made available to everyone in a few short weeks depending on how the release candidate phase goes. You are all invited to give the release candidate a thorough testing over the next couple of weeks so that we publish the best possible version 1.10 and don't have to fix too many issues once 1.10.0 gets out of the door.
You can download the testing version from Launchpad (or also get it from git). We identified 35 new features that make 1.10 an exiting release. Usability improvements have been made alongside admin and back end enhancements.
If you find bugs during your testing, please report them. 
If you cannot install a new version of Mahara on a test server or upgrade your existing test server, you can use http://master.dev.mahara.org, create an account and do some testing there. As you do not have administrator access on that site, you will not be able to test everything, but you can already test a number of the new features.
Read on for the announcement in the community forums.
Artefact feedback display on a page

Now that the Mahara 1.10 release is almost upon us, it means we can look towards what we want to work on for the next release cycle.

As we are continually focusing on usability, one of the issues that the community has raised is the inability to see artefact and page feedback all at the same. Currently, you can see page feedback directly on a page, but to see any artefact feedback, you need to click through to each details page of an artefact.

New York Institute of Technology sponsored the development work for displaying artefact feedback on a page undertaken by Catalyst IT. All artefacts that currently can have feedback, will show whether there are already comments left and whether you can leave new feedback. Users can easily to toggle between displaying and hiding the feedback without having to navigate away from the page. NYIT will be trialling this new functionality from October 2014 on, and it will come to all Mahara users in April 2015.
The screenshot shows an artefact with no comments (left), with comments and comments opened (middle), and comments closed (right).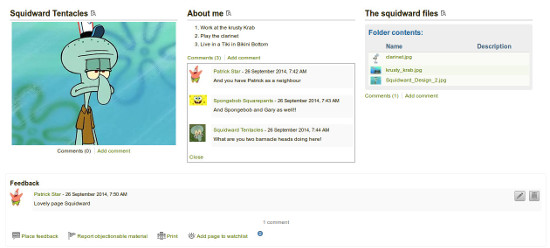 Enhancing the "Tagged journal entries" block
The University of Canberra is sponsoring Catalyst IT to develop a new feature for Mahara that is pegged for release in April 2015. This feature will allow users to choose more than one tag in the "Tagged journal entries" block.
The idea is to use the new auto-complete functionality in Mahara (view it in action when sending a message to multiple users in Mahara 1.10) for selecting the tags that a journal entry must have in order to be displayed. However, since some super users utilize tags quite heavily, we are also looking into being able to exclude certain tags.
In more technical terms that means that we will be supporting Boolean operators "and" and "and not". We decided against implementing support for additional operators at this time in order to keep the user interface as simple as possible for this functionality and not offer too many choices that would warrant an advanced search screen.
If you are interested in testing this feature early once the initial development work is complete, subscribe to the wish list item where updates will be posted, test the new functionality when it is available in the review system and let us know what you think.
Mahara group page image display plugin
Shen Zhang
Recently, Auckland University of Technology (AUT) developed a plugin that displays shared pages in an image display view on a group homepage.



This plugin can be added to the group homepage as a block by the group administrators. Once added, it displays all the shared pages using image icons. There is a mouse hover effect for each of the image thumbnails that brings up a menu, which provides links to the page itself, the full-sized image that is used as thumbnail and the author's profile page.
This plugin provides a visually attractive view, compared to the original text based page list. Currently, it is used by the School of Art and Design at AUT. Lecturers from the School of Hospitality and Tourism are interested in using it as well. Our Mahara support team is also planning to use this plugin to share sample ePortfolios created in Mahara as help resources for students.
The plugin is based on functionality developed by Mike Kelly for the University of the Arts London's Mahara site Workflow. We are working on finalising the first release of the plugin and will make it available soon.
Crowd funding PortfolioUP development
PortfolioUP, an Apple iOS image and video uploader for Mahara users, already has a number of existing devoted users that would love to see the functionality of it further developed. In order to keep the application free for student use, Brightcookie is seeking support through crowd funding for the development of a new and improved version to be called ExperienceUP.
The new app will enable students to compress video and images during the upload process, create journal entries and pages directly from their iOS device, assign location data and tags to entries, have QR code support, and change the user interface language. Tablet support for the iPad will be tested as well. If you are interested in funding this project, read on for the details.
MyLearning never stops…
MyLearning, intentionally written in that form, brings back a lot of good memories as well as new challenges for the future.
MyLearning was the name of my first plugin for Mahara – the one that I am still proud of. The plugin allowed Mahara users to fill in a multiple intelligences survey and a learning styles survey and display the results of both surveys on their pages. The plugin does not exist anymore in this form and became part of the plugin "Survey". The MyLearning plugin allowed me to learn about the Mahara architecture and coding style.
Recently, the new MyLearning plugin was built for the EUfolio project and presented at a workshop. The main goal of the project is to research how students in the European Union could benefit from using ePortfolios in their classrooms.
The primary goal of the new MyLearning plugin is to allow students to organize and plan their learning. When planning their learning, the students go through five stages. They identify their prior knowledge, set their goals, become aware of the strategies that might help them achieve their goals, provide the evidence of achieving their goals, self-evaluate the result and self-reflect on the path of achieving their goals. At each stage of this process, they are provided with supporting questions and they can upload supporting files for each of the stages.
Hopefully, this plugin will help not only students participating in the EUfolio project but others as well on their learning journeys (currently only available on EUfolio, but soon also for other Mahara users). As for myself I am sure that my learning will never stop.