Welcome to the January 2014 edition of the Mahara Newsletter. We wish you a wonderful start into this new year. May it be a good year. Judging from the number of newsletter articles we have this time and what their authors share, 2013 has been a great year for Mahara users. We are also seeing an increase in Mahara-related events and hope that you can attend some of them in 2014 to meet other Mahara users and contributors in person.
The next newsletter will be published on 1 April 2014 (no April fool's joke ;-) ), and you can send articles to newsletter@mahara.org.

The Mahara Newsletter is published under the Creative Commons BY-SA license 3.0.
Congratulations
Mahara: From nappies to empty nest
Mahara was first proposed in 2005/2006, as an eLearning Capability Development Fund (eCDF) project. The funded proposal stated that "the project is committed to providing a powerful low-cost application, supplemented with New Zealand case studies of implementation across learning programmes". Right from the start, the steering committee aimed to develop something that was suitable for actual teaching and learning conditions across various settings.
Early in the process we defined the features of an ePortfolio tool that gave maximum flexibility and control to the user that would be suitable for lifelong learners to make use of beyond their time in formal education. The views [Note from the editor: today they are called 'pages'] function was a critical development, one that differentiated Mahara from the myriad of options available in the mid-2000s.
Some eight years later, Mahara has an independent life of its own. It's exciting to see how Mahara has been so eagerly adopted – and adapted – by the international community. The commitment from the initial steering community for an application that was powerful, low-cost, and appropriate for needs, seems to have hit the spot!
Note about the author: Mark Nichols is currently Executive Director Faculty at the Open Polytechnic of New Zealand. He secured the funding as well as chaired the project steering committee of the initial Mahara project when he was at Massey University.
ePortfolio: a tailored system for registered nurses in New Zealand
The New Zealand Nursing Council has a regulatory requirement that every nurse must complete an annual declaration that standard clinical competencies have been achieved. They also undertake random audits of nurses' evidence of competence, resulting in the development of nursing portfolios. Many large organisations have Professional Development and Recognition Programmes (PDRPs) to support nurses in developing portfolios. Ng? Manukura o ?p?p? (NMo?), a M?ori Nursing and Midwifery workforce programme, found that for many M?ori nurses, there can be access gaps into PDRPs, evidence of professional isolation and lack of support from some employers in allocating time for nurses to complete their portfolio.
In 2012 NMo? decided to explore and scope options that would improve access for M?ori nurses. The Mahara project and Kineo (Pacific) were approached to develop an ePortfolio based on Mahara to streamline and improve access to portfolios and competency requirements for all New Zealand registered nurses. The development commenced with a proof of concept pilot to assess the interest and utility for the regulated health professional group, initial focus being on assessment and verification of competencies.
ePortfolio was launched in July 2013, and nursing numbers on the site are steadily rising. The success of the site is a combination of the collaborative process, involving a strong project team including key nursing organisations, in particular the Nursing Council of New Zealand.
The ePortfolio site received the coveted Gold Award with Kineo from the LearnX Impact Awards 2013 for best Social Learning Platform.
Barony Campus Mahara student newsletter project
Scotland's Rural College, Barony Campus specialises in training and education for the land-based and animal care industries. The campus is set within a working 260 hectare estate, which is situated in the rolling landscape of Dumfries and Galloway in South West Scotland.
An idea was born in the summer of 2012 for a student-based online newsletter within Mahara during a presentation to Barony Campus staff by a speaker from Her Majesty's Inspectorate of Education, who stressed the value of effective communication in fostering the "Barony family spirit" across the campus and beyond. The Barony Campus Learning Technologist, Ali Hastie, had been reading Ellen Murphy's Mahara 1.4 Cookbook the previous evening. Within Ellen's book is a chapter covering the creation of an online gazette, which helped to spark the idea of creating the student-centred online newsletter within Mahara at Barony Campus.
As result of the students and staff at Barony with their hard work, dedication and innovative ideas using Mahara as an online newsletter, an award was won at the Scotland Development Network Annual Awards 2013 for the Student Enterprise category. This award recognises a student or group of students who have been involved in entrepreneurial activities or projects (including commercial enterprises, social enterprises and curriculum projects) that have made an impact on the college and/or wider community.
Read the full article on the newsletter project.
Mahara in use
Mahara mentors at Newman University
At Newman University, we have been using Mahara for three years with different subject areas. One way in which we have used it is to support students who are on their teacher training programme. This has been turbulent journey from the start to the present day but each year we strive to improve on the last to make the student experience a more positive one.
We are now using templated pages for ITE (Initial Teacher Education) students on placement in schools to record evidence of their practice (e.g. lesson plans, lesson observations etc). This replaces a previous paper-based system and works well. One huge advantage is that the tutors can access it at any time from anywhere, instead of having to visit the student in the school or waiting until the student comes into university. The biggest challenge has been training students to manage the size of the files they want to upload, as they often need to scan or photograph physical documents.
A practice we have piloted this year is the use of student Mahara mentors. We introduced 200 students to the concept of Mahara and an ePortfolio, and asked for any students who felt confident with using the technology to come forward and volunteer to become a Mahara mentor. We had 20 students happy to get involved in the scheme. After an extra training session with myself, the Mahara mentors were happy to start helping others with Mahara and the scheme has worked very well. I have asked the mentors to keep a record of who they see and how they have supported their peers, and I will receive that data and hope to present the results of our Mahara mentor scheme at the Mahara UK conference in July 2014.
Spark it up with Mahara
Although people might think that having more "high-tech" tools would help facilitate more effective learning, research suggests that it is not technology itself, but rather, it's the use that would make or break a distance learning program. With Mahara, the case is different. Based on research that I completed at King Abdulaziz University where I taught "TEFL Methodology" (TEFL: Teaching English as Foreign Language), the social and academic learning environment created using Mahara as ePortfolio tool enhanced the entire curriculum starting from the newly designed objectives passing by the instructional methods sparked up with technology to learning and teaching assessment tools. The contemporary Mahara portfolio allows learners to maximally exchange meaning and knowledge they have in an emancipated environment. In terms of teaching EFL, the suggestion is simple: Implement a program that fosters within students an autonomous attitude toward learning a language and the integration of technology as a reinforcement of in- and off-classroom activities.
Michael Sankey and Teresa Brady
The University of Southern Queensland (USQ) has been using Mahara for just on four years. We started rather small to test the waters, but now have some 14,450+ users. Both staff and students use it, and as you could imagine, these groups are quite different. What they have in common, however, is that Mahara used for evidencing an individual's good practice.
Whether it's demonstrating professional skills, building towards a profession, or building a professional profile, we seem to have it all. For example, all of our first-year nursing students use Mahara to collate and provide evidence of the skills they have learned during their course. All education students use it, again to build up and display evidence that will one day be presented to potential employers. Many of our staff use ePortfolio to collect evidence that may be used for academic promotion (private) or to provide a professional public profile, for example Michael Sankey's profile.
As an institution, we are developing an increasing amount of resources to support both students and staff in their use of this tool, and we provide significant support to our staff wanting to use it within their courses. One of our performing arts lecturers, who uses it extensively in her course, states: "I wish I had it while I was studying because to me it is just the perfect way for someone who is engaged in practice to really track their progress."
Mahara at the Institut Obert de Catalunya (IOC)
What IOC is
The IOC or Institut Obert de Catalunya (that means Open Institute of Catalonia) is an institution of the Government of Catalonia that has been offering secondary education at a distance to adult learners since 2006. The courses for our 38,000 students per year have always been delivered through Moodle, but in October 2008 we installed our first Mahara site. Since then the combination of Moodle and Mahara, Mahoodle, has brought us the better of the two worlds.
GES studies
The major use of Mahoodle is made in the GES studies (Compulsory Secondary Education). The learners go through a number of modules during their studies and often haven't studied online before or have high technical knowledge. Thus, we need to offer them a way to support them and also to save their work easily before the Moodle courses are deleted.
The solution is an ePortfolio because Mahara can keep all their documents and progress. We tell our students that they can save their best works in their ePortfolio. We propose an ePortfolio, a collection, that has four pages:
Àmbit científic

(Scientific field): work related to science: Maths, Chemistry, ...

Àmbit Social

(Social field): work related to social studies: History, Geography and Arts.

Àmbit de la comunicació

(Communication field) with their productions in their languages Catalan, Spanish and a third language, e.g. English, French, Italian or German.

Diari de Tutoria

(Daily tutoring): a blog where they reflect at least once per trimester on their ideas about their studies, likes, dislikes, what they feel and their achievements. It's a kind of dialogue between students and tutors.
View a sample of this kind of ePortfolio.
In order to avoid technological problems for students, we have a lot of information about how to upload material (HTML or files), how to build pages and collections and specially how to share their ePortfolio with an audience (tutor, tutoring group or the public).
Expanding to other studies
As the experience in the GES studies has been so successful, we are introducing the use of ePortfolios in other studies, especially in the Batxillerat (equivalent to a high school diploma, required to study at university). Students must complete a research project in order to finish their studies. We are planning to use the ePortfolio for structuring the research phases, save findings and, finally, present the completed work.
The ePortfolio will serve not only to show the final production but also to see the process. And this is a sample of what it will be.
Using Mahara to record continuous professional development
In May of 2012 I applied for and obtained funding from a Practice Development Scholarship PDS-03-12 from the ACT (Australian Capital Territory) Nursing and Midwifery Office entitled "Development of an electronic portfolio system for recording of continuous professional development (CPD)". The project was to be rolled out across a small test group in a hospital setting. The target group for this project was newly graduated nurses in their first year of practice and registered for the first time. They were enrolled in a new graduate programme and were required to complete assessment items over a one-year period as well as CPD.
The project team investigated options and decided to use Mahara. Unfortunately the scholarship amount was insufficient to allow for paid hosting and in addition the number of account was relatively small in comparison to large tertiary education institutions.
I had a conversation with Kristina Hoeppner from Catalyst who made several suggestions to allow me to complete my project. Following that discussion I chose the free hosting option available via Portfoliocommunities. I set up a group and invited graduates to join this group. I allocated myself and the graduate coordinator to be administrator of the group.
A total of 29 new graduates signed up to the group and have added to their portfolios and shared it publically in the group or via secret URL with the coordinator. It has been great to see this group experimenting and using new ways to display the professional development and learning during this year.
For more information, please read the summary of my study and take a look at my portfolio.
Interactive electronic curriculum vitae
Paul Archenoul
My name is Paul Archenoul, and I am a member of the Construction Crafts team from LeSoCo (the merged Lewisham College and Southwark College in South London). I have currently used Mahara portfolio in order to develop an online electronic interactive curriculum vitae. The platform is great, easy and simple to use and offers different types of interactivity in a way of informing an employer of my attributes. Using this tool I feel my curriculum vitae stands out from the crowd in this challenging economic environment. I would highly recommend it.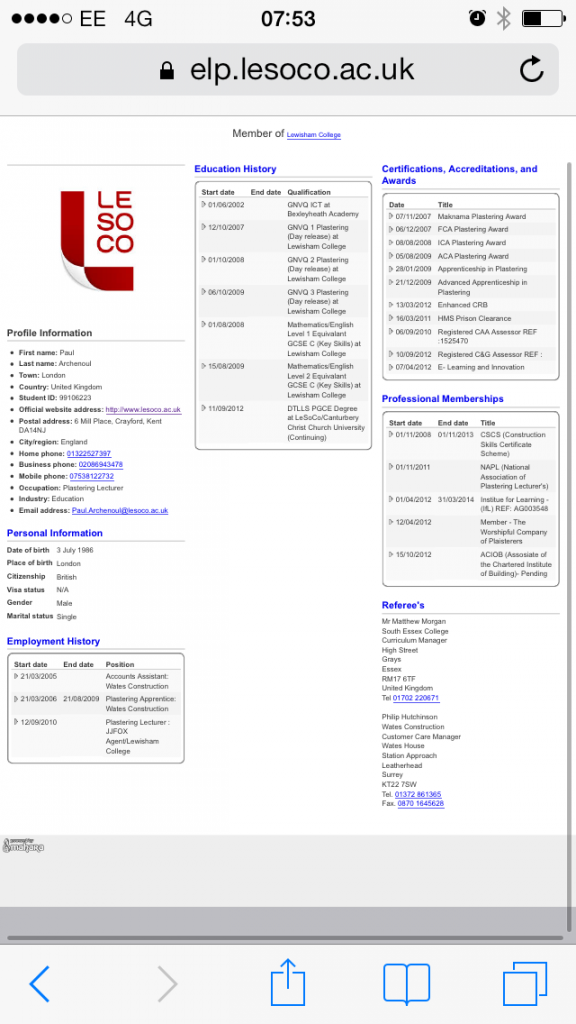 Mahara in upcoming events
30th Mahara developer meeting, 23 January 2014
The next Mahara developer meeting, number 30, will take place online in IRC on 23 January 2014 at 8:00 UTC. Please check the time zone converter for your local time. The meting will take place in the IRC channel #mahara-dev channel on Freenode. If you do not have an IRC client, you can join using the web interface. If you wish to discuss development-related topics, please add them to the agenda for the meeting.
Moodle//Mahara//Moot in Leipzig, 25-28 February 2014
The first combined Moodle//Mahara//Moot will be held in Leipzig, Germany, from 25 to 28 February 2014. Registration is open and the programme offers a lot of opportunities to learn how Mahara is used in Germany (and beyond). There will be two pre-conference workshops focused on Mahara: Sigi Jakob-Kühn will facilitate a workshop for beginners on 25 February 2014, and Kristina Hoeppner will follow up with a workshop on hidden treasures in Mahara aimed at intermediate and advanced users on 26 February 2014.
Mahara Hui in Wellington, 19-21 March 2014
Mahara Hui (hui in Te Reo M?ori means 'gathering' or 'assembly') is the first conference dedicated to Mahara in New Zealand. With lots of school and university users in Australasia, we thought it is time to organise a conference in our part of the world. We welcome all Mahara users from New Zealand, Australia and further afield to Wellington in summer for a two-day conference on 19 and 20 March 2014 followed by an optional hackfest on 21 March 2014.
The call for proposals is open until 24 January 2014, and registration for the conference will be opened mid-January. Please find more information about the conference, proposals and hackfest in the conference and proposal announcement, follow updates on Twitter and subscribe to the hashtag #maharahui14.
Mahara UK in Brighton, 17-18 July 2014
Meredith Henson
We are pleased to announce that the Mahara UK Conference 2014 will be held in Brighton, East Sussex on 17 and 18 July 2014. The University of Brighton and Catalyst IT Europe are proud conference organisers of the 2014 conference. We will be updating the conference site over the next few months, so please check back again soon for more details or look out for announcements via #maharauk14.
Mahara BarCamp 2014 in Speyer, 18-20 September 2014
Christian Kleinhanss
In fall 2014, half a year after the Moodle//Mahara//Moot, we will organize the second BarCamp of the German-speaking Mahara community. Last year it took place in Hofgeismar (close to Kassel). In 2014 we will meet in Speyer from 18 to 20 September. The location and date will be announced officially at the Moodle//Mahara//Moot 2014 in Leipzig and on the BarCamp's website. In contrast to the big Moodle//Mahara//Moot with a few hundred participants and a workshop programme, the Mahara BarCamp will host approximately 60-80 people. Everybody will be able to offer a workshop. Please contact us, if you have any questions or want to participate.
Moodle-Mahara Meetup in Melbourne, 30 September 2014
The 2014 Moodle-Mahara Meetup will be held at Box Hill Institute in Melbourne, Australia, on 30 September 2014. The event will help us 'think outside the box' when using the open source software systems Moodle (learning management system) and Mahara (ePortfolio system) in education and training. Read the press release for the Meetup, register to receive updates about this event or subscribe to the hashtag #MMMup.
Mahara in development
Focus on accessibility
Jono Mingard and Julius Serrano
The core Mahara team aims to make Mahara usable by as many individuals as possible, including those with disabilities or special needs. Creating accessible web content is a requirement in many countries. In order to provide international guidelines, the Web Content Accessibility Guidelines (WCAG) were created. There are three conformance levels under the WCAG 2.0, the latest edition of the guidelines: A, AA, and AAA. Each level requires conformance with previous levels and includes its own specific guidelines for how websites should be made accessible. The accessibility standards of New Zealand, Australia, Europe and the USA draw from WCAG 2.0 and require at minimum Level AA conformance. In order to better understand the status quo of accessibility in Mahara, we, Julius (Catalyst's accessibility expert) and Jono (summer intern at Catalyst), tested the software against all three WCAG 2.0 levels.
Mahara has a good level of accessibility when it comes to viewing content. Pages for creating content and administration have issues that affect specific types of users, but we plan to address these in the near future. With the right configuration, Mahara can be used by organizations that require compliance with WCAG 2.0 Level AA in 2014.

For more information on specific issues and their status of investigation, please refer to the issues that have been raised and consult the accessibility section on the Mahara wiki. We invite you to test changes as they become available and welcome the insight of other accessibility researchers who think there are issues we have not addressed which should be looked into.

If you wish to get involved in fixing these issues, either by providing your development time or by providing funding, please get in touch with us.
Invitation to comment on feature proposals
Christian Kleinhanss
Our German Mahara user group is an active forum for Mahara users from the German federal states of Rhineland-Palatinate, Baden-Wuerttemberg and Hesse. Half of the participants work at universities (PH Heidelberg, TU Darmstadt), the other half work at schools or government institutions. If you want to join our user group or follow our discussions, please send us a message in the forum or come to our meetings. Typically, these are held twice a year. Invitations and protocols of our user group meetings are published in the forum.
One of our aims for 2014 is to promote the use of Mahara in German schools. In that context, we started discussing a few new plugins and concepts in regard to user permission management and moderators, who help to monitor the social networking functionality. We look forward to your comments on our ideas and questions: