Welcome to the October edition of the Mahara Newsletter. This newsletter is packed with reports from Mahara events and upcoming Mahara User Group meetings around the world as well as news from developers.
The next newsletter will be published on 1 January 2013 (or maybe 2 January ;-) ), and you can send articles to newsletter@mahara.org.

The Mahara Newsletter is published under the Creative Commons BY-SA license 3.0.
Mahara in use
This summer has seen us move from Mahara 1.4  to 1.7 and with it came a huge theme overhaul! Gone was the overpowering 'Solent Red' and in came a much calmer and clearer 'Personal Blue'. Our login page is nice, simple and dynamic so that it looks great on any device (have a look at http://myportfolio.solent.ac.uk and drag the corners about to change the screen size!).
We also changed the navigation panel on the dashboard to link in with our new (and growing) online support site that sits in our Moodle (myCourse). We chose to do this as a lot of the feedback from our staff and students was that once you got to Mahara as a first time user, you have no idea what to do next.
Lynne Shemko
Digital documentation is a key component of Rocky View Schools' learning and working environment not only for students and teachers, but also for its staff. When it comes to capturing those experiences for reflection and growth, the digital environment helps make it more visible.
When staff document their work digitally, they get to review what they've accomplished and assess what worked and what they'd do differently next time. This thoughtful review reinforces the ability to learn about oneself as a learner, worker and colleague.
While digital documentation is an active learning tool, it is also a wonderful documentary record of skill evidence that can be shared with not only management, but used as a showcase of growth, current abilities and to evaluate cumulative achievement.
Why use a portfolio for an evaluation or performance review?
to show growth or change over time
to help develop skills such as self-evaluation and goal-setting
to identify strengths and weaknesses
to track the development of one or more goals/accomplishments
Over the past three years, senior administrators at Rocky View Schools have used Mahara as a performance/evaluation tool.
Mahara + MOOC = PacePrep
This past summer, Pace University adapted Mahara to support a self-enroll, optional MOOC-style course, called PacePrep for all incoming first year students. The goals of the new 5-week online course were to engage incoming students with each other before the official start of the semester, get them connected to key faculty and staff, and give them a head start on their education. Consisting of an orientation and 4 academic modules built into CourseSites, PacePrep gave students exposure to the fields of English, Communications, Math and Biology.
Through a brief online orientation module, students were introduced to Mahara and instructed to begin creating an "Academic Materials" page to showcase their work in the course, upload a résumé and share reflections about their past experiences as a learner, as well as thoughts and questions based on the assigned readings. Within a few days of starting the course, some students were creating wordles, uploading images, and connecting with others through the wall and the feedback feature. The students shared goals, quotes and memories that are important to them. Mahara provided a great space for students to make the transition from high school to college. Sharing the ePortfolios with each other helped to bridge the distance of the online experience and hopefully helped make their transition to college smooth.
Because this course did not offer credit, many students did not complete the course, but we were encouraged by the enthusiastic ways in which the students dove into their ePortfolios. We plan on following these PacePrep students through their ePortfolios to see if this experience helps them succeed at Pace and beyond.
The Language Centre of the University of Pardubice in the Czech Republic has been using Mahara since 2012. My name is Linda Pospisilova, I am an ESP (English for Specific Purposes) teacher, and I can see great potential in using Mahara in our lifelong learning process. I was acquainted with Mahara in 2011 thanks to Sigi Jakob-Kühn and immediately after her workshop I started using Mahara for building my own learning portfolio. After the successful installation of our own Mahara site at the university, I spent the whole past academic year exploring Mahara with my students. Several groups of students were selected for four pilot projects run in the academic year 2012/13. The projects were:
Mahoodle
Résumé in Mahara
Blogging about Nursing
Going International with Mahara
View the project descriptions and example student's portfolios.
Mahara in upcoming events
MUG online meeting
The next MUG New York meeting will take place online on 8 October 2013 at 3 p.m. EDT. Please check the world clock for your time zone. Beth Gordon and Sam Eagen from Pace University will share ideas of using ePortfolios to support a MOOC-style course, Keith Landa from Purchase College will talk about the multitenanted SUNY Mahara instance, and I will highlight some new Mahara 1.8 features. You can still propose an agenda item for the meeting. Please add it to the wiki page or respond on Facebook.
Third meeting of the Mahara User Group Rhein-Neckar
The German Mahara User Group Rhein-Neckar will be one year old in November this year and will hold its third meeting on its anniversary. The meeting will be hosted by the Integrierte Gesamtschule Ludwigshafen-Edigheim. The group will meet on 7 November 2013. The time has not yet been finalized. Please check the forum discussion for further updates.
If you are interested in the outcomes of the second meeting in April 2013, you can find the minutes online.
MoodleMaharaMoot 2014 in Leipzig (Germany)
Ralf Hilgenstock
The University of Leipzig (Germany) is the venue for the next German MoodleMaharaMoot from 25 to 28 February 2014. German MoodleMoots have had a long tradition since 2005. During the last years, Mahara has been a continuously growing discussion topic with its own conference slots.
You can still submit papers for the Moot during the first few days of October 2013. Be quick to have a chance of being a presenter. The main conference language is German, but proposals in English are accepted as well.
Registration starts at the end of October 2013. For further information please go to MoodleMaharaMoot Leipzig 2014.
Mahara at past events
On the Friday 6th September 2013, the first meeting of the MacHara Scottish Mahara User Group took place at Glasgow Dental School, which is a part of the University of Glasgow. The meeting had come about as a few like-minded Mahara enthusiasts had met up at the Mahara UK conference and decided that we should try to get together and make the most of Mahara.
On the 4th and 5th of July, several Academic Staff and Learning Technologists from Scottish institutions took the long trip down to Birmingham to the 2013 UK Mahara conference.
While we were down there having discussions about Mahara during the networking event (a free bar with a group of Scots, now that's brave), we found that most of us were doing the same kind of things within Mahara and that maybe we could share our resources rather than recreating them and that we could maybe use our skills and those of others to enhance our Mahara content.
So, after the conference, full of enthusiasm, we got a Mahara group setup on the official site and started online discussions about our thoughts on Mahara, which gave some insight into what people are doing in their institutions, what issues people were having (which led to a great and insightful discussion), hints and tips which could help others and of course, organising our first meeting.
Resources from the 4th Mahara Open Forum in Tokyo
Shin-Ichiro Kubota
The 4th Mahara Open Forum (MOF2013) took place between 14 and 15 September 2013 at Tokyo Gakugei University, Japan. There were 91 participants, 1 keynote, and 4 parallel sessions. The topics of the parallel sessions were: "Interface & Tool", "Reflection", "Assessment", and "Oversea Case Reports". In total, MOF2013 had 20 speakers. We could share experiences and discuss Mahara and ended MOF2013 on a high note.
For more information, please see the Japanese user community site and the Faebook page (both in Japanese).
Mahara in development
Mahara 1.8 Release Candidate 1 is out
We are pleased to announce that we published the Mahara 1.8 Release Candidate (RC) 1 on 30 September 2013. We have a series of new awesome features contributed from developers around the world. These include a revamped content chooser (on the left instead of in the middle of the screen), skins support (experimental), import of a Leap2A file into an existing account, and a whole set of new icons amongst others. We would like to thank all contributors and organizations that provided funding to support the development of this new version of Mahara. We will publish their names together with the release of Mahara 1.8 stable when we have the final stats.
Before releasing Mahara 1.8 stable, we would like to invite you to take the RC on a test spin on your own test server or test features on the frontend on our developer installation. Please do not hesitate to report any bugs that you find. If important bugs are found, these will be fixed for a second RC.
Please see the RC announcement for more information incl. some tips on where to find some of the new functionality.
Ambrosia isn't just for the gods
The Ambrosia theme was developed to provide an aesthetically pleasing look and feel while addressing some common accessibility display issues around dyslexia and visual impairment. Feedback from users anecdotally indicates the colour scheme is beneficial to users with colour blindness as well as staff and students with dyslexia and dyspraxia.
The theme was adapted from the Ambrose theme released by iCampus21.com, and was conceptually themed around colours associated with honey to incorporate a cream background with dark brown font, and to utilise more screen estate for content by replacing the fixed width with a wider percentage based width. Ambrosia is freely available to download from Github and is linked from the Mahara Wiki contributed themes page.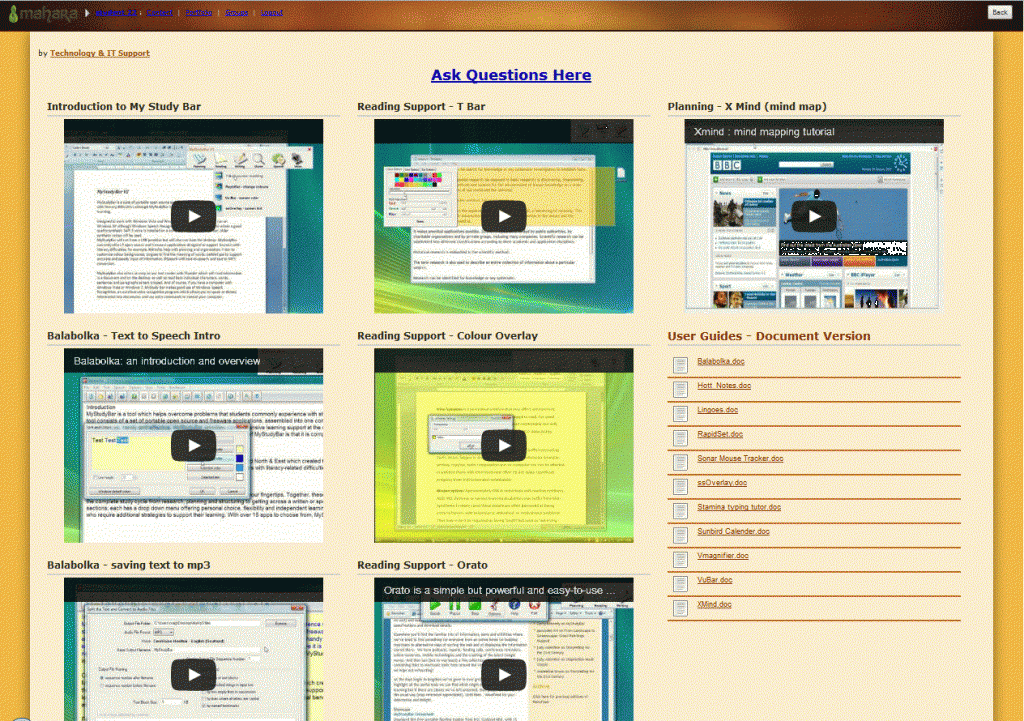 Artefact plugin template
You can now use the Artefact Plugin Template by Technische Universität Darmstadt, Germany, to develop your own plugins for Mahara. It provides the basic structure and contents of a plugin as required by Mahara. Please send questions and suggestions to Angela Karl.
Progress bar plugin
When creating http://listovnik.sio.si our goal was that most of the teachers and students in Slovenia would start using Mahara for their ePortfolios. We are still far from that goal, but some teachers and students already started using Mahara.
Students often don't know what to do when they first get started and as a consequence they don't fill in the information about themselves in their Mahara profile and résumé sections. This could potentially be a problem since one of the purposes of Mahara is that students personalize their online space.
Researching how other social sites (especially LinkedIn) handle that situation gave me the idea for implementing a progress bar plugin for Mahara. The plugin shows the progress bar of the user's profile / résumé completeness and suggests further actions to improwe the profile / résumé completeness.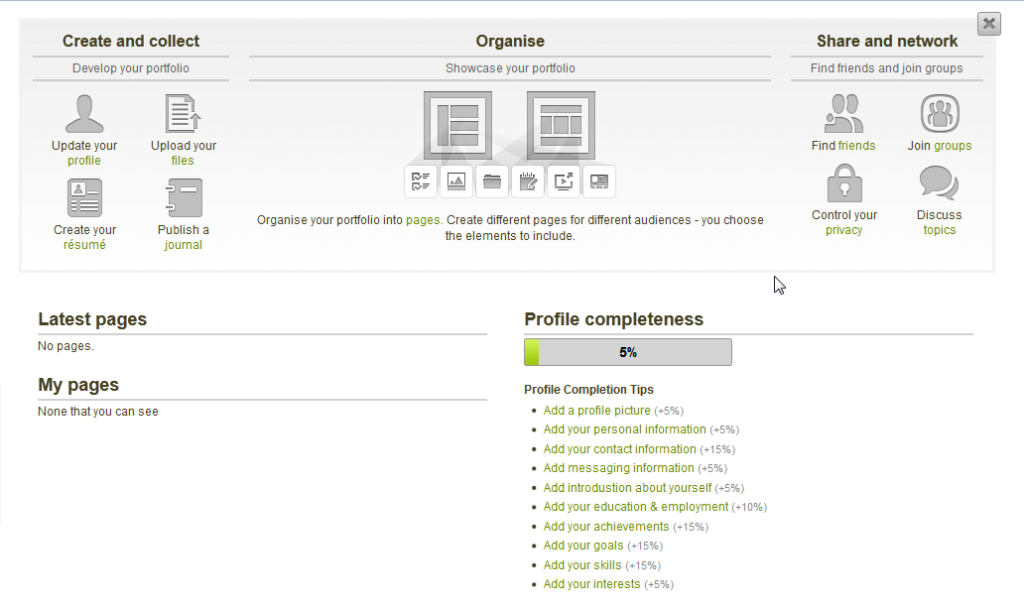 The profile / résumé completeness progress bar block is added to the top right column of each user's dashboard.
The plugin must be copied to the htdocs/blocktypes/progressbar folder of your Mahara installation and than installed via your Mahara's administration "Extensions" page.
The plugin is available at https://github.com/anzeljg/mahara-progressbar and was tested on Mahara 1.5, 1.6 and 1.8.0dev. It should also work under Mahara 1.7.