Forums
| Mahara Community
Support /
How to get Twitter and Instagram to Work on Rev 18.04
---

Posts: 49

Posts: 49
23 July 2019, 1:51 AM
Hello,
Does anyone have some ideas how to get Twitter and Instagram to work in Mahara rev 18.04?
Best,
Melinda
Posts: 3866
26 July 2019, 5:35 AM
Hi Melinda,
Neither Twitter nor Instagram have iframe embed code. Putting the iframe tag around a widget will unfortunately not do the trick as it's a bit more complicated. There is a plugin for a Twitter timeline, but it hasn't been updated in a number of years.
Theoretically, you can embed Instagram posts via Embedly, but I just noticed while testing this that the Embedly URL has changed.
I made a bug report for it at https://bugs.launchpad.net/mahara/+bug/1837929 but we don't yet have an ETA for when it will get fixed.
I could not use the iframe code from SociableKIT that you had provided and only got the following message on blue background: "Customized feed is powered by SociableKIT. If you're the owner of this website, there is something wrong with your account. Please contact support now to fix this issue. " It seems that one needs to be logged into their website.
Cheers
Kristina

Posts: 76
26 July 2019, 9:19 AM
Using links from Instagram and Twitter are working fine for me in 18.04.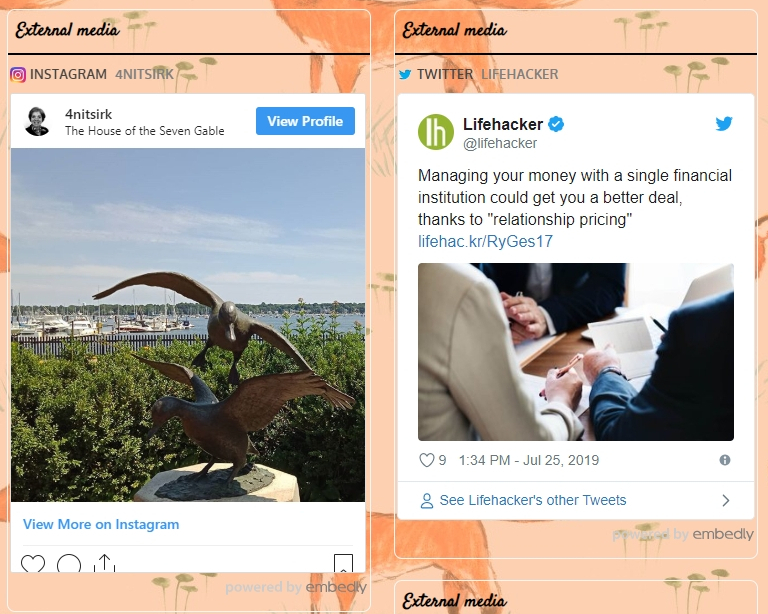 Posts: 7
29 July 2019, 7:56 PM
Hello,
I've been testing embedly free options (the ones I can normally suggest to my users) and I`m just managing to insert in my Mahara's pages links to my accounts or hashtags, but any stream of content. Just the same if I use Twitter publish options. I imagine that you are using premium Embedly for getting these cards, isn't it?
Thanks in advance,
Ramón