Forums
| Mahara Community
Support /
A URL in this field contains the blacklisted domain
---
12 October 2017, 6:28 PM
Dear Mahara Developers,
We are using Mahara 17.04.2 , we found an issue in using the group forum.
When I input the hyperlink in the forum content, the message cannot be sent out. When I click "save" button, there will be a warning message "A URL in this field contains the blacklisted domain ". Could anyone help with this case? Is there any settings I can add white list to the domain we always use? Thanks a lot.
See the below screenshot as an example: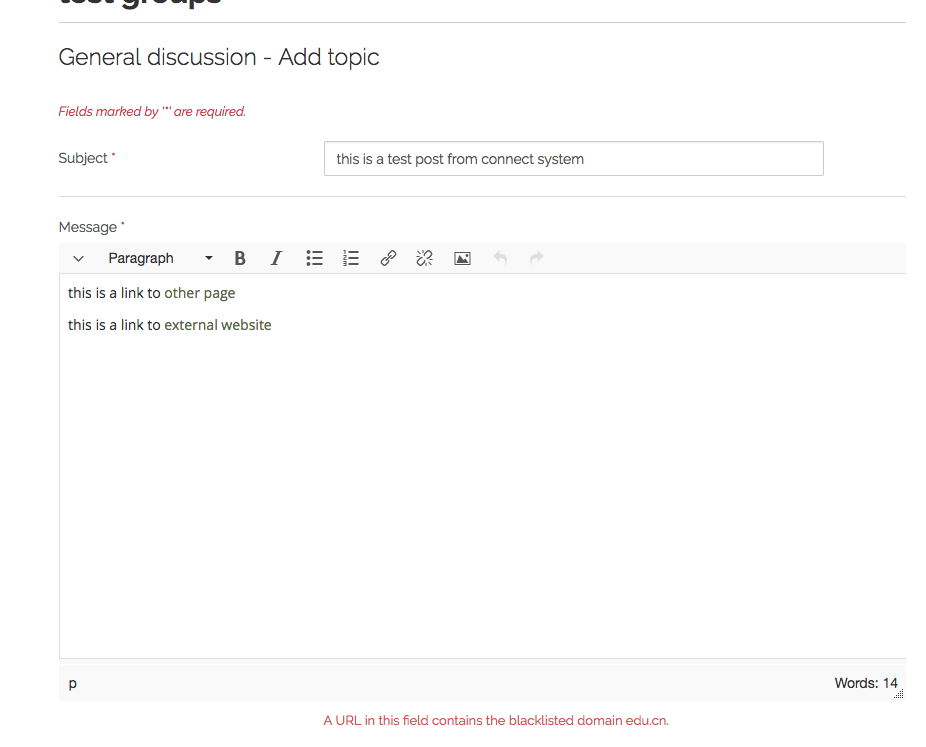 Best wishes,
Lina
Posts: 3644
13 October 2017, 9:53 AM
Hi Lina,
This means that you have spam protection turned on for your site and the link that you are setting is considered blacklisted.
Please also make sure that you are on a recent version of Mahara. We fixed an issue with the spam protection a while ago: https://bugs.launchpad.net/mahara/+bug/1662367
If you are on a version in which this bug had been fixed and still encounter the problem, please let us know. We would also need to know the URL to test it ourselves.
Cheers
Kristina
13 October 2017, 3:45 PM
Hi Kristina,
Many thanks. We are using Mahara 17.04.2, from the link you provided, the bug was fixed in 17.04.0. But we still have this issue.
I've checked our setting,  the blacklist option is disabled.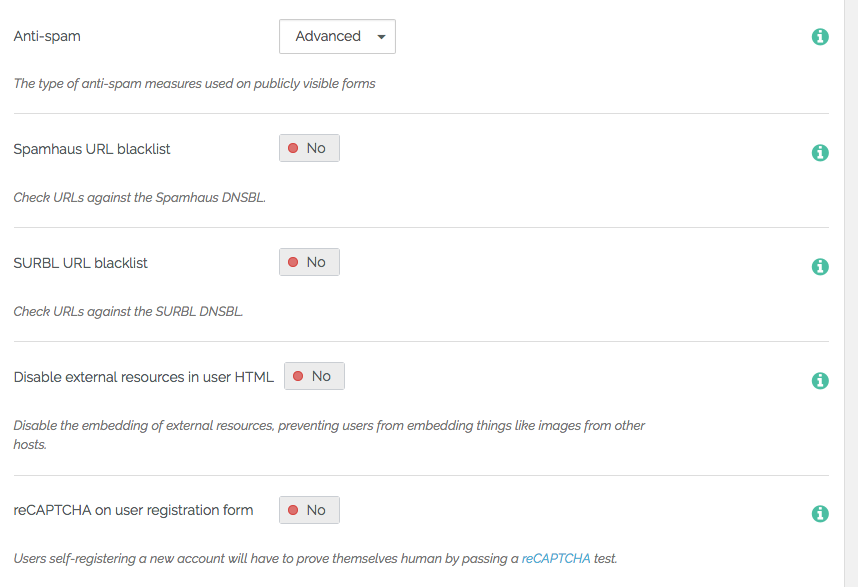 Best wishes,
Lina
Posts: 3644
15 October 2017, 4:54 PM
Hi Lina,
What is the URL you are trying to reach?
Cheers
Kristina

Posts: 445
17 October 2017, 9:25 AM
Hi Lina,
When antispam is set to advanced it checks any url links in message against 3 blacklist url sites, spamhaus.org, uribl.com, and surbl.com
We test by checking the domain of the URl and append the dns suffix for the blacklist as the blacklist sites contain A records for bad sites.
I note that doing: dig xjtlu.edu.cn.multi.surbl.com returns a positive hit - yet using the online test form at http://www.surbl.org says it's not blacklisted. This is because multi.surbl.com also checks against Cracked (CR), Phishing (PH) or Malware (MW) lists at the same time.
So by the sounds of things the URL is on some blacklist somewhere.
spamhaus.org and uribl.com do not see the domain as blacklisted.
Cheers
Robert