Forums
| Mahara Community
Developers /
Keyboard Shortcuts
---
14 June 2017, 23:19
Hi,
I was just reading through the latest Mahara manual (as you do) and saw the same accessibility keyboard shortcut "c" is used differently for admin (configure site) & user (content). Two other keys are also duplicated, but the context for each is the same ("g" for groups, and "a" for administration). I know that the "c" keys are used in different contexts, but thought it would have been better to use separate keys to reduce confusion, with the obvious being to use "s" for Site Configuration. I was wondering if there was a reason for making them both the same or if my suggestion makes sense to others?
Thanks, Gordon.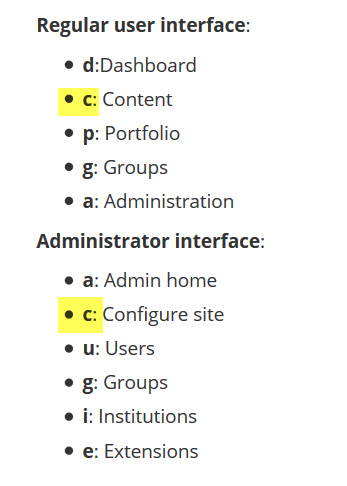 19 June 2017, 11:36
Hi Gordon,
Our accessibility expert is taking a look at your question.
Cheers
Kristina
27 June 2017, 14:51
Hello Gordon,
We'll update the access keys for "Configure site" and "Groups" for Mahara 17.10. The change is currently in review at https://reviews.mahara.org/7837 if you want to give it a go or make the change on your instance.
Cheers
Kristina