Forums
| Mahara Community
Support /
Export/Import not Appearing
---
01 September 2017, 22:52
Hi
We have upgraded to 17.04.1 and our students Export and Import menu items in the Content menu is not appearing for them.
As an administrator, the Export and Import menu items are available.
Cheers
05 September 2017, 10:20
Hi Ali,
Testing as a normal Mahara user (not admin) in 17.04.1, I could see the Import/Export submenu options under Portfolio section, not in Content section.
But in case you are referring to not being able to select collections to export, that is a known issue for this version of Mahara. It is reported here
https://bugs.launchpad.net/mahara/+bug/1694201
There is a fix for it and will be included in 17.04.3. We are planning to do this release within the next couple of weeks.
Regards,
Cecilia
05 September 2017, 22:32
My apologies Cecilia, I meant the Portfolio menu not the Content menu.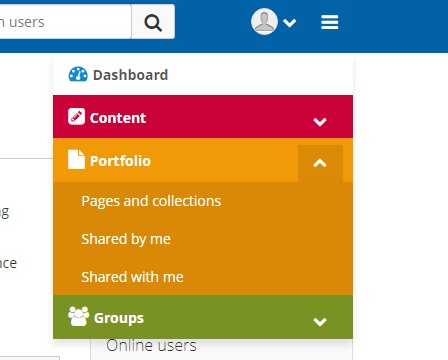 As you can see within the image above, import/export is not appearing for the students within their Portfolio menu.
Cheers
Ali
07 September 2017, 9:42
Hello Ali,
Mahara has a cache menu stored in the DB for each institution, if the Import/Export menu is missing from here then the members of that institution will not see it.
This is likely to be the issue if all the students that reported it belong to the same institution.
There is a way to reset this by going to Admin menu-> Institutions-> Settings, finding the institution and clicking on the cog icon to go to settings. Here submit the form without doing any change, this will reset the menu cache for the institution. Now the correct menu should be generated next time a student logs in and the Import/Export submenu should be visible.
I hope this helps you,
Cecilia
08 September 2017, 22:50
Thanks Cecilia, that's helped to fix our problem, users can see Export/Import. [SOLVED]