Forums
| Mahara Community
Developers /
Issue with secret urls
---
02 June 2015, 1:05
Hi everyone
I am facing an issue with our mahara.
We installed Mahara 15.04 on our test plateforme, and created a specific theme for our institution.  When playing with this new release, i discovered that we have an issue with pages shared with secret urls.  All pages that have a text block are showing the wysiwyg editor. Strange...
Of course, i suspected our theme. But even with the default them, we have the same issue (with all internet browsers.. :-(
Link to an example of page with secret url : http://lfoadtest.unicaen.fr/mahara/view/view.php?t=p3LiQP5JHrnj1ToGqzSO.
Any suggestion will be highly appreciated :-)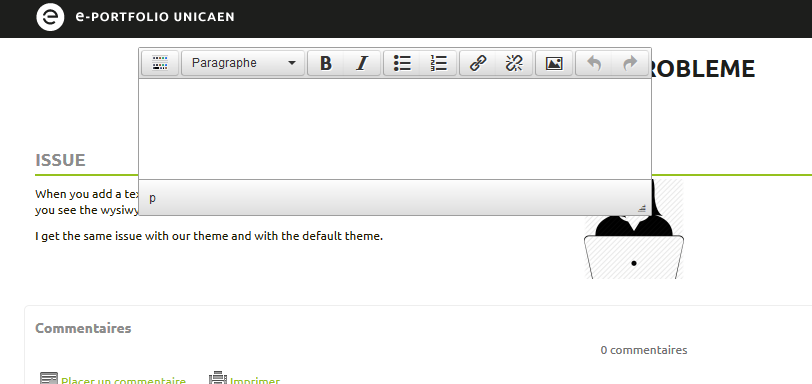 Thanks;
Emilie
02 June 2015, 11:30
Hi Emilie,
Ah yes this is a bug with the way enabling HTML editor is handled.
I've filed a bug report for it.
https://bugs.launchpad.net/mahara/+bug/1460850
While you wait for it to be fixed you can get around the problem by doing this:
If you go to 'Administration' -> 'Configure site' -> 'General settings' and change the 'HTML editor' from 'enable' to 'User-defined'
The problem should go away for viewing secret page urls when not logged in
02 June 2015, 19:19
Hi Robert
Thanks for the information and the bug report.
Indeed, I could get around the problem by setting 'HTML editor' from 'enable' to 'User-defined'.
BR
Emilie