MacHara Meetings
On the Friday 6th September, the first meeting of the MacHara Scottish Mahara User Group took place at Glasgow Dental School, which is a part of the University of Glasgow. The meeting had come about as a few like-minded Mahara enthusiasts had met up at the Mahara UK conference and decided that we should try to get together and make the most of Mahara.
Background
On the 4th and 5th of July, several Academic Staff and Learning Technologists from Scottish institutions took the long trip down to Birmingham to the 2013 UK Mahara conference.
While we were down there having discussions about Mahara during the networking event (a free bar with a group of Scots, now that's brave), we found that most of us were doing the same kind of things within Mahara and that maybe we could share our resources rather than recreating them and that we could maybe use our skills and those of others to enhance our Mahara content.
So, the suggestion of creating a Scottish Mahara User Group was suggested and after Kristina mentioned that there were ony 2 user groups in the world in her 'Becoming a Mahara contributor the non-technical way' presentation, it struck us that we could also make a difference by creating the group.
So, after the conference, full of enthusiasm, we got a Mahara group setup on the official site and started online discussions about our thoughts on Mahara, which gave some insight into what people are doing in their institutions, what issues people were having (which led to a great and insightful discussion), hints and tips which could help others and of course, organising our first meeting.
The meeting itself
The discussions led to us meeting on Friday 6th September at Glasgow Dental School, part of the University of Glasgow.
Attending the meeting were Chair: Wullie Mair (Borders College), Lee Ballantyne (City of Glasgow College), Craig Brown (University of Glasgow), Jenny Crow (University of the West of Scotland), Jasmin Hodge (Forth Valley College), Chris Kennedy (University of Glasgow), Marion MacDonald (University of the Highlands and Islands), Robert McKerlie (University of Glasgow), Gordon McLeod (University of Glasgow), Kevin Rickis (EdICT), Alex Walker (City of Glasgow College).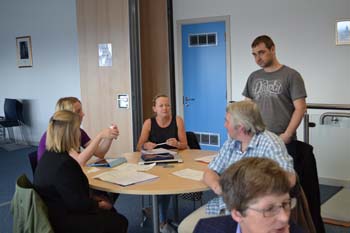 Jasmin and Lee (thankfully) offered to take notes to remind me later what was said, so that I could write this up.
As some of us had met before (8 of the 11 were at the Mahara conference), our introductions were fairly short, but gave us a flavour of who was doing what within their Institution and also gave us an idea of the skillsets that were within the group.
One thing that I noticed and brought up was that Robert was the only one present who was a lecturer (all the others were Learning Technologists) and I felt that it would be good if we could try to encourage lecturers to come to our meetings so that we can get more of an academic input into the group (both on usage and issues on a day-to-day basis).
We then split into 3 small groups (of 3 or 4) for 5-10 minutes and discussed in the groups what we actually wanted to get out of the group.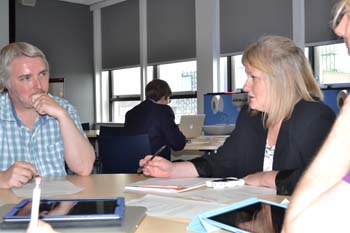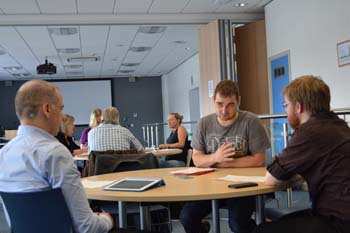 The following were discussed as aims for the group
raising awareness/avoiding pitfalls

sharing best practice between our institutions

push for Mahara developments (feature requests etc.)

contribute to community, both in support and user discussions

practical help and support for each other

sharing themes, templates etc.

networking
It was also suggested and agreed that we would look to meet every 3 months, alternating between user group discussions/meetings and events that would have presentations, workshops and seminars that we would encourage developers and academic staff to attend to try to increase awareness, scope and interest in Mahara within our institutions.
We also discussed the possibility of organising online events in the run up to the 2014 conference in Brighton 
We then broke back away to our small groups for discussion on how we could best Collaborate together (in hindsight, I wish we'd broken up into different groupings so that we were discussing with, and getting to know, different people. I'll have to remember that for the next meeting).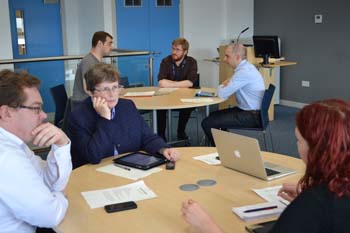 These discussions prompted the following ideas:
share templates, exemplars, workflows

showcase area online using Machara

newsletter page

dissemination from wider context e.g. e-portfolio JISC/SQA/FE subgroup

create a knowledgebase/central instance of Mahara to add case studies/examples for all to be able to access.

write up case studies and action research (possibly working with JISC/RSC)
After breaking for a well earned cup of tea/coffee and a large amount of cakes/doughnuts on offer (thanks Robert), we returned to see some examples of what some of are using Mahara for currently.
First up was Gordon showing us what he is doing with the Vet school at the University of Glasgow, including using images as links to delve deeper into other collections/groups setup with their Mahara instance.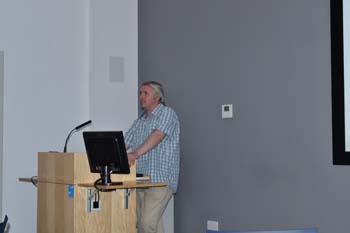 One thing that they do, which I especially liked, was that they created guides for incoming students (through a Secret URL given to students before the come to University), which gives a guide to the University, what you'll need before coming and a guide to the area.
They also have all of their Moodle and Mahara support areas written up within Mahara.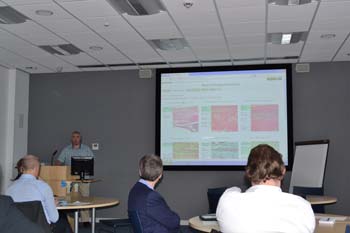 Some of these were also presented by Gordon at the Mahara UK conference. The presentation can be found here.
Jasmin was next up, and showed us how Forth Valley College have their Help areas for Moodle and Mahara.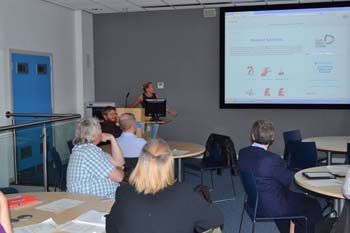 They also have all of their Student Advice information and PLP's (Personal Learning Plan's) setup within Mahara for their students to use.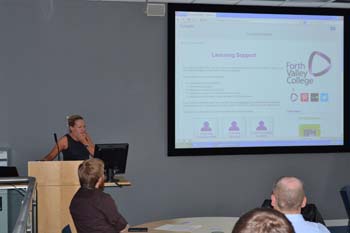 After these discussions, Craig prompted interesting discussions around what institutions do with student portfolio's after the student leaves. The most interesting thing was that no 2 institutions seem to have the same guidelines as to when students are removed from the institutions ICT systems, making it difficult to determine how to arrange access for students to their portfolios. There was no clear discussion about what is best to do, so I can see us discussing that again at a later date (perhaps our shared portal can act similarly to that of portfoliocommunities and portfolio's are added their for continued access/learning).
After this discussion we decided that we would try to meet up again in 3 months, but that that was hittong December time when people would be finishing off and that bringing it forward a week (to the last week of November) should be acceptable, so the next meeting is now scheduled for Friday 29th November at 1pm in the same location.
The Agenda Addendum
Within the agenda sent out, it had been discussed that it would be of interest to some members to have a more technical discussion afterwords with regards to the setting up of Mahara, so I added that after AOB, so that those who weren't interested in that part could head off.
Pleasantly, no-one left, so I tried to show what needed to be setup on a portable version of Mahara (USB stick, XAMPP and a version of Mahara). Unfortunately (as always happens with live demonstrations), I was unable to get Apache started on the PC, so wasn't able to go through the whole setup. Instead, I spoke about the file structure within the Mahara folders and some key files for changing (blocktype/artefact folders, themes - and the adaptation of template files, useful settings within the config.php file - and the /lib/config-defaults.php, and also that you can use the local folder to place amendments files for the main code - Thanks to Aaron for those last 2).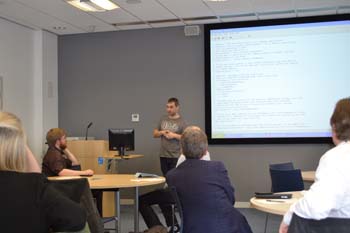 The meeting, I felt, was a huge success and my biggest disappointment is that it's taken so long for some of us to get together, but I know that there are some other interested parties that should hopefully allow us to push things on further yet, so hopefully they can get involved (Ali, I'm looking at you here ;)).
My biggest message, if you are thinking about setting up this kind of group, I'd highly encourage it. What better way to make the most out of Mahara than seeing what others are doing and trying to help each other achieve it.
Oh, and as for the group name, we have Don Christie to thank for that.
Also, a big thanks to Robert for taking the photo's on the day (he's the only one not to appear in any, you'll notice). Very much appreciated and adds a lot to the above.